Ahead of the Festival's 70th birthday, the Cannes delegate general shares his Cannes memories.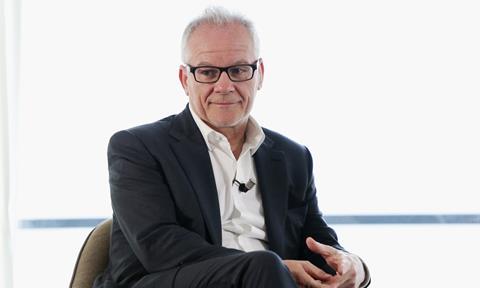 After rising up the ranks of the Institut Lumiere, devoted to the preservation of the world's cinema heritage, in his home city of Lyon, Thierry Frémaux was appointed artistic director of Cannes in 2000.
His first official selection was for the 57th edition in 2004, in which a jury presided over by Quentin Tarantino awarded Michael Moore's Fahrenheit 9/11 the Palme d'Or. In 2007, he was appointed delegate general, a role that covers both the artistic direction and overall management of the festival.
What are your earliest memories of Cannes?
Watching it on TV at home. I have one particular recollection of the scandal surrounding the screening of La Grande Bouffe [in 1973]; the cast and crew being insulted by spectators as they left the theatre and the director, Marco Ferreri, fighting with journalists.
When did you first attend the festival?
My first real Cannes was in 1979. I had just got my driving licence and set off from Lyon for the Croisette by car. I didn't see a single film. I had no idea how to get into screenings but all that didn't matter — I was there at the heart of the party. At night, I would park in a service station and sleep in my car. It was the year of Apocalypse Now. I was desperate to see it; it was several months before I finally did.
What were your habits as a regular festival-goer before joining the festival team?
I was in screenings from morning to night. I was one of those people roaming the pavements in front of the Palais at eight in the morning, demanding a place. Screenings were the only thing that mattered. The dinners — they were important too — as well as watching football matches in hotel rooms. Cannes is also about friendship. Nothing compares to the experience of spending 10 days on the Croisette. Even with the invention of Skype and smartphones, nothing beats a glass of Burgundy.
How did your life change when you became artistic director in 2001?
I was a beggar and I became a prince. But I never forget that the people in the upper circle today are just like me, passionate about cinema and about Cannes. I love to walk around, stopping for coffee with friends, contemplating all the people who are fascinated by the festival without being able to see the films. I sometimes dream of becoming a simple festival-goer again: driving down, discovering films, sleeping in service stations.
How do you see the festival fitting into the global cinema ecosystem?
Even when I wasn't involved personally with the festival, I always had this great love for Cannes — as well as Venice and Berlin — and I have been a great defender of it because it carries an enormous weight that goes beyond its central function of selecting and showing films. I see it as a collective event. It doesn't belong to us, but rather to all those people who come together to make it what it is: artists, producers, sales agents, industry professionals, cinephiles and tourists.
Are there any directors you're proud to have discovered?
I'm proud to have accompanied the emergence of cinema from Latin America, Mexico, Argentina, Romania, Korea and the Middle East. But I don't like the idea of claiming discoveries. Of course, Laszlo Nemes bowled over Cannes with his first feature [Son Of Saul]. But that was not our doing, it was down to the film.
Are there films that you regret not selecting?
Lots, but I won't tell you which ones.
What have been your biggest successes during your Cannes reign?
I'm not sure I'm the right person to ask. That said, when Gilles Jacob asked me to join him, I wasn't sure I was capable of succeeding him. People told me: "Mission impossible!" But I think I can say Cannes has continued to fulfil its mission and has a future, and I'm proud of that.
When you see the pace of change, do you ever wonder whether cinema will exist in 70 years' time?
Since its beginnings, people have been announcing the death of cinema, but it has always survived.
Of course, the world is changing, practices are evolving. My children spend their time surfing the net, but if I say we are going to the cinema on a Saturday they jump for joy.
It's like going to a theatre, a stadium or a concert. I love Bruce Springsteen's records but he is even better in concert. Cinema is the same. Cannes Film Festival is the equivalent of 15 concerts a day.