Screen talks to Danish actor in Cannes.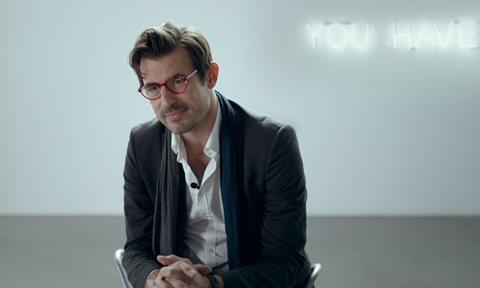 So far there have been two breakout stars of Cannes 2017 – one is the six-year-old girl, Brooklynn Prince, in Sean Baker's The Florida Project, and at the other end of the age spectrum is Claes Bang – a Dane who has been acting for two decades.
Bang had not been known internationally until now, with his leading role in Rubin Ostlund's Cannes Competition title The Square likely to propel him into the limelight.
Bang, 50, graduated from the National Theatre School of Denmark and has been seen mostly in Danish TV and theatre with some local film roles, and was best known globally for playing the gigolo Claudio in season two of The Bridge.
His role as art museum curator Christian in The Square is his first major starring part in an international production — he beat out some British and American A-listers for the part. Ostlund did three intense casting sessions with him, for more than seven hours total. Ostlund never told him exactly why he cast him, "I've just heard him say that I'm right for it."
Screen's critic Lee Marshall wrote that Bang embodies the role with "gusto and finesse."
The actor is enjoying the attention in Cannes, particularly from ordinary fans who come up to him in the street to say they loved The Square. "People are really into cinema here, so it means something coming from them," he says.
Ostlund is not a director who lavishes praise on his actors constantly and he also likes to shoot up to 50 takes per scene, something Bang had to get used to. "For the first 20 days of the shoot, I kept thinking, 'Are you sure you cast the right man for the role?'"
Doing dozens of takes was something Bang eventually appreciated. "Ruben exhausts you, he gets you to the point where you stop acting, you just are." He's now attached to the way of working – "It's a bit like a drug, you want to keep doing a scene again and again. It's amazing, it gets you into a very organic mode," Bang says.
Still, it wasn't always an easy shoot. Two nights of digging through a trash heap was one tough scene physically – but worth it because in the final film "you can see on my face that I'm disgusted," Bang says proudly.
Emotionally, the hardest shooting days were for the press conference scene – in part because half of the extras were real journalists who Ostlund instructed to slam Bang with "their hardest questions." "I was devastated at the end of those two days, that was way tougher than I expected," he says.
The post-coital scene – perhaps the best condom scene in cinema history — was tough to shoot for another reason—he and Elisabeth Moss "couldn't stop laughing," There were also about 50 takes of that scene, including a few with Ostlund instructing Bang to try it with the condom hanging out of his mouth – ultimately deemed too much for the final cut.
Agents hoping to pounce on him will be too late, Bang already has four agents (in Denmark, Germany, the UK and the US.) He's doing some theatre again this summer, as well as performing stage monologue The Evil in Edinburgh next week. He will shoot a new Danish TV drama for DR in October.
He's "open to anything" in terms of scripts to come his way after his big Cannes moment. "My dream is that this can open a lot of doors for me, I hope it will." He hopes to one day work with Michael Haneke or David Lynch.
It's even been suggested by some of his new fans in Cannes that he could make a dapper new 007. "Bang for Bond" does have a nice ring to it.