Projects starring Kristen Stewart, Pierce Brosnan, Laurence Fishburne and Elisabeth Moss are on US sellers' line-ups for the Cannes virtual market (June 22-26).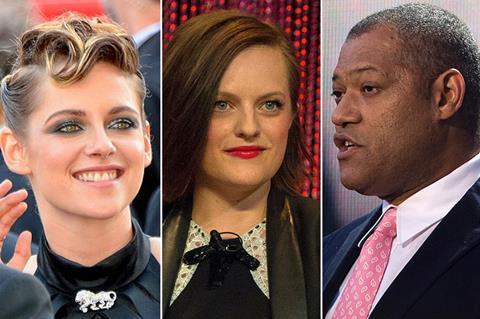 Kristen Stewart as the late Princess Diana in Spencer will be a tempting draw for buyers, with the added appeal of director and Chilean auteur Pablo Larraín (Jackie) and screenwriter Steven Knight (Locke, PeakyBlinders). International sales agent FILMNATION and US representatives CAA Media Finance have one of the hottest packages of the market. The story takes place over three days on the Sandringham estate in the late 1990s as Diana ponders her ties to the Royal Family and her future.
ENDEAVOUR CONTENT is launching talks on the contained thriller Songbird and will present the project at the Cannes virtual market with the filmmakers. Genre specialist Adam Mason (Into The Dark) directs and tentpole veteran Michael Bay and former Paramount production head Adam Goodman are among producers on the story, set two years in the future after the coronavirus has mutated. An immune man must race to save his girlfriend's infected grandmother from being sent to the quarantine zone, which nobody has any hope of surviving.
STX INTERNATIONAL will launch pre-sales on Michael Mann's long-gestating Ferrari project with Hugh Jackman in talks to play Italian racing entrepreneur Enzo Ferrari. Mann will deliver a recorded presentation at the virtual market.
AGC STUDIOS is selling and financing The Blacksmith from French action/director Pierre Morel (Taken, Peppermint) starring Nick Jonas and Laurence Fishburne. The story from Ben Ripley's (Source Code, Flatliners) adaptation of the graphic novel follows a weapons expert for the intelligence community who goes on the run when his clandestine lab is destroyed and his colleagues murdered.
In Run Rabbit Run, Elisabeth Moss will play a fertility doctor who must make sense of her daughter's increasingly strange behaviour and confront a ghost from the past. XYZ FILMS handles worldwide sales and Moss collaborator Daina Reid (The Handmaid's Tale) will direct. XYZ is making a production investment through its fund with Finland's IPR.VC, and Carver Films is producing in association with Film Victoria and the South Australian Film Corporation.
Kristin Davis and Dermot Mulroney star in Deadly Illusions, a thriller from worldwide sales agent VOLTAGE PICTURES that harks back to the days of BasicInstinct. A novellist with writer's block hires a young woman to watch over her twins as she veers between reality and the story she's writing. Anna Elizabeth James directs the project, currently in post.
SIERRA/AFFINITY will kick off talks with international buyers on Lee Daniels' The United States Vs. Billie Holiday, a biopic about the iconic jazz singer, her struggles with fame and addiction, and an undercover sting operation to block her from singing Strange Fruit, a song about lynchings that galvanised the Civil Rights movement. Andra Day (Marshall) will star alongside Trevante Rhodes, Garrett Hedlund and Natasha Lyonne. Endeavor Content and executive producer Cassian Elwes represent US rights.
BLEIBERG ENTERTAINMENT will kick off talks with international buyers on Peter Greenaway's Lucca Mortis, an Italy-UK co-production starring Morgan Freeman. Principal photography has been earmarked for October on the story of a writer in New York, acutely aware of his own mortality, who travels with his family to Italy to trace his ancestral roots and tidy up loose ends. Producers are Kees Kasander, Lori McCreary and Freeman.
WAZABI FILMS from Montreal has Moon Rock For Monday, an Australian family film from Lunar Pictures about an unlikely encounter at a train station. When a terminally ill girl meets a fugitive they embark on a road trip to visit a moon rock that the girl believes will heal her. Kurt Martin directs.
ARCLIGHT FILMS brings historical fantasy adventure The King's Daughter starring Pierce Brosnan as Louis XIV and Kaya Scodelario as the mermaid he catches in his quest for immortality. Julie Andrews narrates and Sean McNamara directed the film based on a screenplay by Barry Berman and James Schamus.
MAGNOLIA INTERNATIONAL arrives with Tribeca horror 12 Hour Shift, which Magnet Releasing has picked up for the world. Brea Grant (Eastsiders, Best Friends Forever) wrote and directed the story about a nurse desperate to survive her double shift after she gets caught up in a black market organ-trading scheme. Angela Bettis stars and the cast includes David Arquette.
VISIT FILMS has worldwide rights to Tribeca selection My Heart Can't Beat Unless You Tell It To starring Patrick Fugit, Ingrid Sophie Schram and Owen Campbell. The story centres on siblings who struggle to keep their sickly younger brother alive by feeding him human blood. Jonathan Cuartas directed the feature from Dualist.
EPIC PICTURES has completed horror Sacrifice, in which a man and his pregnant wife return to the remote Norwegian island of his birth to deal with an unexpected inheritance only to fall foul of an ancient cosmic horror. Andy Collier and Toor Mian directed, and the cast includes Barbara Crampton, Sophie Stevens, Ludovic Hughes and Lukas Loughran. Producers are Sean Knopp, Toor Mian and Ross Scaife.
CINEMA MANAGEMENT GROUP has Critical Thinking, the directorial debut from John Leguizamo about a group of multi-ethnic young adults, in a true story, who beat the odds in life and chess to become a national sensation.
HIGHLAND FILM GROUP will be talking up survival story Not Without Rope starring Miles Teller. Rupert Wainwright is directing the true story of friends on a fishing trip whose boat capsizes during a storm. CAA Media Finance handles US rights.
Olivia Munn stars in Replay, a sci-fi thriller from THE EXCHANGE and Dark Castle Entertainment that centres on a young widow who attempts to change the past and save her husband from being kidnapped and murdered. Jimmy Loweree will direct, and producers are Ethan Erwin and Hal Sadoff of Dark Castle, and Munn. CAA Media Finance handles US rights.
FILMSHARKS will discuss Spain-Mexico rom-com Love Can't Wait (El Amor No Puede Esperar), about a chance encounter at a video club. Juan Carlos Carrasco directed the film in one take after two weeks of rehearsals and Monica Huarte (My Best Friend's Wedding) and Adal Ramones (Cantinflas, No Manches Frida) star.
DOUBLE DUTCH INTERNATIONAL brings Foster Boy, a completed drama that boasts basketball legend Shaquille O'Neal among its executive producers. Matthew Modine plays a corporate lawyer with a crumbling family life who takes on the case of an imprisoned young man let down by a corrupt foster care system. Newcomer Shane Paul McGhie, Julie Benz, Amy Brenneman, Michael Beach and Greg Germann round out the key cast and Youssef Delara (Filly Brown) directed.
MYRIAD FILMS' Scoundrel Media is launching talks with international buyers (excluding UK and South Africa) on Dark Matter Studios' horror film The Unfamiliar, which stars Jemima West as a British Army doctor who returns from battle with what she thinks is PTSD. Vertical Entertainment will handle the North American release. Henk Pretorius directed from a screenplay by Jennifer Nicole Stang.
PREMIERE ENTERTAINMENT GROUP has worldwide rights to Locked In starring Mena Suvari, a crime thriller about a single mother who protects her daughter and herself during a botched heist at a high-tech storage facility. Carlos V Gutierrez directs the project, which is in post.
Toronto-based genre specialist RAVEN BANNER will be tempting buyers with Spare PartsParts, writer/director/producer Andrew T Hunt's horror about an all-female punk band whose members have their limbs replaced with mechanised weaponry and are forced to fight for survival. David Murdoch and Svet Rouskov wrote the screenplay.
RED SEA MEDIA has the completed thriller Mickey Kelly starring Dennis Quaid, Sean Patrick Flanery and Costas Mandylor. The story centres on an American black belt in Brazilian jiu-jitsu who gets pulled away from everything he loves and thrown into an unsanctioned MMA tournament.
OCTANE ENTERTAINMENT has the completed thriller Don't Look Back directed by Final Destination writer Jeffrey Reddick. Kourtney Bell fromIt Follows and Will Stout star in the story of a young woman targeted by an unseen force out for revenge after she witnesses a fatal assault.
FILM MODE is in the market talking up With Teeth, a horror project that counts Malin Akerman among its executive producers and follows a group of superstar internet influencers trapped in a vampire's lair within a reclusive billionaire's mansion. Jack Donnelly, Lydia Hearst and Kara Hayward star.
SHORELINE ENTERTAINMENT has the completed thriller Lazarus, about a vigilante with superpowers who fights an organisation to free a city from darkness. RL Scott directed and the cast includes Sean Riggs (S.W.A.T.), Costas Mandylor (the Saw franchise) and Mya (Chicago).
RJ Mitte (Breaking Bad) stars in The Oak Room, a gothic thriller from Black Fawn Films that shot in Ontario. Toronto's BREAKTHROUGH ENTERTAINMENT is selling the tale of a drifter who returns to his snowbound hometown to settle a debt with a bartender. Cody Calahan directed.
Cannes virtual market