The Chinese market once again proved its might with Transformers 4's record-setting box office; but beyond the tentpoles are changing trends in finance, audiences and production. Liz Shackleton assesses the state of the industry in 2014.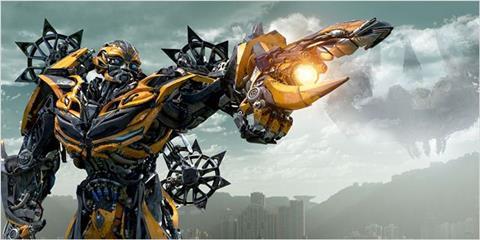 Should Hollywood have needed any more evidence that China is reshaping the global film business, it was delivered in spades this summer in the shape of giant robots and a $200m studio financing deal.
First, Paramount's Transformers: Age Of Extinction stomped across the China market this summer, grossing an astounding $320m, compared to its North American haul of $245m. The film was custom-made for China with local cast, locations and product placement; a format Chinese audiences jokingly refer to as "special delivery to China". But while it may have made them smile, it didn't stop them spending money at the local box office. The fourth Transformers film is now the highest-grossing film ever in China, smashing the $220m record set by Avatar in 2010.
Around the same time, news broke that a Chinese conglomerate new to the film business, Shanghai-based Fosun International, would be investing $200m in former Warner Bros chief Jeff Robinov's start-up Studio 8.
'In future there will be three kinds of films - big-budget movies with special effects; films that are closer to our life experience; and films that target a young demographic'

Yu Dong, Bona Film Group
Earlier talks between Robinov and Huayi Brothers appear to have foundered, although the Beijing-based studio says it may still be involved in Studio 8, possibly in a distribution capacity. The Fosun deal marks the first time a Chinese entity has made a significant investment in a Western film studio, and is unlikely to be the last.
These two developments powerfully demonstrate what China has become to the international film business: both a major box-office territory and a potential source of finance for cash-starved studios, new and old. Robinov is not the only former studio chief pounding the streets of Beijing looking for partners, and Lionsgate shareholder Mark Rachesky is understood to be seeking a buyer for his 37% stake in the company, with Alibaba said to be a likely candidate.
China is also a chaotic, maturing market, and while it may be developing fast, there are still many factors that can complicate doing business here. Whatever the agenda behind Chinese president Xi Jinping's on-going crackdown on corruption, some private film companies that may have grown very fast due to political connections are now being investigated and could face major problems in the future. Even the success of Transformers 4 wasn't without hiccups, with some of the sponsorship and product placement partners on the film attempting to delay its release, claiming they hadn't been represented in the manner they expected.
But the potential gains in this market are too large for anyone to ignore and Transformers 4 has opened the floodgates for similar collaborations. Sponsors aside, Paramount benefited hugely from working closely with its local partners - China Movie Channel, M1905.com and Jiaflix Enterprises - to not only introduce Chinese elements, but also market the film. In a territory where online marketing is everything, Transformers 4 hit all the right digital buttons and started to create noise a year before its release through the casting of local actors via a reality TV show.
"We changed the marketing paradigm by blending what works in the China market with Hollywood-style publicity," says Marc Ganis, co-founder of Jiaflix Enterprises, which oversaw the collaboration. "Working with our Chinese partners, we had a lot more statistics than most people have available to them, so we could track pre-sales and adjust during the run where to put our marketing resources. We could target, not just provinces, but as far down as regions and cities."
Of course, not every film is appropriate for this kind of collaboration, but what's interesting about China is the many forms that Sino-foreign ventures are starting to take. Increasingly, these tie-ups reflect the fact China doesn't only want to be a source of finance and box office; it also wants to get involved in script development, VFX and the other technical aspects of international films.

Building tentpoles
Rather than bringing an existing franchise to China, Legendary Pictures is developing a Chinese-themed, English-language tentpole, The Great Wall, to be directed by Zhang Yimou. Paramount's next big-ticket China venture, Marco Polo, to be directed by Rob Cohen, will be much more organically Chinese than Transformers 4, which was classified as an 'assisted' rather than 'full' co-production.
In a similar vein, Dasym Entertainment and Talent International's action comedy Skiptrace, directed by Renny Harlin and starring Jackie Chan and Johnny Knoxville, has already started shooting at a range of Chinese locations. Chan developed the story of the film, which Dasym's Charlie Coker describes as the star's love letter to China. "This is one of the few real co-productions. The story is designed for Chinese audiences but has enough Western elements to appeal internationally," Coker says.
'The market is maturing fast and it's much more competitive than it was 10 years ago'

Dede Nickerson, Sony Pictures Entertainment China
All these projects aim to hit the previously elusive double target of both Chinese and global audiences. But increasingly, foreign studios are also getting involved in Chinese-language projects, which are primarily targeted at local audiences. DreamWorks Animation's Shanghai-based joint venture, Oriental DreamWorks, is developing a whole slate of live-action and animated movies with local producers. Sony is an investor in Jiang Wen's upcoming Gone With The Bullets; Universal recently boarded Wong Fei-hung biopic Rise Of The Legend; and Fox aims to continue its string of successful Chinese-language productions with a remake of Bride Wars.
But much has changed in the past decade since Warner Bros and Sony first had a crack at Chinese-language production in the early days of the modern Chinese film industry. The more commercial projects do not require overseas financing, so foreign studios have a more difficult time convincing Chinese producers that they add value. And while the market is booming, costs are rising, top talent is scarce and the viewing habits of local audiences are notoriously difficult to track and define.
Bona Film Group founder and CEO Yu Dong observes that three strands of production are emerging. "In future there will be three kinds of films - firstly big-budget movies with lots of special effects; secondly films that are closer to our life experience, such as So Young and American Dreams In China; and finally films that target a young demographic and are released during the summer holidays," says Yu. "The third kind - films like Tiny Times and The Continent - create a lot of discussion both online and offline, which contributes greatly to their box office."
For overseas studios, the first kind of film offers the most potential for international exploitation, but they may find that local producers are more focused on the second and third types. These films are cheaper to make and even the bad ones can do well at the box office as marketing and distribution has become sophisticated, effective and almost exclusively digital in a short space of time.

Audience changes
But Dede Nickerson, head of production and strategic development for Sony Pictures Entertainment China, believes that Chinese audiences will start demanding better quality pictures as the market grows. "Audiences are becoming more discerning; if you're going to spend a significant amount on a ticket, then you have high expectations," says Nickerson, who brought Sony on board Gone With The Bullets and is developing a slate of Chinese-language films including remakes of My Best Friend's Wedding and Flatliners. "The market is maturing fast and it's much more competitive than it was 10 years ago."
She adds that although the market is big, there is only room for so many $30m blockbusters and the small to medium-budget range is one of the most interesting spaces right now. "We see a larger volume of pictures in this bracket doing well. They're being effectively marketed and distributed. The market is at the stage where you can't look at projects as a standalone without considering the marketing and distribution," Nickerson says.
Meanwhile the practice of simply selling films to China on a flat-fee basis, outside of the revenue-sharing quota, is also becoming much more competitive and has recently produced some notable hits. Over the summer, The Expendables 3 grossed $73m, Brick Mansions $30m and Non-Stop $17m. This business is also developing into two-way traffic with a growing number of foreign independents, including IM Global, Arclight Films and Relativity Media also selling Chinese pictures overseas.
However, local analyst EntGroup estimates that box office for flat-fee foreign films was down by 42% in 2013, accounting for just 8% of annual box office, which was due partly to the difficulty of securing strong timeslots in an increasingly competitive marketplace. As recent successes demonstrate, this business is also dominated by action titles, particularly with the rise of China's less sophisticated Tier 3 and 4 markets. It may take time for foreign specialist fare to find a foothold in China, but as the market evolves so fast, it's worth paying attention to potential entry points and emerging methods of distribution.
China box office top 10
(Jan 1-Sept 30, 2014)
| Film title | Box office | Release |
| --- | --- | --- |
| Transformers: Age Of Extinction (US-Chi) | $321.4m (rmb1.98bn) | June 27 |
| The Monkey King (Chi-HK) | $169.7m (rmb1.04bn) | Jan 31 |
| Breakup Buddies* (Chi) | $157.9m (rmb970.2m) | Sept 30 |
| X-Men: Days Of Future Past (US) | $117.6m (rmb722.3m) | May 23 |
| Captain America: The Winter Soldier (US) | $117.2m (rmb720m) | Apr 4 |
| Dawn Of The Planet Of The Apes (US) | $115.8m (rmb711.5m) | Aug 29 |
| Where Are We Going, Dad? (Chi) | $113.1m (rmb694.7m) | Jan 31 |
| The Breakup Guru (Chi) | $108.1m (rmb664.4m) | June 27 |
| The Continent (Chi) | $102.2m (rmb628.2m) | July 24 |
| The Amazing Spider-Man 2 (US) | $95.2m (rmb584.9m) | May 4 |
*Still on release
Source: EntGroup Consulting