The three internet companies known collectively as BAT are having a major impact on the Chinese film industry. Liz Shackleton reports on what the major players are producing and why they want to sit across the entire value chain.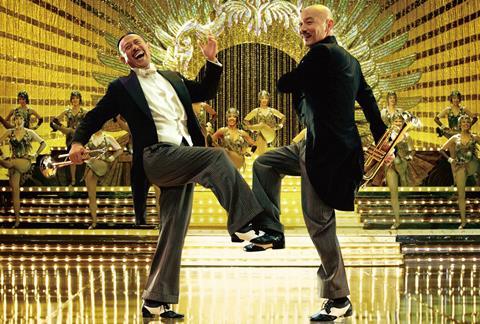 While China is transforming the global film business, there's a force within the country that is reshaping its internal film industry: the digital triumvirate of Baidu, Alibaba and Tencent.
Known collectively as BAT, these internet giants emerged from different corners of the digital universe - Baidu from search, Alibaba from ecommerce, and Tencent from its WeChat and QQ messaging platforms and online games - but all three are now diversifying away from their core businesses in an attempt to remain competitive. All three are also moving aggressively into film production.
Earlier this year, Alibaba bought out Hong Kong-listed film and TV producer China-Vision for $804m, later renaming it Alibaba Pictures and installing former China Film Group number two Zhang Qiang as CEO.
'We aim to act as a catalyst along each segment of the value chain'

Allen Zhu, Youku Tudou and Heyi Film
A few months later, Baidu-owned streaming platform iQiyi announced the launch of iQiyi Motion Pictures, which plans to invest in eight films a year, starting with Jiang Wen's Gone With The Bullets; rival Youku Tudou, in which Alibaba owns a 16.5% stake, set up Heyi Film; and Tencent announced the launch of film production arm Movie Plus.
Alibaba's film plans hit a speed bump when it discovered "accounting irregularities" at ChinaVision following the acquisition, but has brought in PwC to sort out the issues and is pressing ahead on plans to work with talent such as Wong Kar Wai, Peter Ho-sun Chan and Taiwanese director Giddens Ko.
Most recently, the company said it would establish a joint venture with Hengdian World Studios, the huge facility just a few hours away from Alibaba's headquarters in Hangzhou. "We believe our collaboration will make us more competitive and help raise our game in terms of content innovation, investment, production and distribution," said Zhang Qiang, when announcing the deal.
These new outfits join Le Vision Pictures, the film affiliate of streaming platform LeTV, one of the first Chinese internet companies to see the value in moving upstream in the content value chain. Le Vision, which recently set up offices in Los Angeles, has produced films such as Zhang Yimou's Coming Home and teamed with Youku Tudou on Old Boys: The Way Of The Dragon, based on a short film that became an internet sensation.
Sohu, which also has a streaming platform, has so far been quiet on the production front, but recently acquired a 6.4% stake in Korean talent management company KeyEast.

The value of IP
Much like Netflix and its other US counterparts, these companies are using original content to attract subscribers and advertisers, scale back on high acquisition costs and achieve economies of scale. "If we have our own IP, we can use the same property to produce movies, TV series, animation and games," explains iQiyi founder and CEO Gong Yu.
These companies plan to work with traditional film studios while they learn the ropes, and eventually want to be involved in every part of the business. "We aim to act as a catalyst along each segment of the value chain," says Youku Tudou senior vice-president and Heyi Film CEO Allen Zhu. "As a newcomer in this space, we'll focus on script development, paying equal attention to those incubated on our platform and those from outside partners. We'll also focus on investment, marketing and product placement."
Most of these companies already excel in film promotion and marketing. Although they're streaming content through their online platforms, they also handle marketing and sell tickets for theatrical releases - all part of the much-touted online-to-offline (O2O) concept of using the internet to drive sales in physical outlets. According to EntGroup, around 17% of last year's $3.54bn box office was generated through online purchases, of which two thirds came through mobile phones.
And in further echoes of Netflix, these companies are also using 'big data' to create content they hope can dominate the market. Youku Tudou mined user comments on the original Old Boys micro movie to find key words that informed the script of the theatrical version, while iQiyi is analysing data to determine casting.
"People like us working in this office have two characteristics - we live in big cities and we're old," says Gong. "We don't represent the mainstream audience in China, but big data can help us with that." After crunching the numbers, iQiyi discovered young TV actors Chen Xiao and Yuan Shanshan have bigger followings than major stars such as Andy Lau and Zhang Ziyi.
While that may sound like a game-changer, Yu Dong, founder and CEO of traditional studio Bona Film Group, cautions that film industries can't be built on data alone. Yu galvanised audiences at Shanghai International Film Festival, where he said "all traditional film companies will work for BAT eventually". But he also says that "creating content requires the ability to understand art and commerce together. The technology, media and telecoms companies may have enough money to invest in films, but it requires years of experience to create good content."

Impending restrictions
China's new-age movie producers all seem to be hoping they'll be fast learners. For those whose businesses have been based around streaming, such as Youku, LeTV and iQiyi, diversifying into production could also be a buffer against China's shifting regulatory sands. China's streaming business is a mostly ad-supported model - revenues reached $2bn in 2013 and are estimated to rise to almost $6bn by 2017. But there are questions over whether the industry can carve out a subscription model and now the government looks set to place restrictions on what has so far been a relatively free-wheeling sector.
A few months ago, international media reported that Chinese authorities are considering a 30% quota on the proportion of foreign TV content allowed on streaming sites. While that hasn't been confirmed, the government has been much more open about plans to limit the hardware and software that is used to stream content to set-top boxes and internet-enabled TVs. Worryingly for companies that have made big bets on China's growing smart TV business, video-streaming companies were recently ordered to remove their internet TV apps from online stores.
'If we have our own IP, we can use the same property to produce movies, TV series, animation and games'

Gong Yu, iQiyi
These restrictions are less likely to affect internet giants BAT, as streaming is a tiny part of their empires. But original content - whether they're streaming, marketing or selling theatre tickets for it - is another tool to draw eyeballs into a digital ecosystem that is increasingly being accessed through smart phones and also includes ecommerce, social media, financial services and online games.
Ecommerce is one area where battle lines are being drawn. Alibaba has an 85% share of China's ecommerce market through its Taobao and Tmall sites - but Baidu recently bought out group-buying site Nuomi and Tencent invested in ecommerce platform JD. Wanda Group, a giant in the bricks-and-mortar space, which is also ramping up its film investments, recently pacted with both Baidu and Tencent to create an $814m ecommerce venture that aims to drive business to Wanda's hotels, cinemas and shopping malls.
Competition is also heating up in the financial services sector. Both Alibaba and Baidu are raising money for films through China's own version of crowdfunding - basically insurance products that offer risk-free returns to small investors - although this exercise seems to be more about marketing and pre-selling movie tickets than raising funds. Internet banking is a bigger game for BAT - Alibaba and Tencent already offer electronic payment systems, some financial services and were recently awarded licences to operate online banks. Ultimately, they want to be involved in every aspect of their consumers' lives.
And when they've conquered the Chinese consumer market, will BAT take on the rest of the world? Certainly, they are expected to expand overseas in the film business. Alibaba has already pacted with Lionsgate on a streaming venture and the company's founder Jack Ma was recently in LA meeting with studio chiefs.
With market caps of $226bn and $155bn respectively, Alibaba and Tencent look set to become global companies with the capacity to build global platforms. And when BAT have achieved world domination, they may not be so dependent on that narrow bottleneck called theatrical distribution to export their films.
The key players
Alibaba Pictures Group
Owned by Alibaba
Who to know Zhang Qiang, CEO
Alibaba launched its film arm after acquiring Hong Kong-listed film and TV producer ChinaVision. The company plans to produce 8-10 films a year, working with directors such as Wong Kar Wai, Peter Ho-sun Chan and Giddens Ko. It is also setting up a joint venture with Hengdian World Studios.
Heyi Film
Owned by Youku Tudou
Who to know Allen Zhu, CEO
The film arm of streaming platform Youku Tudou plans to produce eight theatrical movies and nine internet films in its first year. Projects announced so far include The Master, co-produced with Beijing Century; Bad Sister, directed by Kim Tae-gyun; and Paris Holiday, co-produced with Hong Kong's Universe Entertainment. The company is also adapting its web original shows such as Surprise, Yes Boss and Miss Puff for the big screen.
iQiyi Motion Pictures
Owned by iQiyi
Who to know Li Yansong, president
Launched in July, iQiyi Motion Pictures plans to produce seven Chinese films and one Hollywood movie each year. The company has made an equity investment in Jiang Wen's Gone With The Bullets, for which it has VoD and gaming rights. It is working with parent company Baidu on areas such as crowdfunding, marketing, ecommerce and online games.
Le Vision Pictures
Owned by LeTV
Who to know Zhang Zhao, CEO
The first film company affiliated to a Chinese streaming platform, Le Vision produces and distributes Chinese films such as Coming Home and the Tiny Times franchise. It's also developing international co-productions and works with China Film to acquire and handle marketing on foreign films such as The Expendables 2 and 3.
Movie Plus
Owned by Tencent
Who to know SY Lau, president, online media group
Tencent announced in September that it plans to produce four or five films a year, starting with a film version of its QQ race-car online game and an adaptation of Mo Yan's novel The Treasure Map. Production on the slate is expected to start in 2016.