The exhibition sector is seeing fierce debates around ticket prices, windows, consolidation and data transparency. Screen takes a seat with the organisers of CineEurope to find out more.
As European cinema operators gear up for CineEurope in Barcelona (June 17-20), there are few memories that stretch to a time of equivalent turbulence in the industry. The Disney-Fox merger has yet to fully transform the way cinemas do business with those two studios, but there are plenty of other issues to address, from bold experiments in ticket pricing, controversy over theatrical windows and — in recent weeks — the transparency of box office data collection.
Meanwhile, after a very mixed pattern across Europe for 2018 box office — a year in which both admissions and box office declined overall across the EU region — cinemas have witnessed an alarming plunge for one of last year's star performers: the UK suffered a 15.6% box-office drop from 2018 for the first four months of this year.
"No-one would have chosen to have the first two or three months of the year we had, when nothing really in the slate landed with audiences," concedes Phil Clapp, who is both CEO of the UK Cinema Association and president of the International Union of Cinemas (UNIC), which co-organises the annual CineEurope event with Film Expo Group. "But as you look forward, the slate over the coming months is an extraordinarily strong and diverse one," he adds. "We can recover that lost ground, and reach at least parity with 2018, if not more than that."
In the UK, cinema admissions spiked significantly in 2018, rising by 3.7% from the year before and reaching their highest level since 1970, but box office was flat — indicating an average ticket price fall thanks to exhibitor discounting, unlimited loyalty cards and two-for-one offers.
Prices overall fell slightly in 2018 across the whole of the EU region, according to the European Audiovisual Laboratory, with box office declining at a faster rate (down 3.3% on 2017) than admissions (down 2.9%).
"It's fair to say everyone is looking to a tailored-offer price," says UNIC's Brussels-based CEO Laura Houlgatte. "It's not going to be one price for all audiences." She points to Germany, one of the territories that suffered most in 2018, but that has picked up the pace so far in 2019. "Cinemas want to experiment this year, decreasing the price on some tickets to see if it has an impact on attendance."
Germany might adopt the model of France and Spain, which both offer twice-yearly price promotions at a majority of cinemas nationwide, organised by their respective national bodies in a bid to attract fresh audiences. France's three-day Le Printemps du Cinema (in March) and four-day La Fete du Cinema (in June-July) offers tickets at $4.40; Spain's recent three-day Fiesta del Cine (June 3-5) is priced even more aggressively at $3.20.
"Those endeavours in terms of ticket pricing are for the most part a feature of mature markets — Germany, Spain, France, UK, Italy," says Clapp. "You see little of that in growing markets. We continue to see growth in the Baltic countries, Central and Eastern Europe and the Balkans."
Windows controversy
Netflix's aggressive awards campaign for Alfonso Cuaron's ROMA combined with its rather patchy — some might say token — theatrical release is casting a long shadow. It launched at last year's Venice Film Festival after being turned down for Cannes' Competition due to France's strict three-year theatrical window rules that apply to the festival.
Subsequently, Italian and German exhibitors called for the Venice and Berlin film festivals respectively to only select films that intended to have a full theatrical release. Italian exhibitors have successfully lobbied their country's Ministry for Cultural Heritage and Activities for a decree that establishes a three-month theatrical window, in law, for Italian films in Italian cinemas.
In the UK, major exhibitors Vue and Cineworld have both threatened to pull their support from Bafta if it continues to recognise Netflix's awards-qualifying theatrical campaigns for select titles.
"Outside of those countries where it's set in statute, there has been flexibility around the window for smaller titles. But a significant window still works for the vast majority of films," says Clapp. "It's not purely the result of pressure from cinema operators to retain a significant window. It's very much a decision made by distributors that observing and maintaining a significant release window works for them, both in terms of maximising box-office income, but also providing a shop window for subsequent platforms."
Netflix's decision not just to hold on to viewing figures on its own platform — occasionally releasing numbers when it suits the company — but also to prevent cinemas reporting box office on its titles to data gatherer Comscore, is also an issue. In the UK, where Sky Cinema followed suit and declined to report box office on theatrically released films such as Extremely Wicked, Shockingly Evil And Vile, starring Zac Efron as serial killer Ted Bundy, distributor eOne withdrew its own box-office data from the weekly reports in protest.
"One of the things which we've always seen as a huge plus point in the theatrical business is its transparency, certainly compared to the rest of the film value chain, and I would say compared to many other sectors," says Clapp. "Every week there is a full and frank disclosure of numbers.
"The contrasting point we've always made compared to streaming services in particular — they can claim whatever they like in terms of viewership of their content. How would we know? It would be a backwards step by theatrical to start to adopt some of those practices, when actually the transparency makes it a more efficient market and a healthier market."
In Brussels, Houlgatte will have a particularly busy year thanks to the appointment of a new European Commission and the election of a new European Parliament. Speaking to Screen International just in advance of those elections, she was anticipating "a rise from the populist parties, especially from the extremes". An additional challenge is that "most of the members that were supporting us are not running again for election. That's going to mean big changes for us, and to make sure we find new champions."
Houlgatte agrees right-wing populists do not necessarily have a prejudice against the audiovisual industry, adding: "We are having more trouble with the Communists, to be honest. Parties that are much more extreme left-wing tend to be more anti-copyright, much more on the idea that everything should be free for everybody, so that's a challenge.
"In general, we are a very lucky industry — people love cinema. I see the struggle sometimes to understand the principles we need to have in place to make sure we can continue our business — copyright, territoriality of content, windows, etc. So that's the whole education process."
The merger of Fox and Disney will almost certainly mean fewer executives from those two companies, in total, will attend CineEurope this year, and there is also one less major studio presentation. "That puts the onus on us to continue to grow the show in other areas," says Clapp.
This year's event includes a session billed as 'Emerging global markets', including a focus on both Serbia and South Africa. "I think it reflects a general understanding of the increasing globalisation of the industry," says Clapp. "This is nothing more than a first step in a direction that we will probably go in future years, which will look beyond the narrow confines of Europe to identify good practice, to hopefully share some good practice ourselves, but really to have more of an insight to what's happening in the global business."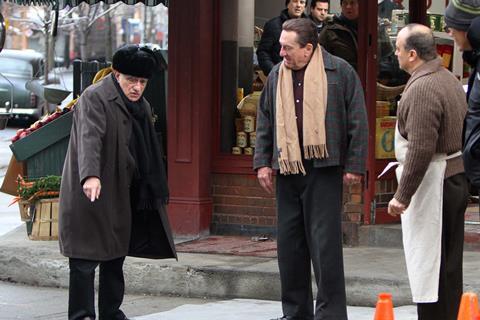 One title all markets will be anticipating this year is Martin Scorsese's The Irishman, which it is assumed Netflix would like to launch at a major festival such as Venice or Toronto. What happens next remains the conundrum.
While ROMA was a highly achieved film from an A-list director, its commercial negatives included languages that were foreign to most markets and a cast unknown outside of Mexico. The Irishman stars Robert De Niro, Joe Pesci, Al Pacino and Harvey Keitel, and would easily support a major theatrical push globally.
"Our role is to persuade Netflix that its best interests and the best interests of its subscribers is served by adopting a more significant window rather than just going through the motions of a cinema release and then going straight to a streaming platform," says Clapp.
"We've been clear not to criticise leading creatives who decide to work with Netflix, they go where they go; and not to criticise Netflix, which is clearly doing what it thinks is best for its business. But actually to try to persuade them that the best interests of both the film as a creative endeavour, and the best interests of audiences, is served by giving the film a full and genuine theatrical release."
European box office January-April 2019 vs 2018
| Territory | Jan-April 2019 gross | Percentage change vs 2018 |
| --- | --- | --- |
| UK & Ireland | $515m | -15.59% |
| France | $513m | -3.30% |
| Germany | $353m | 6.01% |
| Russia | $315m | 7.28% |
| Italy | $254m | -0.18% |
| Spain | $215m | -3.61% |
| Netherlands | $109m | 8.96% |
| Turkey | $52.5m | -10.54% |
| Austria | $45m | 2.09% |
| Portugal | $29.6m | -7.10% |
Source: Comscore. Currency correct as of May 24, 2019