Thanks to a booming box office, there is an air of confidence among Europe's distributors and exhibitors ahead of the 25th edition of CineEurope (June 20-23). Matt Mueller previews an event set to host screenings of US and European titles, high-level debate and Jeffrey Katzenberg.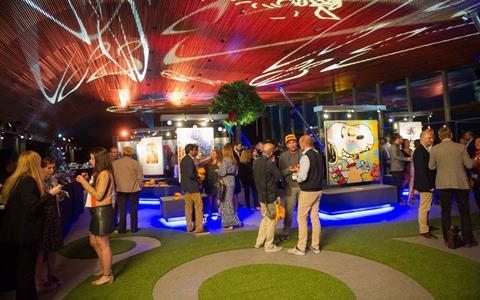 Celebrating its 25th anniversary this year, and entering its fifth year in Barcelona, CineEurope has cemented its position as Europe's premier exhibition conference.
As the official convention of the International Union of Cinemas (UNIC), which has a long-term partnership with Prometheus Global Media-owned Film Expo Group (and co-managing directors Robert and Andrew Sunshine), to jointly manage the event, its annual line-up of seminars and panels, slate presentations, screenings and trade show makes it an essential date on the calendar for Europe's exhibition community. And according to Phil Clapp, president of UNIC and chief executive of the UK Cinema Association, delegates will be arriving at this year's event in a bullish frame of mind.
"There is a mood of confidence this year, and a mood of reassurance that the pain the industry went through as a whole through digitisation — both exhibition and distribution — is bearing dividends in terms of the audience offer and the audience's response to that offer," says Clapp, who works alongside UNIC's Brussels-based CEO Jan Runge. "What we've seen last year, what we're seeing this year, and what we see coming up in 2017 and 2018, there is every reason to be confident.
"The pact we made when we embraced digital technology was towards innovation," he continues. "Basically, the pace of innovation in the industry is much quicker than it was maybe 10 years ago. Part of the discussion this year will be about laser illumination and renewed interest in — and to a degree, concern around — higher frame rates, with Ang Lee's film [Billy Lynn's Long Halftime Walk] coming out towards the end of the year. One of the values of CineEurope is for our industry to get together and discuss these issues."
Traditionally a vehicle for showcasing US studio features and products, CineEurope (rebranded from CineExpo in 2011) has made an effort to put more focus on European films and the issues that face European exhibitors, while also integrating smaller independent studios into the fold. The effort has paid dividends with rising attendances and diversity of content.
Last year, Studiocanal, Unifrance, Mister Smith Entertainment and EuropaCorp all participated with slate presentations; only EuropaCorp is not returning this year. "That was their decision," notes Clapp. "Certainly there was a slot for them if they wanted it. They were very well received last year."
Packed schedule
The challenge in attracting more European content providers is fitting them into an already packed schedule, with no desire on anyone's part to expand CineEurope beyond a four-day event. "The direction of travel with the film content and the panel sessions is to make them as relevant as they can be to a European audience, without squeezing the trade show," says Clapp. One option being discussed is taking over the multiplex in the shopping centre opposite Barcelona International Convention Centre, where CineEurope is held, and holding simultaneous ticketed screenings for delegates.
"The pace of innovation in the industry is much quicker than it was maybe 10 years ago," Phil Clapp
Following Amazon's charm offensive at CinemaCon, where the streaming giant won over US exhibitors with its declared intention to adhere — for now at least — to traditional windowing models, Clapp admits there are discussions about the company presenting next year at CineEurope; the same is true of STX Entertainment. "That Amazon seems willing to be part of the broader cinema ecology means they are being clutched to the bosom of the family," he says. "With the likes of Amazon and STX, the more people we can have making quality films that people want to see, the better."
Names in the know
This year's programme contains seminars on Light Field imaging, data-driven innovation, how to engage Generation Z, event cinema and new technologies with presentations on laser projection, high-quality acoustics and future cinema design. On June 20, 'The Future of Cinema' panel will bring together the heavyweight quartet of DreamWorks Animation CEO Jeffrey Katzenberg, Odeon Cinemas CEO Paul Donovan, Carmike Cinemas CEO David Passman and Nordic Cinema Group CEO Jan Bernhardsson to discuss the next big trends in cinema-viewing.
Securing Katzenberg for the panel is, Clapp says, something of a coup for this year's event: "People of his calibre are very rarely nailed down on how they perceive the European market. It will be interesting to hear what he says."
How the industry harnesses its data to better serve customers will be another key theme. "Not just in terms of programming but better marketing and better retail," says Clapp. "For a long time, my characterisation has been 'data-rich, knowledge-poor'. Some of the leaders in our industry have been quite outspoken about the industry not making effective use even of the data that it has. On a broader level, that's about the greater segmentation of the audience, and therefore being better able to serve individual strands of the audience."
Interview: Rodolphe Buet
Studiocanal's Rodolphe Buet, CineEurope's international distributor of the year, reveals why he believes it is essential to be proactive.
It is hard to believe that just two years have passed since Studiocanal made its first appearance at CineEurope, the Barcelona-set granddaddy of conferences aimed at European exhibitors. That debut presentation — which featured footage from Paddington, The Gunman and Shaun The Sheep: The Movie — made clear the Paris-based company's ambitions to enter a global league dominated by Hollywood studios.
Paddington went on to become the most successful, non-Hollywood family film ever, grossing in excess of $260m worldwide, while Shaun The Sheep: The Movie — produced by the UK's Aardman Animations with the backing of Studiocanal — made $106m globally.
In its third CineEurope presentation this June, Studiocanal will unveil footage from Jaume Collet-Serra's Liam Neeson-starrer The Commuter alongside clips from Early Man, its latest collaboration with Aardman, a teaser for Paddington 2, which goes into production this October, and promo reels for non-English-language productions such as Nicole Garcia's Palme d'Or contender From The Land Of The Moon.
In another milestone, Studiocanal president of international distribution and marketing Rodolphe Buet will receive CineEurope's international distributor of the year award.
Keeping up with the evolving market
"It's important for us to be at CineEurope. We're committed to the theatrical exploitation of our films and CineEurope gives us an opportunity to meet exhibitors from across Europe and express our appreciation of what they do," says Buet.
Open dialogue between the distributors and exhibitors is essential, he adds, amid the mutation of distribution and business models brought on by the digital age. Buet is all too aware of the challenges facing the entire cinema chain, having spent 15 years in the music industry before joining Studiocanal in 2005.
"I had the good fortune to work in the music industry when it was booming and CD sales were at their height, but also experienced the end of this era with the arrival of Napster and piracy," he says. "The music industry wouldn't take on board that the economic model was changing. It's one of the reasons why I left but that experience means that today, I always keep in mind how important it is to be proactive in terms of monitoring the evolution of the market, to pre-empt changing spectator expectations and adjust strategy if needs be."
In his role, Buet oversees the distribution and marketing of Studiocanal's films, library titles and TV series in all territories where it has its own operations — France, Germany, the UK, Australia/New Zealand and China — and works closely with outside international distribution partners (in the latter, Studiocanal's releases go out through China Film). Buet is also involved in managing the international sales team. It is a remit that is global in its breadth but Buet's approach — in keeping with that of Studiocanal — is reliant on local grassroots knowledge. "We're both centralised and de-centralised. One of our biggest strengths is our local marketing teams."
The mix of Studiocanal's line-up — encompassing family films and thrillers aimed at a global audience, elevated auteur fare and non-English-language domestic productions — means each film has to be taken on a case-by-case basis. "The audiences in each of our territories have very different tastes and expectations," says Buet. "There is no one size fits all."
Strong relationships with outside partners also remain key to Studiocanal's operations, although Buet hints it could expand its direct distribution footprint into southern Europe, following parent company Vivendi's tie-up with Silvio Berlusconi's Mediaset in April. He notes, however, that it is unlikely the company will open more offices outside of Europe or attempt to take on the US studios on their own turf like EuropaCorp has with the creation of the US distribution company RED.
For now Studiocanal's best option, he says, is to develop partnerships with strong US players in the way it did with Universal for Non-Stop, The Weinstein Company on Paddington and Lionsgate on Shaun Of The Dead. "The heart of our activity is Europe and that is where we want to focus our savoir-faire," he says. "We know that to grow our production capacity, it's essential to get US partners on board early."