Corin Hardy, a former Screen International Star of Tomorrow and director of The Hallow, tells Ian Sandwell about bringing a special intensity to his feature.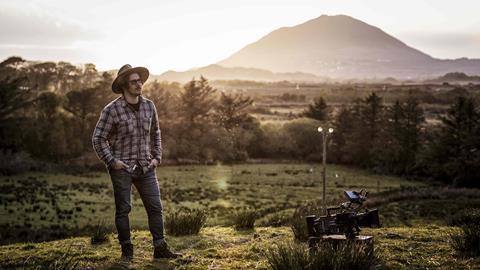 As pitches go, "Straw Dogs meets Pan's Labyrinth" is about as enticing as they come and given writer-director Corin Hardy's range of influences, it is little surprise those two films should meet in his debut feature.
"The inspiration for the film came from my childhood love of fairy tales and stories, ultimately. Growing up loving everything from Morph to Ray Harryhausen, then getting into horrors like Evil Dead, Alien and The Thing and just generally loving monsters on screen," says Hardy.
"I wanted to make a horror movie that created a new monster. I'm a big fan of Guillermo Del Toro's Spanish films, and I wanted to do my take — a straight fairytale movie, only not set in the fantastical world but in our world."
That movie is The Hallow (formerly titled The Woods), which follows a conservationist (Joseph Mawle) who, after moving to the Irish countryside with his wife (Bojana Novakovic) and their baby, disturbs woodland creatures best left alone.
Currently in post-production, the film shot for six weeks on location in the west of Ireland and was produced by Joe Neurauter and Felipe Marino of Occupant Entertainment, with Fantastic Films acting as the Irish co-producer and sales handled by Altitude. eOne holds UK rights.
To set it in the 'real' world, Hardy based everything in the script — co-written with Marino — on established folklore but was wary of adding too much to avoid it becoming a "fantasy movie".
"One of the key ideas was trying to look at what could be behind the fairytale mythology. The idea was to look at fairy lore and try to find ways of tying it in with some of the darker aspects of science and nature," explains Hardy.

Practical magic
However, he is keen not to reveal too much about the film's antagonists in order to retain a mystery around them, something that is all-too rare in the social media-obsessed film world.
When Screen visits the film-maker in August at his south-coast home near Brighton, where editing is taking place, we get a sneak peek of the titular creatures that, in true horror-fan fashion, Hardy has brought to life by a mixture of old-school 'man in suit' practical effects, animatronics and computer-generated VFX — all with the help of creature FX supervisor John Nolan (Hellboy II: The Golden Army).
Hardy expands: "There's a number of VFX shots in the film but it's all grounded on what is really there when we shoot. I loved what they did with the new Planet Of The Apes and how they mixed those gritty real environments with the slick performance capture to blur the lines further, and I always want to try and create as real a foundation as possible, so it feels believable."
The strategy pays off. Screen witnesses a key scene when the couple discover something is in the woods and attempt to flee through fog-covered trees. It is an intense scene, wonderfully captured by DoP Martijn Van Broekhuizen, and the practical effects add to the sense of danger.
Hardy is just as interested in the characters as he is in the chills. "The great horror movies tend to be the ones that have great performances, like Jeff Goldblum in The Fly or Sigourney Weaver in Alien. That was another key thing I wanted to focus on in my first movie, I wanted to bring intense and believable performances to the table."
With the shoot seeing the film-maker work with everything you're not meant to work with, from dogs to two five-month-old babies, and three weeks of night shoots, it wasn't all plain sailing. "What I thought was my scaled-down debut movie was far more of a challenge than I anticipated, but I thrive on challenges and the hard-working crew really got on board," enthuses Hardy.
"We had two sets built in studio [Studio Solas, founded by Roger Corman] but otherwise it was all filmed at authentic Irish locations, which were as dark, muddy and difficult to film in as you could imagine, but all importantly provided me with a tremendously atmospheric and textured, eerie setting."
So has it put Hardy off location filming in the future? "I'd always shoot on location, I love it. For me, it is what's exciting and as much as I love all kinds of genres as well as the bigger studio movies, I don't really find the idea of shooting for months in a green-screen studio much fun — I like to get my hands dirty, and preferably a bit bloody, too."
The Hallow
Director Corin Hardy
Screenwriters Corin Hardy, Felipe Marino
Producers Joe Neurauter, Felipe Marino
Co-producers Brendan McCarthy, John McDonnell, Kate Sharp
Executive producers Paul Brett, Tim Smith, Will Clarke, Michael J Mailis, Corin Hardy
Cast Joseph Mawle, Bojana Novakovic, Michael Smiley, Michael McElhatton
Production company Occupant Entertainment
Financiers Prescience, Hyperion Media Group, Irish Film Board
International sales Altitude
UK distributor eOne
Delivery/release date 2015