First installed in a commercial cinema less than a year ago, the new projector-less screens - made of LED panels — are spreading across the globe. But are giant TV screens really the future of multiplex exhibition?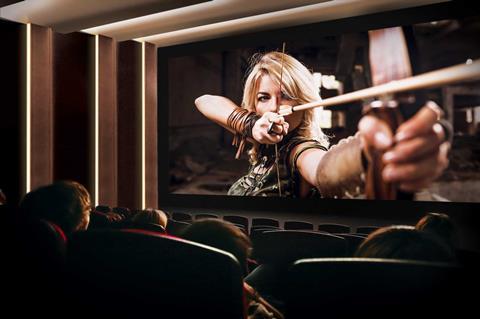 Just over a year ago Samsung Electronics unveiled a cinema screen composed of LED panels — not unlike those in the average TV display — declaring it the theatre of the future. Since then it has established its system, branded Onyx, in six cinemas worldwide with 10 more due to open by the end of the summer and a total of 30 screens by the end of 2018, a dozen of them in Europe.
Also known as direct- or active-view, the technology is an alternative to the century-old teaming of projector light thrown onto screens. "LED screens could potentially redefine our conception of the theatrical experience," says Guillaume Branders, senior industry relations manager at European cinema operators federation the International Union of Cinemas (UNIC).
"It is being taken seriously by the industry," states David Hancock, who heads the global film and cinema department at analyst IHS Markit. Samsung business development manager Carlos Verez describes the arrival of LED screens as "disruptive to the market", while characterising the early installs as "trials".
These are mostly in Asia where Samsung has struck partnerships with Wanda Cinemas, operator of 14,347 screens at more than 1,350 theatres worldwide, and with Golden Screen Cinemas (GSC) in Malaysia. The first Onyx opened last July at Lotte Cinema's flagship World Tower in Seoul, South Korea, where Samsung is headquartered. A second is running at a Lotte Cinema in Centum City, Busan. Other established sites include Wanda's Wujiaochang theatre in Shanghai's Yangpu District, with a second due to open at a Wanda venue in Beijing.
The Siam Paragon Cineplex in Bangkok is another taker and part of a wider supply deal Samsung signed with Thai chain Major Cineplex, which operates 110 theatres and 668 screens. Samsung expects several additional premium theatre renovations (which may include adding LED screens) in the region in the coming year.
GSC is putting Onyx into its flagship theatre in Kuala Lumpur's Mid Valley Megamall. In Europe, Arena Cinema Sihlcity in Zurich launched in March; the first North American site is at Pacific Theaters Winnetka in Chatsworth, California. Opening on July 12 is Kino Cineplexx Wienerberg in Vienna, part of Austria's Cineplexx group which runs more than 40 venues across Austria, Croatia, Greece and Italy.
"It could be much bigger order numbers [than 30 by end of 2018]," says Verez. "A lot of [exhibitors] with new-build cinemas are reviewing their investment plans today to consider changing to LED from the start." Samsung's ambitions stretch to 20,000 installs by 2020, which equates to 10% of the global cinema market, although achieving those numbers would require an extraordinary embrace and rush to install from international exhibitors. "The challenge comes in building sales beyond the 5% of the market that are early adopters," says Hancock.
If there is a switch from projection, it will not happen overnight. For a start, Samsung does not have a solution for the largest auditoria. It is offering three products at different sizes; a 2.7m-wide by 5m-high model with a 2K HD resolution for post-production (DCI certification is expected shortly); the 5.6m-by-10.3m DCI-certified version with 4K resolution, which is the one installed in cinemas to date; and a larger 7.3m-by-13.4m screen due by the end of this year. This has a broader pixel pitch (3.3mm versus 2.5mm) in order to retain the 4K resolution over a wider screen area.
Great expectations
Samsung is targeting the larger product at existing 16m to 18m-wide screens, but says it would not be suitable for larger auditoria. "If you put 13m in a 20m-wide room, it will look odd even though it does emit more light," says Verez.
According to Samsung, the cost of a fully-outfitted Onyx room is $530,000-$590,000. On the other hand, laser projectors range from $120,000-$280,000.
Cross-technology comparisons are an issue that cinema owners are going to have to grapple with as they weigh investment upgrades. "Multiple choice of technology rather than cost could be the overriding factor for exhibitors," says Hancock. "The industry standard was once a 35mm projector and a screen. Now, cinema owners and their technology officers will have to decide the specification that suits their portfolio of rooms. It's likely you will find a mix of technology in the same multiplex."
Verez agrees: "It's a serious investment that cinema owners take extra effort to evaluate carefully. It is not a straight one-for-one replacement of projectors with LED. You have to evaluate your return on investment on your room and as part of an overall upgrade strategy."
One benefit of LED over projection is that, with no projection booth required, real estate can be freed up for more seating. However, installations of the 13.4m Onyx will require an 8m distance between screen and audience for the 4K picture to be viewed. Unlike projection systems where audio is transmitted through perforations in the projection screen, additional space is required above the LED panels to accommodate speakers. This may require a revision of room layout.
In theory, direct-view screens last considerably longer at 17 years versus the decade of the average projector. "Although a long time to amortise a product is helpful, it is unlikely a business will get finance for a technology for that long," observes Hancock.
Sony's recent introduction of a competitive direct-view solution is likely to bring down costs (the DCI certification process is underway). Unlike Samsung, Sony has a legacy of projectors to protect and timed the announcement of its Crystal LED cinema screen with news of its latest laser light source model.
Perhaps the biggest benefit to LED technology is its superior brightness (rated 10 times that of standard cinema projectors) with improved uniformity, free of optical distortion and interference — all of which means the 3D experience will be considerably improved.
There is a positive impact on dynamic range too. Sony gives its new laser projector a contrast ratio of 10,000:1, yet its LED technology is rated more than 1,000,000:1 — just like that of Samsung. That puts it on par with Imax and Dolby Cinema systems, which use two laser projectors to get the same high-dynamic range impact.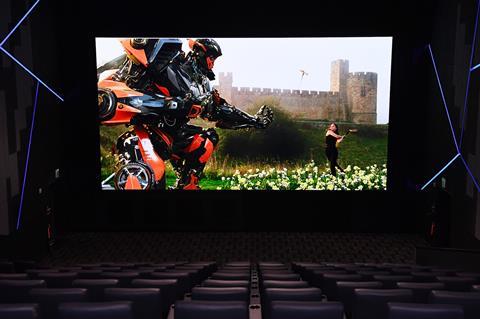 Samsung has allied with France's Ymagis Group to offer cinema owners the option of installing its LED screen in tandem with the latter's EclairColor HDR system — which means that films graded in this high-dynamic-range mastering solution can be displayed on Onyx.
Although the system will play standard digital cinema package files, post-production facilities will need to install new equipment, specifically the Samsung 2K LED screen, if content is to be monitored and graded to maximise the HDR potential of Onyx screens. Roundabout in Santa Monica is the first facility to offer this. Another is being installed at Samsung's Frankfurt office as a showroom to entice European houses to equip.
LED screens do not require perfectly pitch-black rooms, which could open new doors when it comes to event cinema, gaming or dine-in theatres, further diversifying the cinema-going offer.
Despite early installs, exhibitor reaction is cautious. "The industry has generally been impressed by the astonishing image quality and light levels offered by LED screens," says Branders. "That said, there are still concerns."
These relate to how sound systems are installed and audio is replayed, an issue being watched by UNIC members. Also, "can you efficiently maintain homogenous quality across the screen?" he asks. "Energy efficiency, weight, dimension limitations and safety are other operational considerations. Moreover, some exhibitors and film directors have expressed concerns about the ability of LED screens to reproduce the unique and iconic 'big-screen' experience, where an image is reflected onto a screen."
The technology is still in development, but as with other theatrical innovations, take-off will likely come down to whether audiences are ultimately attracted to this cinemagoing offer.