Director Daihachi Yoshida tells Liz Shackleton about Pale Moon, his story of a housewife embezzler, the only Japanese film in Tokyo's competition this year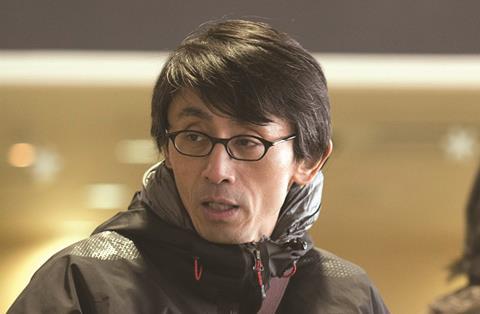 In contemporary Japanese cinema, the combination of a strong director, star and bestselling novel, manga or TV show is a sure-fire way of getting a local studio behind you. Not all of these packages are successful creatively, but in the case of Daihachi Yoshida's new project, Pale Moon, none of the three main elements could be accused of being bland or predictable.
Based on a novel by Mitsuyo Kakuta, Pale Moon stars Rie Miyazawa, one of Japan's leading actresses, who won awards for her nuanced performances in Yoji Yamada's Twilight Samurai and Kazuo Kuroki's The Face Of Jizo, although more recently she has been focusing on theatre.
Kakuta is an award-winning female author whose books such as Woman On The Other Shore and The Eighth Day portray the lives of women in their mid-30s to 40s and how they grapple with the expectations of Japanese society.
Yoshida has also won a string of awards for his off-kilter comedy dramas, starting with his international breakout, Funuke Show Some Love, You Losers!, about three siblings descending on their home town following the death of their parents, which premiered in Critics' Week at Cannes in 2007.
He confirmed his edgy signature style with black comedies The Wonderful World Of Captain Kuhio (2009) and Permanent Nobara (2010), before directing his best-known work to date, The Kirishima Thing (2012), which won the best film and director prizes at Japan's Academy Awards. Less comedic than his previous work, that film took a wry, perceptive look at the various cliques in a high school, where the social order has been overturned following news the star athlete has quit the volleyball team.
Yoshida says his new film also adjusts the drama to comedy ratio: "There might seem to be fewer recognisable elements of comedy and a more serious tone than my other films. However, you'll find that it deals with the theme of the relationship between society and human beings more radically than my previous films," he says.
Adapted from Kakuta's novel by TV writer Kaeko Hayafune, the film follows a housewife (Miyazawa) working in a bank, who feels neglected by her husband and starts an affair with a university student. The more time she spends with him, the more she is tempted to use her clients' money, until she finally graduates to full-blown embezzlement.
Produced by Ikeda Fumitsugu for Shochiku with Robot Communications as the lead production company, Pale Moon is the only Japanese film in Competition at Tokyo International Film Festival (TIFF), where it receives its world premiere.
Shochiku will release theatrically in Japan on November 15.
Strong platform
"The producer held the film adaptation rights for the novel and offered me this project," says Yoshida. "I liked it because it's a reflective hard-boiled story about a woman who doesn't quickly judge black from white and follows her will as well as her impulses."
Yoshida adds that he had been hoping to work with Miyazawa for some time, but the opportunity had not arisen as the actress was working mainly in theatre. "Luckily, when I offered her this leading role, she had shifted her interest back to movies," he explains. "What I really appreciate is her overwhelming ability to express subtle emotional changes with gestures and facial expressions."
He also has high praise for the young actor who plays her lover ― Sosuke Ikematsu ― who started out as a child actor in The Last Samurai and has been working steadily since: "He's outclassed other young actors these past two years in respect of both quality and range."
Yoshida says he is proud to be premiering Pale Moon on home turf at TIFF, which he also regards as a strong international platform to launch the film, but acknowledges it has been difficult for Japanese dramas and comedies to travel overseas in recent years.
"It's due to the mindset on the production side," he says. "It obviously won't work if you make the domestic market the highest priority and do international business with leftover resources. I think trial and error will continue but I'd like to get involved in this matter as much as possible."
Factfile: Daihachi Yoshida
An award-winning commercials director, Daihachi Yoshida made his feature debut in 2007 with Funuke Show Some Love, You Losers!, revolving around a dysfunctional family living in the countryside, which premiered in Critics' Week at Cannes.


He followed his debut with 2009 conman comedy The Wonderful World Of Captain Kuhio, about a grifter who seduces women under the guise of being a US Navy operative. The film won three acting awards at Yokohama Film Festival.


His 2010 film, Permanent Nobara, was also a black comedy, this time about a woman moving back to her home village with her daughter following a divorce. It won the Netpac award at Korea's Puchon International Fantastic Film Festival (PiFan).


Yoshida's most recent film, high-school drama The Kirishima Thing (2012, pictured left), won a string of awards including best film, director and editing at Japan's Academy Awards; best editor at the Asian Film Awards; and the Netpac award at PiFan.