The composer on scoring for Danny Boyle's Oscar contender.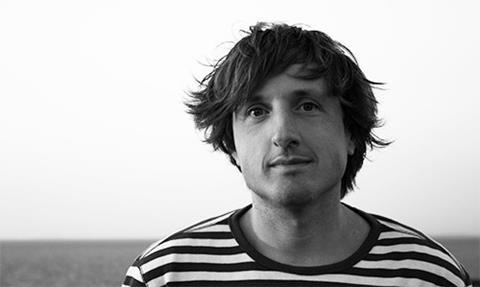 Once known as the 'go-to' music guy in British television - scoring bold, innovative music tracks to shows such as Peep Show, Upstairs, Downstairs and even Ramsay's Kitchen Nightmares - Daniel Pemberton has quickly risen through the ranks, and is now one of Hollywood's most sought after composers.
His cinema repertoire began with The Awakening, followed by Ridley Scott's The Counselor, Guy Ritchie's The Man From U.N.C.L.E. and most recently Steve Jobs - Danny Boyle's contender in this season's awards race.
Screen spoke to the young composer at this year's World Soundtrack Awards, where he was last year donned the Discovery of the Year.
You are known within the industry as creating a wide variety of musical compositions - whether orchestral, electronic or with an unusual array of instruments. How would you describe the score for Steve Jobs, which is broken down into three acts?
When I first met Danny [Boyle], he had this great way of describing the film: the first act was about his [Steve Jobs'] vision, the second act was about his revenge and the third act was about his wisdom. Since all three represented very different parts of his life - we both discussed the idea of having three different scores to correspond to the specific time periods. We had no idea if it would work, but in the end I think it did. It gave the film a sense of momentum, a sense of identity. It keeps you engaged throughout the story.
At what stage of the production process did you get involved?
I started right at the beginning from script stage. Once production started, I'd be watching rushes everyday and responding to the performances, cinematography, production design, editing and of course Danny. I'd write a a lot of music, Danny and I would talk, then change things. Back in London - we'd finesse things until it was right. It's great because your 'stuff' becomes a lot more embedded in how the film is made, rather than just turning up at the end. Everyone was part of the collaborative process.
What was it like to work with Danny Boyle?
Danny is such a fantastic filmmaker - he was able to turn what is essentially a two and a half hour play into a cinematic vision. And I loved his process of scoring all the way through production. You're not getting a composer to come up with somebody's else's work - it's very creative.
I understand you used a variety of vintage synthesisers to recreate the first act, which is set in 1984 when Steve Jobs unveils the first Macintosh computer. Can you tell us more about that?
This was an interesting time - the forefront of a new era in technology. Steve Jobs and Macintosh thought what they were doing was going to change the world. While that didn't happen until the late 90s, I still wanted to capture that feeling of optimism.
Danny Boyle was going to shoot this act in 16mm, so I decided to only use equipment from 1984 which included several different vintage synthesisers (Yamaha CS 80, Roland SH-1000, Roland Juno-60, Moog Minimoog). Some of them were difficult to find, and there were limitations… The synths wouldn't have enough memory so you would have to take pictures of how they were set up, you'd have to play the notes by hand and if the room was too hot - they'd go out of tune.
I remember in particular the 'Child/ Father' track - I used the Roland SH-1000 where you could only play one note at a time. So I had to play these notes incredibly fast and then blur them to make it sound like a chord. That became a distinctive sound, but it took a long time. It forced you to write as if you were in 1984.
Act II takes a sudden turn, focusing more on orchestral sounds and an opera piece as well. Why did you decide on these particular sounds for 1988 - the year Steve Jobs was getting ousted from Apple?
Danny compared this act to a Shakespearean tragedy. It was set in the San Francisco Opera House. Danny was filming on 35mm so we wanted to do something very theatrical to reflect both the beautiful space and Steve [Jobs] taking revenge. We had this idea - let's write opera with orchestral music. In another track, it sounds like the tuning up of an orchestra, which seems simple but was actually technically complicated.
The revenge scene between Steve and John Sculley was the most challenging. It's an epic nine minute piece that was incredibly difficult to write as it had to fit just perfectly underneath the storylines, the cadences, the intensity of their conversation; yet still retain a core element of the musicality throughout.
Aaron Sorkin's dialogue moves fast and for a composer that can be daunting. It wasn't like writing a film score; you had to write symphonic music that followed the conversation. It took about two months to get right. We went back and forth - there were so many ideas that Danny felt were not working, too intrusive or not intrusive enough. But I'm really pleased with the final result. Aaron [Sorkin] complimented me on the music as well which is a relief.
The final act - how did you assemble the music for 1998 - the year when Steve Jobs at last saw his vision come to fruition with the launch of the iMac?
1998 was the start of the digital world we now live in. Steve Jobs and Apple started looking at the artistic possibilities for computers, rather than just the accounting/ academic side of things.
Danny decided to shoot digitally with an Arri Alexa. I thought of how I work - I use Apple software and Apple Logic, and on my desk I have a box that is equivalent to a multi-million (GBP) recording studio twenty years ago. The computer tools allow me to write and experiment in all these different ways very quickly. So for the third act I wanted to celebrate that with a more digital score made from the computer using the software tools we take for granted as composers.
The music sounds much more streamlined in this act but some of it was very tricky. One of my favourite scenes in the film is one of the simplest pieces of music. Steve [Jobs] and [Steve] Wozniak are having an argument on stage in the theatre in front of everyone. I had a low pulse treated minimally with just a couple of chords underneath it. Nothing to it. But the impact it has is phenomenal - it transforms the scene. You wouldn't have been able to get into the sound with that amount of detail until the digital world came about.
Can you talk about the next project you are working on?
I can't say too much since it's still very early in the process, but I can say I have worked with him before.