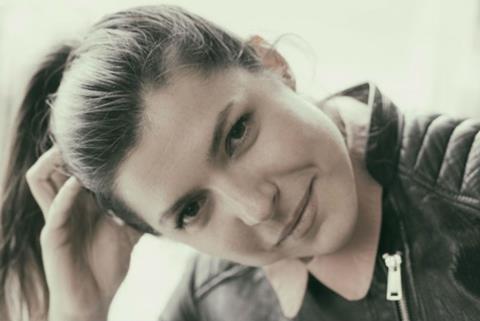 Director Darya Zhuk reveals why she wanted to return to the hopeful, optimistic time of 1990s Belarus for her debut film Crystal Swan which opens Karlovy Vary's East of the West competition on Saturday (June 30).
Crystal Swan is about a young woman growing up in post-Soviet Belarus in the 1990s. Alina Nasibullina plays a wannabe DJ who dreams of moving to the US but makes a tiny error on her visa application throwing her plans into disarray. It is the first film by Belrus-born Darya Zhuk who now lives between Minsk and Brooklyn. She studied filmmaking on Columbia University's MFA directing programme and her short films have screened at SXSW and Palm Springs International Film Festival. Crystal Swan is a Belarus-Germany-US-Russia co-production between
Screen: Crystal Swan deals with a country in flux at a time of great change more than two decades ago. What made you want to revisit that era?
Darya Zhuk: I grew up in a young country which still has a lot of white space to fill in in terms of its national identity and new history. The 1990s was a time of cataclysmic changes but also tremendous opportunity.
I'll never forget the disorienting but freeing experience when my history books were rewritten overnight. I wanted to reinterpret this time from my own point of view. The way I experienced the '90s was not necessarily a time of grim nihilism that you see reflected in the iconic filmmakers that made work about that time. It was a hopeful era, where for a moment it seemed like everything is possible. It was a turning point for Belarus for many ways, and though the story is not political, by existing in this era, it recalls certain historical significance.
Originally, I was planning to use archival documentary footage in the beginning and the end of the film, so I got to see faces of the people on the streets, and I was amazed at what a long journey we've travelled and how different the times are right now.
How do you relate to Velya, the lead character, whose dream is to leave for the bright lights of the US? After all, that's a wish of not just many DJs but also many filmmakers…
Velya is a collective image of several of my girlfriends. I'm in awe of her charisma. I can't stop listening to her wild stories and yet I would like to keep a certain distance to protect something in myself she might steal one day. I love her, and I'm afraid of her at the same time. She's a complex character I would have loved to meet on screen when I was 22. I feel I grew up without seeing women of my generation I admired in films. Somehow they just didn't hit the spot, I couldn't find anyone to relate to. Maybe it's a result of women not directing as much. It's only in film school I really dug deep and found these characters carefully hidden in forgotten arthouse films like Smithereens by Susan Seidelman.
Tell me how you went about casting Alina Nasibullina in the lead.
Alina was a last-minute gift. I have an amazing casting director called Daria Korobova based in Moscow who tirelessly worked on finding the right actress. For months, we looked for a certain innocent spunk, someone you criticise but who can hypnotise you back, and we were not finding her. Minsk, Moscow, Kiev, New York. I despaired.
We were already in pre-production when I fell in love with Alina's blasé introduction tape she recorded at 2am. Curiously, she didn't read for Velya and just talked about herself. From that moment on, I prayed she was who she was on that self-tape but it took another week to lure her to come to Minsk.
What I was trying to capture with Velya is this certain female 'cool' that I can bottle up and spill all over the screen. Alina is inherently cool. She's got it. On top of it, she is a hardworking and professional collaborator, whose stamina I admire. I'm so excited to see her career take off.
This is your debut feature. Was it a difficult project to put together and get funding for?
I look back at the journey the Crystal Swan production travelled and I don't understand what gave me the willpower to keep pushing it forward. I still am very involved in all production decisions.
I tested the waters with government funding in Belarus, but soon decided to abandon the route, as I was not ready to give up creative control of the project. The film was cobbled together with small chunks of international private equity and several government entities from US and Germany that helped along the way.
We ended up collaborating with local production companies in Minsk, as well as Belarusfilm. Getting producers from four different countries to communicate required a lot of work on my part, but this way nobody had a majority stake. It allowed me to shoot the film I wanted to shoot. I got very lucky with finding a supportive team.
How did you balance the dark drama with the humour in the film?
Crystal Swan is an experiment in tone. I'm very interested in satire but then I also have a lot of empathy for my characters that only allows me to laugh together with them and not at them. I never want to stay "above" the situations that my characters are in. It's a recipe for disaster in my book.
I went off the conviction that both "high culture" and "low culture" existed in the '90s in certain absurd proportions due to these dramatic changes in society. Similar to when press was invented in pre-revolutionary France, the front page of the newspaper could have both the latest political news and pornographic stories printed together. It's the culture that hasn't been born yet, so it coexists. Comedic elements overlap with dark drama. As long as one has empathy, you can attempt to influence the socially constructed perception of genre.
How do you think the film reflects the contemporary situation in Belarus?
I saw a lot of hope and opportunity in mid-'90s Belarus. Maybe now I see some lost opportunities as I look back at on that time, too. And I can't stop but to wonder if I was a part of the problem? Just like me, many of my friends travelled the world and then settled in other countries. I spent a lot of time in US, earning degrees and figuring out survival strategies.
Velya is almost an American character, and individualist, placed in a society still steeped in its collectivist values. It's difficult for her to succeed because she can't change this society overnight. How can you be free if the person next to you is unfree?
Crystal Swan will open the East of the West Competition at Karlovy Vary. What are you looking forward to at the festival?
Years ago, a colleague of mine pointed me to the painful, satirical, endearing [Milos] Forman's The Loves Of A Blonde, in connection with a script I was developing. I'm honoured to pay homage to Milos Forman, who was so influential in defining the curriculum at my alma mater Columbia School of the Arts.
I'm also so thrilled to experience Crystal Swan on a large screen, with an audience, since [ director of photography] Carolina Costa and I didn't shoot this film for a mobile phone. This is how it's meant to be seen. Additionally, I'm excited to have Karlovy Vary's mandate to open doors for more films from Belarus. There are filmmakers that need to hear about our success story. We all need a new Belarusian wave.
What are you working on now?
The filmmaker you were when you started your film is not the filmmaker you are when you finish. Before I shot Crystal Swan, I had a high-school comedy that was based on my personal story of coming to America. (No, Crystal Swan is not autobiographical!) Now, I feel like I might want to take on a different genre and a bigger budget. I'm still interested in offbeat complex women characters but I want to find another way in, and maybe graduate from a coming-of-age genre for a moment.
Crystal Swan is a co-production between Belarus' Demarsh Film, in association with the US' Fusion Features, Unfound Content and Vice Films, with Russia's Inspiration Films, and the US' Crystal Goose. Futher support came from BelarusFilm and Nashe Kino (both in Belarus), and the project received grants from New York State Council for the Arts, Germany's Hessen Film Fund, and the Tribeca Film Institute.