The US comedian and writer discusses Hits, his directorial debut about celebrity and the YouTube generation.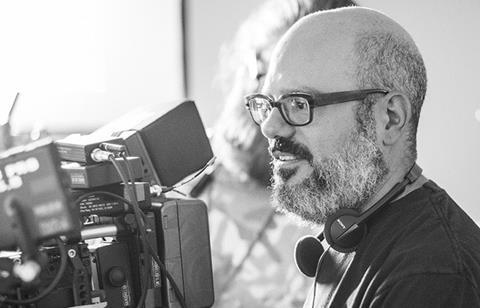 There is something very British about David Cross. The US comedian - best known for his edgy stand-up, sketch comedy series Mr Show and sitcom Arrested Development - looks very much at home in London pub with a pint of ale and a bag of crisps.
Cross is in town with his directorial debut Hits, which debuted at the Sundance Film Festival in January and was equally well received by audiences at Sundance London at the end of April.
Despite being set in small-town America, the story of a teenage girl seeking instant fame through a reality show is easily translated to both sides of the Atlantic.
"Our two countries and cultures are complicit with the degradation of culture as we know it," Cross tells Screen.
"Hits is about how earning celebrity means something different today – there's no meritocracy."
The film centres on Katelyn, played by Meredith Hanger, who dreams of starring on reality show The Voice and being interviewed by Ellen DeGeneres. But, to her increasing frustration, those around her inadvertently find fame on YouTube including her father, played with complexity by Matt Walsh, who becomes the cause celebre for waves of New York hipsters.
The result is a sharp, edgy satire that delivers shocks and laughs in equal measure, and is far from being an all-out comedy.
"It's not meant to be a raucous, riotous comedy," explains Cross. "After the first screening of our rough assemble, the overall note we received was that it was too funny.
"We had this interesting, sweet story that was being buried by comedy scenes so we had to lose them as they didn't fit with the essence of the movie."
Cross words
Fans had been calling on Cross to direct a movie for years "because I've got a big fucking mouth and I'm opinionated".
He wrote four scripts with Bob Odenkirk, his follow comedian and co-creator of Mr Show with Bob and David, a sketch show with echoes of Monty Python that ran for four seasons on HBO from 1995-98.
One got made in 2001, Run Ronnie Run, but "it got taken away from us in the post process and we didn't like how that turned out". It wasn't even released in theatres.
The turning point came at Sundance two years ago. Cross had starred in Todd Berger's ensemble comedy It's a Disaster, which the festival turned down
"I thought it was a really good film and the writer-director did a fantastic job," he recalls.
"But I'm sitting in the theatre at Sundance watching the second consecutive film that would really irk and bother me. But knowing that It's a Disaster didn't get in and this other film did really bothered me.
"I left that experience thinking I had to put my money where my mouth is and make a movie."
Hits
Cross considered all his ideas and chose to make the one that was most practical, "meaning with the least amount of money". It would be set near his home in upstate New York and would call in favours to get the film made, using locations owned by friends and letting people stay at his home during production.
The script was picked up by LA-based Honora Productions. Here, the UK connection continues. "Two of the three people there are Brits and they responded really enthusiastically to the script," says Cross.
Shot during the summer of 2013, Cross chose not to act in the film. "I wanted to focus on directing and also have fun," he says. "If I was in front of the camera, I would have to be running back and checking playback, and I didn't want to have to do it that way.
"There were so many moments where I wished I could get in there but it was so great to just concentrate on this thing.
"I also wanted the performances to stay grounded and my instinct is for comedy so I would take it to that comic place and by the time we got to dailies it would be too late."
A rough cut of the film was submitted to Sundance, which accepted - shaving five weeks off the delivery date.
"From November, we worked every day except Thanksgiving, Christmas and New Year's Day. It was nuts," says Cross.
"I remember at 8.37pm we had to give the DCP to our line producer in New York to get in a cab, go the airport and get to Park City at the last possible moment so it could be screened."
Following a positive response, the festival requested Hits for Sundance London and Honora is planning to secure distribution in the UK and Europe before bringing it back to the US.
Future plans
While in London, Cross has taken meetings over two other potential TV projects. He has previous experience in British TV having made two seasons of comedy The Increasingly Bad Decisions of Todd Margaret in the UK.
He would also reprise his role as the hapless Tobias Funke in US sitcom Arrested Development, if a movie or future series was ordered by Netflix and says: "I know I speak for everybody when I say we'd all love to do it again."
As for films, has the experience of directing one inspired him to make another? "Absolutely. I had such a great time with it," adds Cross.
"I've always loved the editing process, finding this movie that you didn't know was there. I've loved it since we were doing Mr Show, finding these moments that we hadn't anticipated. And I love the long term part of the process. It can take 18 months so you really get your time with it."
His next idea is even more ambitious. "It's crazy," says Cross. "It's quite a bit bigger and becomes international. The character would end up in Israel and the UN. But at the core are specific human elements. But I have to write it first.
"Hopefully, Hits will be successful and will allow me to get a little more trust."