David Furnish, who has as worked as a producer for more than 20 years and is chairman of Rocket Pictures alongside husband Elton John, earned his first Bafta film nomination for producing outstanding British film contender Rocketman earlier this month.
Made with Paramount Pictures and directed by Dexter Fletcher, the film tells the story of Elton John's life, from childhood through until his mid-30s, as he deals with family relationships, success, addiction and his sexuality.
It was released through Paramount on May 22 in the UK and May 31 in the US, grossing £23.2m (£30.1m) in the former and $96.4m in the latter as part of a worldwide total of just short of $200m.
The film has picked up three other Bafta nods, for makeup and hair, sound, and best actor for Screen Star of Tomorrow 2014 Taron Egerton; and one Oscar nomination for best song, for '(I'm Gonna) Love Me Again' by John and lyricist Bernie Taupin.
Ahead of the two ceremonies, Screen spoke to Furnish about the film's reception, the importance of LGBT representation, and his upcoming projects.
After the Oscar and Bafta nominations for Rocketman will you be attending the awards ceremonies?
Yes, I'm in Australia, Sydney at the moment, but I'm flying back next week especially for the Baftas. Unfortunately, Elton can't because he is in the middle of the tour; he's going on to New Zealand, and I'm going back to London, and then I will see him after the Baftas in Los Angeles for the Oscars. Sometimes we try our very best to divide and conquer, so to speak.
Eight months on from its release, how do you judge the success of Rocketman?
It took 12-13 years to bring Rocketman to the screen; we held out very long to make the film we really believed we needed to make in order to reflect the spirit of Elton's life authentically. That necessitates a higher budget. All the fizz and great set pieces and wonderful musical numbers - that just costs more. Coupled with the fact that, as Elton said,'I haven't exactly lived a PG-13 life'. You get a bigger budget level, you get an R-rating, and it makes a lot of people very nervous when the budget levels creep up.
The box office returns we got were incredibly gratifying. But more importantly, it feels like the film has really resonated. The number of people it has touched in relation to self-esteem and self-love issues, people dealing with addiction issues, people dealing with difficult childhoods, real families vs chosen families - all issues which affect so many people, and Rocketman seems to have ticked a lot of boxes and touched a lot of people.
The film has been cited as the first studio movie to include a gay sex scene; what are your thoughts on that milestone?
We worked really hard to make it as authentic as possible, and also to make it as earned as possible. As a filmmaker, I'm not a fan of gratuitous sex in any film, gay or straight. But I really felt it was a huge moment for Elton - it was when he lost his virginity, it was the first time he slept with a man. We've made so many advances in so many respects in relation to LGBT equality. And then you have the head of the Church of England issuing a statement saying that only married couples should be in sexual relationships. You think 'are you out of your mind?!'
This is the crazy dichotomy of the world we live in; we've made fantastic advances on one hand, and on the other hand these moments come along where it feels like we take 10 steps back. We have to continue to blaze trails wherever we can; we have to, as filmmakers and creators of culture, try to move the dial, be provocative, be relevant, and try to reflect all aspects of society, all aspects of life.
Could Rocketman have a second life as a stage show?
We've no immediate plans to take anything that's based on the film to stage. If we wanted to tell Elton's life story on stage - and that's something we're definitely interested in doing at some point - we'd want to find another innovative narrative way. Rocketman is a window into specific elements of it, and there's so much of that life that we haven't touched on. You don't ever want to create something for the sake of just creating it; you want to feel like you have an interesting story to tell, and a reason to tell it, and then hopefully people that want to hear it, and want to learn about it, and want to embrace it. You need perspective to take all of that in, you need to stand back and look at how what you've already created and put into the world, how it's resonating and how it's landing. I'm excited; we've had a terrific uptake on DVD sales and direct downloads; we're getting close to the £7m unit mark which is fantastic uptake.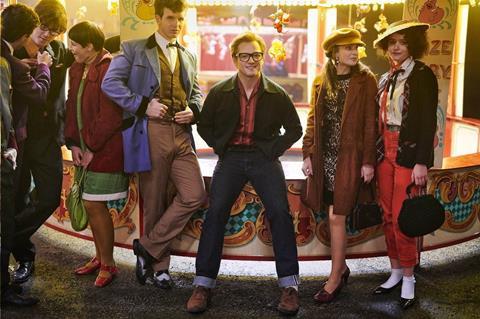 Are you involved in discussions for its online life?
We certainly have points of view on where we'd like it to go; because we're financed by an American studio they have output deals or may have certain relationships, there is a bigger thing going on. We can certainly have input, I don't know how much we can actually influence it.
Rocket Pictures owns the film rights to Joseph And His Technicolor Dreamcoat; what is the latest on that project?
It's in development, it's an animated feature. Steve Hamilton Shaw [co-CEO at Rocket Pictures] is focusing on animation and particularly Joseph. We've done concept design, character design, story outline, development. We're looking for the right home to produce it.
I'm staying more with my live-action hat on and working with Elton on two theatrical productions, one which has been announced which is a stage adaptation of The Devil Wears Prada, and another theatrical project which we haven't announced yet but the music is written and we're developing the book. That's an original idea straight to theatre.
Would you have a dream actor to voice Joseph?
There are a few people we're having quiet discussions with but I can't really say. Certainly someone young and male from the pop world would be a great fit for us.