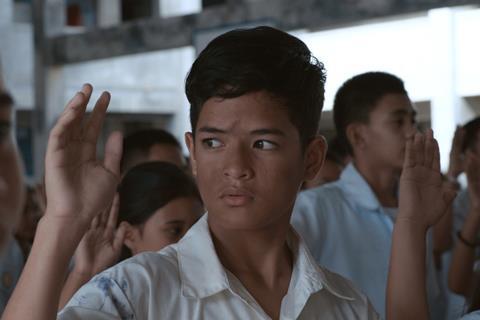 John Denver Trending, the feature debut of TV writer-turned-director Arden Rod Condez, is set for an international premiere in Busan's New Currents section after winning six awards at the 15th Cinemalaya Philippine Independent Film Festival, including best film and best actor for newcomer Jansen Magpusao.
Inspired by true stories, the coming-of-age drama follows a 14-year-old student who is wrongly accused of theft, and then becomes a victim of cyberbullying when a video of him fighting his accuser goes viral.
The film – which was backed by Cinemalaya – also won awards for editing, cinematography and original score, as well as the Netpac prize. Each year, Cinemalaya funds 10 local projects with the aim of developing independent filmmaking in the Philippines. For the first time this year, the funding allocated to each project was increased to $19,000 (php1m).
"Rising filmmakers are given the chance to freely develop their identities, as Cinemalaya won't meddle with the production," says Condez. "That, for me, is the best version of independent filmmaking when no-one is there to restrict you from taking chances and making mistakes."
Surprise success
With an almost fully non-professional cast speaking in a local language, Condez was surprised that his new film ranked number one at Cinemalaya's box office. "Two more halls were added to accommodate everyone on the last day of our screening during the festival, which was a first. The cinema partners also extended our limited run to three weeks even after the festival ended, also a first for a Cinemalaya film."
The feature was shot in Condez's hometown, Pandan, in the province of Antique on the island of Panay, right in the middle of the Philippines. "Up to this day, we still practise some pre-Hispanic shamanism, not just to heal illnesses, but to solve crimes.
Together with some Catholic traditions, some of these practices are featured in the film, such as consulting a pair of scissors if we want to find something we lost," Condez explains. "The Kinaray-a language is specific to the island of Panay and not many people know about it. I thought it would alienate the Cinemalaya audience but surprisingly it did not."
Finding actors who can speak the local language, however, became a challenge. Condez ended up using mostly non-professional actors, including some of his relatives. The only known actor is Meryll Soriano, who plays the student's mother.
When the film premiered at Cine­malaya, it was the first time for Magpusao, a native from Pandan, to travel to Manila and see a film inside a cinema. Condez was intrigued by how his eyes could speak volumes when he saw pictures of Magpusao sent by a cousin. "His role didn't require him to talk a lot, but it's important that his emotions intensified even if he stayed silent," says the filmmaker.
Prior to directing, Condez was a full-time writer with local media network ABS-CBN for almost 15 years, writing mostly nightly drama series. "For a filmmaker living in a developing country, I was surprised that fellow film workers are willing to help out debuting directors," he says. "All of our production staff came in at lowered fees and a camera rental company even invested in the project and allowed us to get the cameras we wanted."
In addition to the Cinemalaya funding, the film is financed by What If Films, founded by Condez and Sonny Calvento, whose feature debut The Decaying screened at BIFF in 2017, new production outfit Tinker Bulb Productions and Sheron Dayoc's Southern Lantern Studio.