Many producers are turning to direct distribution to get their films in front of audiences. Ian Sandwell reports on the growing trend and hears about the pros and cons from those who have taken the path.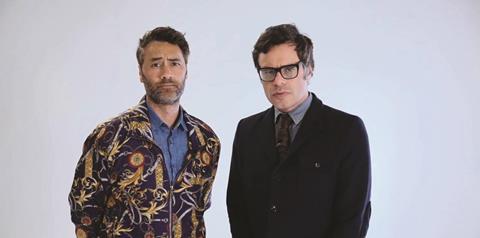 Alternative distribution has become an increasingly viable route for producers to get their films seen in a competitive landscape, with many bypassing sellers and distributors to market their title or secure direct deals with cinemas.
The trend was born from the internet, functioning as a "disruptive technology", according to Robert Franke, chief content officer at global VoD service Viewster.
"The internet democratises distribution. In the old world, distribution companies and sales agents acted as gatekeepers for local markets. The internet allows producers to bypass the gatekeepers and find their target audience in a direct way."
US producers have spearheaded the trend, with film-makers such as Shane Carruth (Upstream Color), Kevin Smith (Red State) and David Cross (Hits) among the trailblazers.
The latter used BitTorrent Bundle for a January 2014 digital release of Cross's comedy drama, also raising funds on Kickstarter to cover the costs of showing the film in 50 cinemas across the US.
It is increasingly popular in the UK, too, with teen movie documentary Beyond Clueless and war drama Kajaki: The True Story two notable recent releases. Production outfit Neal Street recently 'self-distributed' documentary We Are Many.
Beyond Clueless producer Catherine Bray says the DIY approach to releasing the film resulted in a profit at UK theatres, where its take of $40,000 (£27,000) topped the total budget for the whole film (including production and marketing) - around $30,000 (£20,000).
"The numbers involved are very small, but given how few films break even in this sector, it felt like a win," says Bray.
As for Kajaki, which took $270,000 (£180,000) at the UK box office, producer Gareth Ellis-Unwin says one of the strengths of the film's alternative distribution campaign was a "greater ownership over how it was delivered to the public".
"The big benefit of direct distribution is that you can stay very close to the process," he says. "The downside, as a producer rather than a distributor, is that you don't bring a wealth of experience and history with other titles, of what has succeeded and failed." The term 'self-distribution' is a misnomer - producers rarely do it alone.
In the UK, bespoke marketing consultancies such as We Are The Tonic and Coffee & Cigarettes are increasingly taken on by producers looking to connect with audiences. But it is not a decision that should be taken lightly.
"Producers shouldn't underestimate the amount of work and planning that goes into releasing a film," declares Eduardo Panizzo of Coffee & Cigarettes.
"Distribution companies have whole teams of people to take care of every aspect of a film's release. When considering self-distribution, you're not afforded that luxury."
The UK-based company has worked on alternative distribution campaigns for films such as One Night In Istanbul, which took more than $75,000 (£50,000) from 12 sites during its opening weekend, and An Oversimplification Of Beauty.
A successful campaign begins at the earliest stage possible, says Richard Abramowitz, president of US alternative distribution specialist Abramorama.
"What's the film about? Why is it being made? Who is it being made for? How can that audience be activated?" he asks. "Once these questions are answered, the audience is defined and we understand how to motivate them. From there, the next steps develop organically."
Abramorama has worked on campaigns for Awake: The Life Of Yogananda (see below), Exit Through The Gift Shop (in partnership with Producers Distribution Agency) and Particle Fever (with BOND 360).
Abramowitz adds that crowd-sourcing platforms are "enormously valuable" as they create an established audience for the film, one that's "invested in the film both financially and emotionally".
Crowdfunding and perception
Kickstarter is one of the best-known platforms in the space. The US release of vampire mockumentary What We Do In The Shadows raised $446,666 from its original $400,000 target.
George Schmalz, film outreach lead at Kickstarter, says crowdfunding has become another "part of the pie" in the US.
"People are now thinking it's not just for raising money, but also for building a community and a proof of concept to a certain degree," he explains.
But Schmalz outlines that producers need to understand the work that goes into a crowdfunding campaign as part of an alternative distribution strategy. "The last thing you should do is put a project up and then wait for the money to roll in," he warns.
"I'm not sure you necessarily need someone who knows crowdfunding, but it's good to have someone, even if it's just you, who is dedicated to maintaining it on a daily basis."
Producers' understanding of complex windowing and the myriad online VoD platforms represents another potential pitfall, explains Panizzo.
"A lot of films, particularly recent US titles, license exclusive rights to SVoD platforms [subscription VoD] without thinking about how that will affect their EST [electronic sell-through] and DTR [download to rent] release strategies, not to mention DVD and theatrical," he claims.
Franke believes that, from a platform perspective, the biggest issue when dealing directly is the perception of the product. "A producer who spends years to finish a product often overestimates the commercial potential of his product and has unrealistic expectations," he says.
"A sales agent has more of a neutral perception, ultimately saving a producer a lot of time by going directly to the 'right' outlets rather than pursuing unrealistic players."
'It's not the 1940s'
Regardless of the strengths and pitfalls of alternative distribution, Panizzo believes it is no longer "a last resort", although Ellis-Unwin cautions it will not be right for every film, particularly those with higher budgets.
"On a modest title such as Kajaki, you can explore opportunities of an alternative distribution model," he says. "But as soon as you have a film that hits a certain price point, I'd imagine it would be difficult to make a direct distribution model work."
Abramowitz agrees, stating that films targeting broader audiences are still probably better served working with a traditional distributor. He adds: "There was a time when so-called self-distribution was a last resort, but the landscape has changed dramatically and it's now a viable consideration.
"It's not the 1940s when studios had such strong brands that people would look to Warner Bros for, maybe, a social issue film, or Universal for a horror film, or MGM for a musical. The average, even sophisticated, movie-goer is indifferent to or ignorant of the distribution entity."
Awake: The Life Of Yogananda
Paola di Florio and Lisa Leeman's documentary about Indian yoga master Paramahansa Yogananda, Awake: The Life Of Yogananda, has grossed more than $1.4m at the US box office over its six months on release, after being distributed by production firm CounterPoint Films.
The producers approached Richard Abramowitz of Abramorama to lead the theatrical component of its release, which included screenings via the Gathr 'Theatrical On Demand' platform. "The producers rightly believed they understood who their audience was and that they could effectively access and activate it," recalls Abramowitz.
With resistance from the exhibition community overcome by "persuasive" initial results, the challenge for Abramorama was to "maintain the release in a way that allowed the outreach teams to continue to seed the communities thoroughly", so that the film built momentum and word of mouth.
The result was a campaign in which, according to Abramowitz, the "ratio of expense to return was among the best - if not the best - of any film I've worked on in the past 15 years".
Awake: The Life Of Yogananda currently has more than 100 screenings scheduled through the producers' continued work with Gathr, with further screenings anticipated for the International Day of Yoga (June 21).