Fourteen years ago, the UK's National Film and Television School took a gamble when it appointed a maverick producer as its director. Screen asks the departing Nik Powell: how did it all go so right?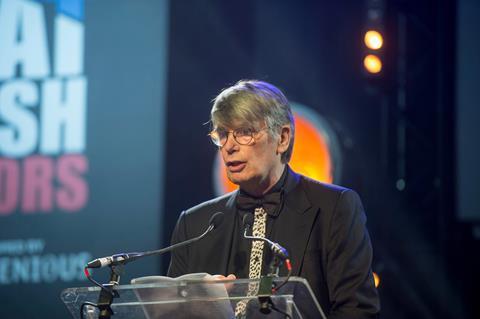 When in the summer of 2003 it was announced that film producer Nik Powell would join the UK's National Film and Television School (NFTS) as its new director, opinion was divided. There were those who wondered how the voluble fixture of industry parties and former husband of singer Sandie Shaw would cope with life in bureaucratic, politically correct academia, to say nothing of exile in sleepy Buckinghamshire, and those who saw it as an inspired hire that would give the establishment a necessary creative jolt.
Fourteen years later, with the school hugely expanded, its reputation enhanced and student numbers surging, few would contest that the avowed maverick has been anything other than good news. Powell, who handed over the reins to his former deputy Jon Wardle at the end of July, leaves the NFTS just as its Beaconsfield campus has completed a $26m (£20m) makeover, with the addition of new 20,000 sq ft buildings containing state-of-the-art facilities and new courses that will take full-time student numbers to 550 by 2019 — compared to just 200 five years ago.
Speaking to Screen International on the day the new buildings opened, Powell reflected on his tenure, which began when Michael Kuhn, then chair of the NFTS board of governors, called him to suggest applying for the post.
"To be fair, I didn't know if I could do it," says Powell. "I'd never run an institution, although I had chaired the European Film Academy. I was very upfront with Michael and Peter [Bazalgette, deputy chairman], 'I don't know if I can do this.' But I didn't know how to run a record company before I started Virgin [with Richard Branson]. I had no idea about film when I came into the film business. I had no idea about European film academies when I went into that. So I thought, it's just another thing that I'm going to have to learn.
"The good thing about coming into things you don't know about is you can see the wood for the trees," he adds. "You can see more clearly where the core thing is."
Powell arrived at a time when the school was desperately in need of new buildings and facilities, but the existing plan for a new home was nowhere close to realisation. Recalls Kuhn: "The first thing Peter and I had to do was reverse plans to build a £40m glass marble palace for the school on the South Bank. Michael Grade, before me, had eventually said, 'This is madness, why do we need to operate out of a marble palace, and what's wrong with [staying in] Beaconsfield?' But I remember Alan Parker saying the film school was like a derelict building site, which it pretty much was."
Powell agreed that an upgrade of facilities at Beaconsfield was an urgent priority, and reckoned $10m (£8m) would be a more achievable target. "Then they showed me the plans, and they were going to move all the administration into the nice new buildings, and the students into the old shit buildings," he says. "I said, 'Number one, nobody's going to pay for that, and number two, this is getting your priorities wrong.'"
Instead, the eventual new building, the Oswald Morris building which opened in 2008, contained seminar rooms, cinema, library, what the school calls 'student bases' and a facility close to Powell's heart: a café-bar at the exit of the school, through which everybody must pass on their way home, creating a space for interaction.
Rules of attraction
Powell's vision extended beyond the physical fabric. "For me, the film school is like a film," he states. "The first thing is to put together a great project, a great product, that attracts money. Our priority was to attract the brightest of students. People assume they will just arrive. No, you have to make yourself look sexy vis-a-vis the competition."
Powell felt that, apart from loyal supporter Stephen Frears, the school rather lacked ambition in the masterclasses it hosted. He immediately set about persuading Spike Lee to come and talk. "After Spike, a lot of people who had been saying, 'Not sure I have time,' started falling into line," he says. Danny Boyle, Steve McQueen, Park Chan-wook, Lone Scherfig, Werner Herzog, Ben Wheatley, Sally Wainwright and David Yates have all visited the school in the past year.
Powell spotted another chance to enhance the school's prestige when he watched student Sharon Colman's 2005 animated short Badgered, seeing the potential for an Oscar nomination, which was achieved. "Suddenly I've got something to sell," he notes. "We had to get in there and make sure we were winning awards at festivals, the Baftas, Oscars, because that then attracts great students. It also gives politicians and other funders something to sing about. And to be honest, that still has to be the priority." NFTS students have won the short animation Bafta for the past four years.
Powell also saw scope for expansion in the range of courses offered. "One of the big problems I found on arrival was that the film business thought it was a TV school, and the TV business thought it was a film school," he says. "They both used that as excuses for not supporting it with money."
Under his watch, the school has added a range of TV courses (entertainment, sports production, comedy, natural history) as well as visual effects for film and, of course, a games division.
The latest batch of new courses are training production accountants, assistant directors and floor managers — an expansion that looks oddly prescient, since production is booming in the UK, and the British Film Institute in June announced its report into a large skills gap across the sector. Business-focused courses include a new MA in marketing, distribution, sales and exhibition, as well as the multi-disciplinary MA in creative business for entrepreneurs and executives. The MA in film studies programming and curation, delivered in partnership with the BFI, prepares students for roles in independent exhibition, film festival programming and archival work.
Money talks
All these achievements, notably the new buildings, have cost money, and Powell has proved proficient at hitting up media companies (including Channel 4 and Sky), individuals, institutions and government — for example by introducing the NFTS Gala dinner in 2008, which this year alone raised $460,000 (£350,000). Industry support has been vital in funding the bursaries that subsidise fees, to varying degrees, for 87% of NFTS students, which are 43% female and 18% BAME in the case of the MA cohort.
"I've been raising money all my life, and I'm one of the few people in the world who loves doing it," he says. As for wooing politicians, Powell's years at the European Film Academy proved helpful ("I had dealt with more ministers of culture than most people have had hot dinners"), as did the notably long tenure of Ed Vaizey as UK minister for culture, communications and creative industries, who became a valuable supporter.
"What I always found is that government people like to deal with rock 'n' roll people. It's important people go, 'Oh, Nik's coming to a meeting, at least it's going to be fun.' Even if it's going to be difficult. I learnt that from Sandie. She said, 'Politicians love us entertainment people, and we love politicians.' We're kind of in the same business, which is of communicating to people."
Leaving the NFTS will clearly be a wrench for Powell, but it is one for which he has long been preparing, having reached retirement age in 2015. "I've known for two-and-a-half years that I'd be stepping down," he says. "My contract ended two years ago. I couldn't tell anybody that." To prepare for succession, two years ago Powell handed over responsibility of the internal running of the school to his deputy Wardle, allowing him to focus on external and marketing.
"I've done it for 14 years," he declares. "That's the longest I've done anything in my life. That's longer than any of my marriages. I also think public institutions should be refreshed. It's funny how easy it is to lose that philosophy once you're in charge."
As for the next step, if Powell knows where he is headed, he is not saying. "I'm saying to everybody, my plan is to have no plan," he says. "Funnily enough, the Beatles song 'Get Back' came on the radio as I was walking up today. The lyric is something like, 'Get back to where you really belong.'" (The lyric is 'once belonged' — a mishearing that could be revelatory of something.)
"Of course, I'm not sure I do really belong back, because the world has changed. We'll see. I will say this — this is one of the great jobs in the industry."
Nik Powell, according to the people who know him…
Ed Vaizey was minister for culture, communications and creative industries, 2010-16:
"I love him to death. He's just brilliant. He comes across as utterly chaotic, he's got appalling dress sense, he chain smokes, and is obviously not worried about his hairstyle or anything like that. All of that is hilarious, and then underneath it you've got this guy who is utterly dedicated and clearly passionate about the job that he does and just immensely impressive. He's very happy to talk and engage with anyone.
"Nik puts you on a mailing list, so I know every time any NFTS graduate or student has done something in the least bit noticeable. As minister, I remember once being asked how many emails I received every day, and I replied around 1,000. What I failed to mention is that 999 of them were from Nik Powell."
Daniel Battsek worked with Powell at Palace Pictures, and is now director of Film4:
"I'll never forget my first interview with Nik in what was described as his office, but was in fact a couch. I just thought, 'Yeah, that's the sort of place I want to work.' It was shake, rattle and roll. It was the era of punk music, and I always saw Palace as being the punk band of the film industry — never obeying any rules, but also doing great stuff with great filmmakers.
"He always manages to get what he wants. Even if meetings sometimes started a little bit rockily, we would end up sealing the deal. That's a great characteristic to have in anything, and especially when you're trying to put together a school and make it financially viable and also make it a place where students want to come.
"Nik has opened pretty much any door that he's tried to open — and whether he opens that with the correct combination, the right key or just knocks it down, he'll get through it, one way or another."
Former Polygram Filmed Entertainment head Michael Kuhn recruited Powell to the NFTS when he was chair of the board of governors:
"When I first knew him? He was a crazy man. Obviously he was full of enthusiasm, full of go, out of control in many ways. But that was his attraction. But, also, people forget that just about when I started, when Film4 started, the film business was finished. [David] Puttnam had given up; everyone had given up. Nik and Palace was one of the few bits of it that seemed to be alive. There was no UK Film Council, there was no BFI. You had to be an incredible survivor to exist in those days, compared to now."
Film producer Chris Auty now runs the producer course and MA in creative entrepreneurship at the NFTS:
"I first met Nik in the basement of what turned into the Channel 4 building in Scala Street. It was 1983, and Stephen Woolley said to me, 'Meet my financier.' I remember thinking, 'This does not look like any financier I have ever met before.'
"I thought [his NFTS appointment] was brilliant news for the school. I wondered if they knew what they were getting. I thought it would be a major 240 volts up the cerebellum."
Jon Wardle Powell's successor as director of the NFTS:
"The word 'maverick' gets used a lot, and it can be overused. But Nik really is a maverick, and he thinks in a very counter-intuitive way. I'll have meetings with Nik and he'll give you the opposite perspective. And sometimes you'll think, 'That's bonkers, why are we wasting our time thinking about that?' Other times, you go, 'Oh wow, that's completely right.
"He's inspirational and infuriating within the same conversation, in a good way. I've never had a boss who has worked harder. And he genuinely has a passion for the students and their work that isn't fake and false. I think you can overstate this, but the school was in the doldrums when Nik came, and he's made it massively relevant again to the film, television and now games communities. The school has got a huge amount to be thankful for."
Nik Powell CV
Born November 4, 1950
Educated at Ampleforth College, North Yorkshire, then one year at Sussex University
Co-founded Virgin Records with Richard Branson in 1972
Co-founded Palace Pictures with Stephen Woolley in 1982, moving from distribution into production, including Neil Jordan's Mona Lisa and The Crying Game
Co-founded Scala Productions with Stephen Woolley in 1991, producing titles including Backbeat, Fever Pitch and Little Voice
Joined the NFTS as director in 2003, stepping down in July this year