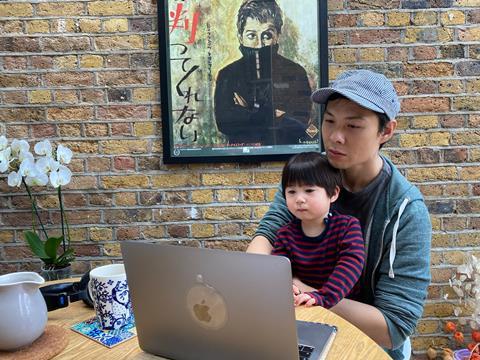 As many parts of the world mark the first anniversary of their first Covid-19 lockdowns this month, UK-based Singaporean director Anthony Chen is looking back over a chaotic yet fruitful year.
The director has just unveiled his new project We Are All Strangers at the Berlinale Co-Production Market in early March. The drama will be the third and final chapter of his 'Growing Up' trilogy after Cannes Camera d'Or winner Ilo Ilo and Wet Season, which world premiered in Toronto in 2019.
Chen wrote the script in London last year against the backdrop of the pandemic and successive lockdowns, completing it in just six months, a personal record having taken two years to write each of his first two films. It was just one achievement in a topsy-turvy year.
The filmmaker was in Taiwan for the theatrical release of Wet Season as global concern about Covid-19 started to build in late January 2020, having just celebrated Chinese New Year with his parents in Singapore. Commercial expectations there were strong as co-star Yeo Yann Yann's performance had seen her named best actress at Taiwan's Golden Horse Awards in November 2019.
"It was surreal as the WHO just announced a global pandemic and everyone was wearing a mask in the streets and in the cinemas," he says. "Because of their history with Sars, Taiwanese audiences were reluctant to go to the cinemas and there was a huge slump in the overall Chinese New Year box office, which was typically a peak season."
Undeterred by the gathering Covid-19 clouds, Chen then travelled to France in mid-February for the film's release there, which was cut short after two weeks when cinemas closed. It was the same situation in Malaysia where the film played for a few days only, while the plans for an April release in Hong Kong were scrapped.
All Chen had to show for a planned festival tour — co-ordinated by Paris-based sales agent Memento Films International — was a list of cancelled dates.
The filmmaker had his first taste of the virtual reality that would become the norm while on a final trip to Los Angeles in March. "It was bizarre as I had flown all the way into town, but I was doing a video call instead," he recalls. "All my meetings started getting cancelled as companies were rethinking policies on face-to-face meetings. Agencies, production companies and studios started shutting down and all their staff worked from home. I flew out of LA and back to London just two days before the US shut its borders."
The early days of the lockdown in London, which began on March 23, were brutal. His wife Rachel broke out with a fever and isolated in a room for a week. Their toddler, who could not understand why his mother was keeping her distance, was traumatised while Chen sanitised the house around the clock.
This experience would be the inspiration for a short film Chen would direct remotely from his basement bedroom in London, the exact details of which are currently under wraps. He has also woven the reality of the pandemic into We Are All Strangers.
The project, which Chen hopes to shoot in 2022, reunites him with frequent collaborators Yeo and Koh Jia Ler. Koh will play a young man forced to grow up quickly by the harshness of life. The film will explore issues of privilege and inequality in modern Singapore that have been further reinforced by the pandemic, and also touch on the recurrent theme for Chen of how kinship can be developed beyond blood ties.
The Berlinale Co-Production Market was Chen's first experience of pitching and looking for partners in a virtual setting. He was pleasantly surprised by the experience. "I was expecting a more cautious, or even a more naysayer mood, but it seems people are very eager to take on projects, especially at an early stage," he says.
Beyond this project, Chen has finished developing another screenplay with a writer over Skype for an English-language film he hopes to shoot at the end of the summer and created a detailed pitch bible for a TV series with the same collaborator. He also found time for one-off teaching days at London's National Film and Television School via Zoom. "The last year has been incredibly productive," says Chen. "It feels so good and satisfying to have made something during a time when the industry feels a tad doom and gloom."