Midi Z and Wu Kexi have previously worked together as director and actor. They tell Screen how their first collaboration behind the camera came about.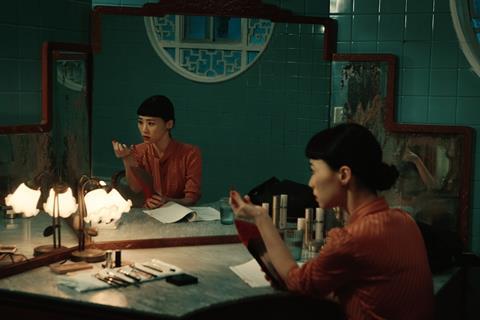 Midi Z was at the Berlinale for the premiere of his Burmese documentary 14 Apples when his regular actress Wu Kexi surprised him by email with a script that she'd written. Reading it in one setting, the director decided he wanted to turn it into a film (which he titled Nina Wu).
That was in February 2018 and the project moved swiftly beyond his expectations. By August, Midi Z, who is also the producer, was able to raise the $2m budget from Taiwan, Myanmar and Malaysia, and the production, which shot in Taiwan, wrapped in late November. Nina Wu is now premiering in Un Certain Regard on May 20 as Midi Z's first Cannes outing.
"I'm an actress. I've never dreamed of writing a script," admits Wu, who has appeared in three of Midi Z's films - Poor Folk, Ice Poison and The Road To Mandalay, which earned her the Golden Horse best actress nomination in 2016.
She is represented internationally by Creative Artists Agency (CAA) which is also handling Nina Wu's North American sales. Luxbox and Midi Z's Taiwan-based Seashore Image split the remaining territories worldwide.
Nina Wu is a mystery thriller about an aspiring actress played by Wu, who finally gets her big break but at a high price. Required to do full nudity and explicit sex scenes, she is driven towards an emotional meltdown that is further triggered when a mysterious female stalker begins to follow her. Vivian Sung and popular TV host Kimi Hsia co-star.
"It's not semi-autobiographical for Kexi, but she shared her most intimate thoughts and feelings as a woman working in the film business," says Midi Z. "I saw it as an original, unique and dramatic story told from a woman's perspective, instead of the traditional male gaze."
Although Nina Wu's storyline is associated with the #MeToo movement, Wu started writing it in early 2016. When the Harvey Weinstein scandal came to light in October 2017, she felt she could relate to the courageous women who came forward.
After a rewrite, she sent the script to Midi Z, who also came in as a co-writer. Nina Wu is a genre film and Midi Z's largest production to date, making it a significant departure from his previous features and documentaries, which were largely improvised and filmed on an ultra-low budget in Myanmar.
"But at its core, the new film still shares common themes which I always explore – the protagonists moving from the countryside to the city to find a better life, their struggles while pursuing their dreams in the city and the alienation with their families back home after a long absence," says Midi Z, who was born in Myanmar and has been living in his adopted homeland of Taiwan for the past 20 years. "That's about me too, my personal journey."