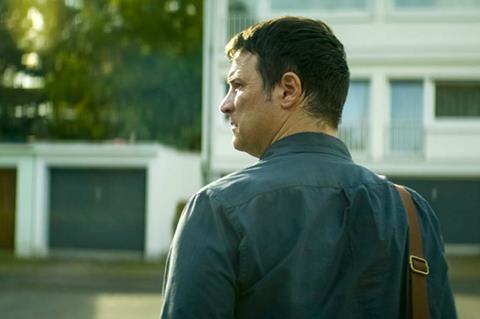 Kosovan filmmaker Visar Morina's second film Exil after his 2015 Karlovy Vary best director winner Babai centres on Xhafer (Misel Maticevic), an Albanian chemical engineer living in Germany who suspects he has become the target of racist colleagues.
The film premieres in World Cinema Dramatic Competition on Monday (27) and was produced by Toni Erdmann director Maren Ade's Komplizen Film, which secured most of the $3.6m budget, in co-production with Frakas Productions from Belgium and Ikone-Studio from Kosovo.
The film resonates deeply with Morina. "In general I am a foreigner myself even though I have German citizenship. There's no way you can be a foreigner in Europe and not sometimes have thoughts like Xhafer," says the director, who fled to Germany with his family when he was 15 during Slobodan Milosevic's reign of terror in Kosovo. "Some details come from myself and my family."
Finding the right actor to play Xhafer was critical. "It had to be a very good actor with foreign roots and there weren't very many. It was very important the way he spoke German, you could tell he was foreign." Maticevic's parents are from Croatia.
Morina cast Sandra Hüller from Toni Erdmann as Xhafer's German wife Nora, who despite her growing concern over her spouse's paranoid behaviour tries to keep his feet on the ground. Landing Hüller in the role was a coup. "I wrote a very long email that took me days about why I wanted her," laughs Morina. "When we met she really liked the script. I was nervous as hell meeting her and felt like a schoolkid."
They shot in Cologne from September to October 2018. That's 15 months ago. Morina laughs. "It took me one year to edit the film. It was hell. I had so much footage."
Besides his own experiences as an outsider, Morina had also been reflecting on the immigrant experience close to home after a recent local crisis forced the reintroduction of border checks between Germany and Austria in 2016.
"In 2016 the far right party was rising and I was in Vienna with my girlfriend and we took a car to Cologne and we had to wait on the border for one hour and I realised how normal it has become to have a border patrol," he says. "Not having a border in Europe had been such a long fight and within a very short time it had become normal to be checked again. It's weird how easily things that you think are as sure as the sun turn into the opposite. And everybody pretends it's normal."
In Xhafer's work environment colleagues seem to think nothing of his complaints about being left out of email chains and routine workplace announcements. Yet Xhafer sees warning signs everywhere – including carefully placed dead rats at home.
"There's a thin line between [things] being normal and being weird and you never know. We played with this. Once you get the feeling that people are against you, you see signs everywhere."
Despite what he endures – or thinks he endures – Xhafer himself treats a Croatian cleaning lady at work with contempt. "This was very important to me," says Morina. "Racism is like a virus. I know friends of my parents who were Albanian and when foreigners came to Germany after them, they viewed them with disdain.
"It has to do with.social status. In Germany, Americans and French people and Canadians are foreigners, but at least in Berlin anyway we use another term [to describe them] to the one we use to describe people from Kosovo. It's all related to how rich their home countries are."
*The Match Factory handles international sales