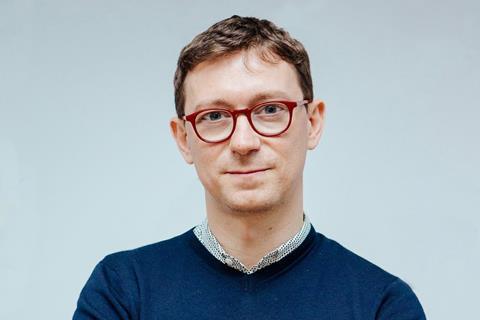 Italian-born Paolo Moretti, the new delegate general of Cannes Directors' Fortnight and the first non-French national to head any Cannes section, sat down with Screen to discuss Tuesday's (April 23) unveiling of his first selecton for the upcoming 51st edition, running May 15-25.
After the announcement conference, Moretti spoke about being welcomed into the French cinema fold, as well as his controversial move to select UK-Iranian Babak Anvari's Netflix-acquired horror film Wounds, even though it is not guaranteed a theatrical release in France.
He also explained how his ongoing role as the head of a two-screen arthouse cinema in the town of La Roche-sur-Yon in western France, and the accompanying annual La Roche-sur-Yon International Film Festival, helped him in his new role.
What does Cannes Directors' Fortnight and being its new delegate general mean to you?
My first experience of Directors' Fortnight was in the early 2000s, when I started coming to Cannes. There are so many auteurs who are part of my cinephile story, who were quite literally artistically born here. I feel very emotional about being in this role. It might sound pompous but it's a position where you can contribute to the evolution of contemporary cinema and also make cinema history. I feel the responsibility. It's very exciting and very frightening at the same time, but the mix of these two feelings is pretty interesting.
You're the first non-French national to be appointed delegate general to any of the Cannes sections. How have you been received?
Perhaps it's the beginning of something new. Cannes is in France, which is the land of cinephiles, which I definitely am. Cinema isn't about national boundaries; it's something bigger. I've been made to feel very welcome by both the Directors' Fortnight team and the French industry.
You've worked at the Rome and Venice film festivals as well as numerous other film events and institutions across Europe. How do the cinema scenes of France and Italy compare?
They are worlds apart. France is very structured. I also run a two-screen theatre [Le Concorde] in western France. This has given me the opportunity over the last five years to better understand the very specific dynamics and complexities of the French cinema industry. Everything related to cinema and the arthouse circuit is extremely structured and controlled. In Italy, this isn't the case at all. That doesn't stop Italy from producing fantastic films, but there is a system in place in France which is particularly effective.
Has programming Le Concorde and its festival informed your work at Directors' Fortnight?
The cinema is a kind of laboratory. Even though it serves a medium-sized city, the dynamics related to exhibition and organising its festival are not that different from those at the Fortnight, although [Fortnight is] on a larger scale. A lot of the people I talk to in terms of the producers and distributors are the same. Programming a festival is all about finding a balance between your own view on cinema and the context you're working in. Of course, I wouldn't programme Directors' Fortnight with the same films that I programme at La Roche-sur-Yon festival, which is French premiere-oriented. The Fortnight is very different. It's a world premiere-based selection and one of the key aims is to explore what's new and visionary in contemporary cinema. It's a lot more eclectic. There are a lot more implications behind the presentation of every film and far more negotiations behind the scenes.
Given your connections to the French arthouse exhibition scene, your decision to select Babak Anvari's Netflix-acquired horror picture Wounds is intriguing given the ongoing debate in France over the platform's distribution model. Can you explain your decision?
It was really very natural and also connected to what I saying about La Roche-sur-Yon. We presented the French premiere of Babak's first film Under The Shadow there. It was a revelation for me. I loved it and started following his work. I was aware of the Wounds project. We'd kept in contact and had an agreement, but were still in negotiation. I was just prudently waiting for the end of the selection before making the move. That was when Netflix bought the film. It wasn't a Netflix film when we first started talking but then it became a Netflix film. Netflix chose to respect the agreement in place and to allow us to present the film. We want to stick to our mission and for me there is a great director behind this film and we wanted to give him an opportunity to show his work at Cannes, which he has never done before. For us it was important for us to have the film.
Isn't that a similar situation to that of Cannes Film Festival delegate general Thierry Frémaux when he wanted to show ROMA last year?
The difference is that we have an institutional configuration that doesn't impose constraints with regards to Netflix. The Official Selection and Cannes Film Festival is controlled by a board that has taken a different stance. As its name suggests, the main aim of Directors' Fortnight is to value the work of the director; everything else comes second. Of course, we are very sensitive to the problems a Netflix film can give rise to in a highly structured film industry like that of France, but we don't have a policy.
Do you think the Directors' Fortnight board would ever introduce such a policy?
I can't say. Of course, it's something we've discussed but for now we're sticking to our focus on directors and their work. It's not the first time that Netflix films have shown in the Fortnight and there was also Bruno Dumont's mini-series [P'tit Quinquin], which was meant to be shown only on TV. Our attitude is let's first show the film and then discuss afterwards. It's a complex situation but one thing that is very clear is that our institutional policy is to value the work of the director. That's our mission.
At the beginning of the conference, you talked about the selection process being a collective process. Can you explain what you meant?
I wanted there to be broad support for the films in selection, which I believe will also translate into a warmer welcome for the films in Cannes, which can be very tough sometimes. A selection needs a personality and I'm confident enough to say that this selection really reflects the personality of the selection committee. I'm very happy to think of myself as the spokesman of a collective rather than a boss in a classic sense.
One of the big questions swirling around all the Cannes line-ups this year is whether the percentage of films by female directors has risen after all three sections signed the festival gender equality charter last year. How has Directors' Fortnight done?
We estimate that 24% of the works submitted were directed by women. If you count the four women in the feature selection and the five women in the shorts selection and also include Laurie Anderson [who is presenting the VR installation Go Where You Look with collaborator Hsin-Chien Huang] we reach exactly that percentage. We cannot force statistics but I think it's something we need to continue developing and discussing.
You said in the press conference that "fantasy-genre" was a key leitmotif of the line-up, can you expand on this?
We're not genre freaks, we're just very open-minded and are acknowledging that there are a lot of contemporary film directors who are interested [in] and fascinated by genre codes even if they don't just do genre films. It feels like a time when directors are using genre, rather than naturalism, to present personal visions. It's not that we went out looking for genre films – it's just that [of] the visions [that] seduced us, the most were dealing with genre.