French actor talks playing Django Reinhardt, the future of nomadic cultures and why he's not worried about an impending trip to the US.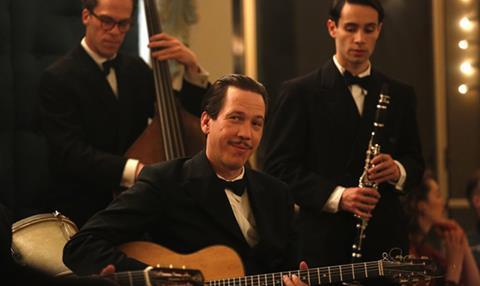 "I have the sort of look that allows me to pass from one character called Stéphane to another who is called Mohammed," says Reda Kateb, star of this year's Berlinale opener Django, capturing the legendary gypsy jazz guitarist's escape from the Nazi in World War Two.
It's not an idle boast. The 40-year-old actor, who was born to a French mother and Algerian actor father and grew up treading amateur theatre boards on the outskirts of Paris, has one of the most diverse filmographies of his generation.
Having got his big screen break in 2009 in the supporting role of Jordi The Gypsy alongside Tahar Rahim Jacques Audiard's The Prophet, his 25-odd credits since have included a rifle champion in thriller Through The Air; NGO worker Xavier Libert in Joachim Lafosse's White Knights and rookie medic Abdel in Thomas Lilti's Hippocrates, for which he won a César for best supporting actor.
International audiences are most likely to recognise him, however, for his performance in Zero Dark Thirty as Ammar al-Baluchi, a key figure in the search for Osama bin Laden who is subjected to a series of torture interrogation techniques in the early part of the film.
Making his way in country where diversity in cinema remains an issue, like most places in Europe and the US, Kateb says his part Algerian background have never held him back.
"I think things have evolved from a generation ago but then again I'm maybe not that representative. I have the sort of look that allows me to pass from one character called Stéphane to another who is called Mohammed. Although I guess the day when they write a role for a character called Stéphane specifically for an actor with an Arab name like me it will be a sign things have progressed even further," he says
"But to be honest, it's not an issue I'm not that hung up on. What's important for me is to remain free and fresh and to keep renewing myself with projects I find interesting, challenging and want to defend.
"I'm not really caught up in issues of identity. I felt very at home in the Tzigane community, for example. We had lots of things in common as well as cultural differences that then became part of me. I think identities are formed day to day out of the people who surround us."
Getting into the skin of Django Reinhardt
In Etienne Colmar's Berlinale opener, Kateb brings to life the legendary figure of jazz guitarist Django Reinhardt, whose special style grew out of the traditional music of the French-speaking branch of the Romani people, or Manouche, to which he belonged.
Colmar has chosen to focus on the musician's life during World War Two, re-telling how the Paris-based guitarist and his jazz group the Quintette de Hot Club de France were officially summoned to play a series of concerts to troops in Germany.
Reinhardt refuses to honour the request and amid growing rumours that the Romani people across Europe are being rounded up, he is convinced by an ex-mistress to flee the French capital for Switzerland with his wife and mother.
Figures vary but between 500,000 to 600,000 people of Romani descent were exterminated by the Nazi and thousands more were interned in camps.
"I'm not a big fan of bio-pics normally but I liked the way Etienne had chosen to focus on two key years in Django's life," says Kateb.
"I am a music-lover but I didn't really know much about Django beyond his classic tunes like Nuages or Minor Swing. As I got to learn more about him, I came to see the role as a big theatrical one capturing a romantic, colourful character who was also full of contradictions."
Kateb spent a year learning the guitar in preparation for the role although his playing is not featured in the film.
"Even though it's not my playing in the film, truly getting into his music and the training it involved, helped me get closer to the character and made the performance scenes more authentic," says Kateb.
He and Colmar and casting director Stéphane Batut also spent time in the north-eastern French town of Forbach, which is home to a large Manouche community and holds an annual festival feting their music. A number of the cast for the supporting roles were drawn from the community.
"One aspect of the community that we came to understand was that once you have a person, or family, as a point of reference, you don't start flitting around with other families – it's not done," says Kateb.
Contemporary resonance
The actor concedes the film's depiction of a society in the grip of a fascist regime has unexpected contemporary resonance as its opens the Berlinale.
But beyond the obvious considerations, Kateb notes: "It's not just the way the film recalls the genocide that touches me but also the way it questions the place we give to these nomadic worlds and cultures which are disconnected from notions of ownership. It's a way of life that has less and less place in today's world, if any at all."
Heading to the US
After its Berlinale world premiere, Django heads to the US where it will open Unifrance's Rendez-vous With French Cinema with New York. Kateb says the arrival as Donald Trump as president and the travel-ban have not put him off heading to the US for the event.
"New York isn't necessarily representative of the rest of the United States and it's not where Donald Trump has his biggest following," says the actor.
"I've been to the US enough to understand that it's a very diverse place with good and bad sides and I know that the conditions under which I'll be travelling there will ensure I'll be in contact with the best part of the country rather than the worst."
Next Project
Alongside touring with Django, Kateb is also preparing to reunite on set again with film-maker David Oelhoffen, on the provisionally titled Territoires.
The pair first collaborated on the Oelhoffen's 2014 Albert Camus adaptation Far From Men set in Algeria in 1954 at the onset of the country's war of independence.
"I will play a drugs squad officer. It's a very human story using the codes of a classic police thriller but in such a way that the film touches on contemporary themes in France. Matthias Schoenaerts is also in the cast."