Geeta Gandbhir and Asad Faruqi on their Doc/Fest world premiere.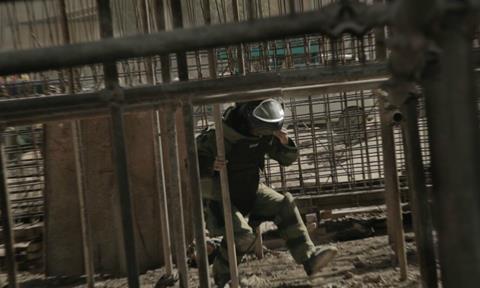 Screen sat down with co-director Geeta Gandbhir and Asad Faruqi to discuss their feature documentary Armed With Faith, which has a press and industry screening at Sheffield Doc/Fest on Sunday (June 11) before its world premiere on Monday (June 12).
Gandbhir is a two-time Primetime Emmy-winning filmmaker, and her latest documentary was produced by two-time Oscar-winner Sharmeen Obaid-Chinoy, whose award-winning doc shorts A Girl In The River: The Price Of Forgiveness and Saving Face were both shot by Faruqi.
Set on the Afghan-Pakistani border, Armed With Faith follows a local bomb squad tasked with disarming the seemingly endless succession of IEDs and mines that are placed in the area.
Screen: What inspired you to make this film?
Geeta Gandbhir: Asad was the DP on most of producer Sharmeen Obaid-Chinoy's films. They are based in Pakistan. He had done some filming with the bomb disposal unit depicted in Armed With Faith, he brought us the material he had and he'd gotten incredible access. We realised that this was a really important story, particularly considering what the tragedies that continue to unfold in the world today, such as the recent attacks in the UK and Afghanistan.
We wanted to challenge the narrative around Muslims, both in the West, particularly the US, and abroad. It pervades globally. We though their stories [the bomb disposal crews] were really compelling and could impact change on people's perspectives.
Asad Faruqi: I was born and raised in Pakistan. When I was 17-18 I began to hear more about bomb blasts and IEDs, there started to be metal detectors outside every place we went. I had not travelled outside of Pakistan until after I started making films.
I read an article about the number of bombs this disposal unit had defused. At that time, eight of them had died. I started following them after that. It became a film about survival. I have always made films about conflict and war, it has been happening in my back yard.
How did you fund the documentary?
GG: Our first money came from our executive producer Perri Peltz, she is my producing partner, who gave us $15,000. We then received a grant from the Bertha BRITDOC Journalism Fund and ITVS [which funds and presents documentaries on public television] came onboard in the US.
What was the experience of shooting the film? It must have been intense on the ground.
AF: When I started filming with the bomb squad, we shot on the training grounds, they were happy to show me the way they did things. I told them that I wanted to follow them for longer, but it was only after they started seeing me over and over again that they began to understand the idea of the film.
Following the technicians on the ground, it was important for me to be right next to them so that I could gain their trust. I got access to their homes, I am an outsider in that community, but they allowed me in over time.
GG: These men are from a very traditional community. Even though the religion that they follow is as conservative as the Taliban, and they are from the same region, they have chosen democracy. They could have just have easily been recruited, but they chose a different direction, that seemed really powerful to us.
How did the process work between you as co-directors?
GG: During production, Asad was on the ground, he would send us footage and we would talk through everything. Me and Sharmeen, as women, would not be related to by the men in the same way – the access would have been an issue.
Were there any particularly difficult moments during filming?
AF: Driving around in that region in general is scary, people get killed by roadside bombs.
What are your plans for the film?
GG: We would absolutely love to have theatrical distribution. This film is incredibly timely, unfortunately. Our plan is to do the festival circuit. Right now, the film is being considered for national television in the US, we're in the process of securing that.
Geeta, you were also a consulting editor on this year's Oscar-winning doc OJ: Made In America – what was that experience like?
GG: There was a team of three full-time embedded editors. Originally it was myself and one other person, but the scope of the project meant that wasn't enough. It was meant to be a five-hour film and it ended up being a seven-hour film, with no additional time to edit. But it was an incredible process, Ezra's [director Ezra Edelman] vision was there from the beginning.
What are your plans for the future?
GG: There is a project that I'm interested in doing on the history of US immigration, which Asad, Sharmeen Obaid-Chinoy and Perri Peltz would be involved in. It's a hotbed topic that people really don't know much about – they don't understand the history and the challenges.
Armed With Faith plays at Sheffield Doc/Fest on Sunday, Monday and Tuesday. For sales, contact Geeta Gandbhir, geeta@g2p2films.com