Screen speaks to the director about his award-winning climate change film.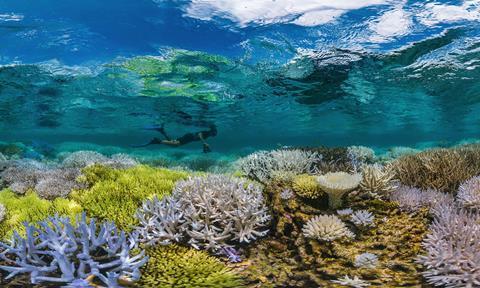 Jeff Orlowski's documentary Chasing Coral is a visually stunning but profoundly depressing investigation into the world's disappearing coral reefs.
It follows a team of photographers and scientists who are on a mission to discover why 50% of coral reefs have died in just 30 years.
The film is Orlowski's follow-up to 2012 documentary Chasing Ice, which followed National Geographic photographer James Balog in capturing disappearing glaciers, and uses similar time lapse photography to document coral 'bleaching' - when a spike in ocean temperature causes the coral to die.
Chasing Coral premiered at Sundance, where it won the Audience Award, and was picked up for distribution by Netflix, a move Orlowski feels will be beneficial in bringing the story to a wider audience.
Screen spoke to Orlowski (below) at Sheffield Doc Fest, where the film is screening Monday June 12 and Tuesday June 13.
Do you think the film will help influence political figures such as Trump, who withdrew the United States from the Paris Climate Agreement earlier this month?
Coming from America, where there is so much denial around climate change, we wanted to make this film as good as we can as proof of the reality. And the film couldn't have happened at a more opportune time - a month ago would have been even better.
The environment is a very inaccessible subject – a lot of the general public don't understand it. So making this film was a tough challenge. [We thought] how do we take all this information and make it literate for people. We were thrilled when we saw seven-year-olds in our screening mesmerised and understanding what was happening.
What are you doing to impact governing bodies?
We held a screening at the United Nations on Thursday [June 8] on World Ocean Day which was fitting. We had 600 to 700 people there, so that was a big step. We are also focused on getting the film out to unexpected audiences.
We are working closely with Netflix to make the film available to schools around the world, and we are supporting community organisations that want to host screenings. Richard [Vevers, who is featured in the film] is working on a big initiative [with his non-profit The World Agency] to identify and protect the most critical reefs in the world.
What were the biggest challenges throughout the 3 years you worked on the film?
Capturing the process of coral bleaching is incredibly hard because you have to be in the right place at the right time, and you have to get there before the bleaching starts. We worked with the best scientists to be able to tell us which regions were going to bleach, but then the challenge was predicting which specific corals would bleach, and where we should point our cameras. Ultimately, the most shocking part of all of this was that the ocean was so hot last year that pretty much everything at our sites bleached and died. This was an unprecedented event, and fortunately we were able to capture it.
When you first started working on the project, did you know that it would show the 'behind-the-scenes' of an environmental campaign?
We always knew that we wanted to connect audiences with human stories, and as the efforts of the team continued to get more hectic, we knew it would play a strong role in the film.
Ultimately, after [camera technician] Zack [Ragu] and the team captured the bleaching in Australia, we knew that that event would become the climax of the film, and we knew we had the footage to tell the story that led up to that.
Can you talk about the development of the film; how did you secure funding, and how much freedom did you have in telling this story?
We secured the funds through private investors and donors, many of whom had worked with us on Chasing Ice and who wanted to continue to support our work. We've always worked independently so we've had complete control. Our partners are constructive in working out what is compelling, and what is not.
When you make a doc, it is for the search of a story: you go out, you shoot, you collect bubble pieces. After several years you collect material that can turn into a scene. And over the course of time you crack something and it resonates - you have a story with a strong characters and an emotional arc.
Do you think there is an over-abundance of environmental films now, making it harder for your voice to be heard?
The climate is changing as such that we are only going to have more of these stories coming up. I wouldn't be doing this work if we [society] were solving these issues. I look forward to the day where I don't have to make climate change films because we have solved the problem.
There is nothing fun about watching an eco-system die. We don't want to make this material – but we feel compelled to because [society] are not taking the necessary action to address it.
What are your thoughts on Netflix as the distributor of the film? The film is visually stunning, should it be seen in cinemas?
Netflix is available in more than 180 countries, and anyone with internet can access the film. It's not a place people typically associate with environment content, and we are trying to bring these stories to a wider audience. At the same time, Netflix will be distributing this in 4K and HDR on home theatre systems. The HDR component that they are making available is cutting edge - people will be able to watch the film better on Netflix than in the theatre.
All distribution has trade-offs and pros and cons – there is no absolute perfect case for every single project. We have been screening the film at a lot of film festivals on the big screen through the festival circuit.
The film will screen on Monday June 12, 18.15 (Bertha DocHouse Showroom 4) and Tuesday June 13, 9.30 (Showroom Screen 2).