The Egyptian film-maker talks to Melanie Goodfellow about her creative documentary, which chronicles her country's revolution and premier in DIFF's Muhr Feature competition.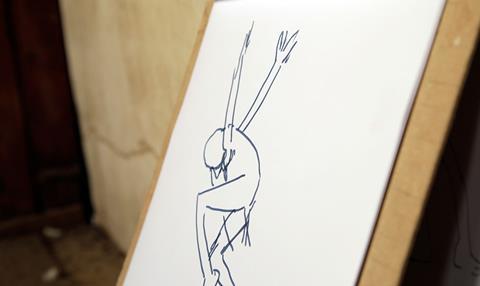 The iconic French figure of Joan of Arc has inspired myriad artists as well as revolutionaries and politicians of all persuasions, ever since she was burned at the stake in 1431.
In Egyptian film-maker Iman Kamel's creative documentary Egyptian Jeanne d'Arc, exploring the unfolding legacy of Egypt's revolution from a female perspective, her fate is tied with that of the women who took part in the uprising.
The film premiered at this year's Dubai International Film Festival (DIFF) in the Muhr Feature Competition.
"Jeanne d'Arc has been an empowering figure for me all my life so there is a personal, emotional aspect about it but here I also reference Dryer's Jeanne d'Arc," explains Kamel referring to Danish director Carl Theodor Dreyer's 1928 silent classic The Passion Of Joan Of Arc.
"Dryer's film focused on her time in the prison, where she was questioning herself and her vision and was attacked by patriarchs. These are the aspects of Jeanne d'Arc that I used in the movie."
Her hybrid work revolves around the experiences of seven women, many of them connected to Cairo's vibrant arts scenes, since the beginning of the popular uprising in 2011. They range from artist and jewellery maker Nahla Sebaei, to award-winning cartoon animator Salma El Tarzi and musician Dina El Wedidi, who will perform at the second screening of the film at DIFF's open-air sidebar, The Beach, on December 11.
"I wanted to look inside the revolution, to examine what is this rebellious process that brings them back onto the streets year on year. How do they cope with the backlashes and the abuse and also carry on living their lives?" says Kamel.
Their accounts are woven in with artwork, photography, dance works and songs, inspired by the revolution and its aftermath, some of which, says Kamel, will have special resonance for Egyptians.
One of the darker sides of the revolutionary period was the wave of mob violence on women who joined the protests in Tahrir Square. The phenomenon added another unexpected gender politics dimension to the revolt for the women who took to the streets.
It is a theme woven into the film through the tale of Jehane, a fictional figure inspired by the 2011 viral video The Girl In The Blue Bra, showing images of a veiled female revolutionary being violently attacked by military police and left semi-naked in the streets close to Tahrir Square. The girl in the video disappeared shortly after.
Kamel would kick off her conversations with the women in the film asking what they thought had happened to the girl. "Many of them could relate to Jehane, either through their own experiences or people they knew. Their stories are like the pieces of a jigsaw building up a multi-part Jehane, this disappeared revolutionary girl, but also giving a bigger picture. Jehane is fictitious but in the end, after living with her for over six years, she became very real."