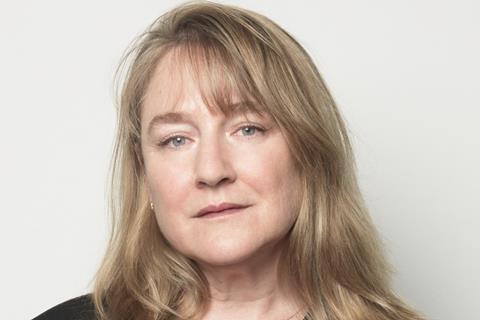 After screenings at Venice and Telluride, Dutch director Bianca Stigter's documentary Three Minutes - A Lengthening, which is being sold by Autlook Filmsales, is showing at the Toronto International Film Festival this week.
Co-produced by the filmmaker's husband Steve McQueen and narrated by Helena Bonham Carter, the film is inspired by Glenn Kurtz's book, Three Minutes In Poland, Discovering A Lost World In A 1938 Family Film – the extraordinary story of three minutes of footage shot in the town of Nasielsk, Poland, by the author's grandfather David Kurtz in the late 1930s.
Kurtz was born there but had moved to the US and made his fortune. He came back to Europe on holiday in the summer of 1938. What makes his home-movie footage so poignant is that it's a rare visual record of a Jewish community that would soon be obliterated by the Holocaust.
Stigter, a respected author, cultural journalist and critic in the Netherlands who also has associate producer credits on her husband's films 12 Years A Slave and Widows, had first come across the story in a Facebook post. The post noted that the footage was available to watch through the United States Holocaust Memorial Museum in Washington, DC.
"I was very moved by it," she says of the first time she watched the footage. "Immediately I had the idea, would it not be great to make this longer than three minutes so these people will stay present for a bit longer?"
At the time, Stigter wasn't yet a filmmaker and there wasn't an obvious way for her to do anything with the material. By chance though, around the same time International Film Festival Rotterdam (IFFR) invited her and several other critics to contribute video essays instead of written pieces as part of a programme called Critics' Choice.
That's how she came to make Three Minutes Thirteen Minutes Thirty Minutes, for which she contacted Glenn Kurtz, the author of the book. "He was a bit cautious but interested," she says. "He arranged for the Holocaust museum to send us material we could edit."
Making the feature
Stigter's IFFR project screened at the festival in 2015. After Rotterdam, she was still keen to explore the material further. Through Dana Linssen, one of the critics who organised Critics' Choice, Stigter was introduced to producer Floor Onrust of Family Affair Films, who decided to work with Stigter on a feature version.
Over the five years she has spent making the film, Stigter continued to write about art and culture for a Dutch newspaper. She was also working on her book Atlas Of An Occupied City: Amsterdam 1940-1945, about Amsterdam during the Second World War, which is now being adapted by McQueen as a feature documentary titled Occupied City.
Her own research for Three Minutes took her to Nasielsk in Poland to interview its residents, as well as to Treblinka, the extermination camp where most people from Nasielsk were murdered, and to Detroit, where she interviewed one of the survivors, Maurice Chandler. He had been a teenager in 1938 but was now in his late 90s.
Early on, she made the decision not to use talking head interviews. The only images shown on screen are from the 1938 footage. "I said, 'I want to extend this footage. You will see only this, nothing else,'" says Stigter, who wanted viewers to feel that they were with her as she went about "extracting the information from the celluloid while we're watching it. That is what I was striving for".
Stigter discovers a wealth of revealing historical detail, from the name of the grocery store to the meaning of the different hats all the Jewish children are wearing. Chandler helped identify some of the many people shown mingling in the footage.
The three minutes are deceptive. Everyone captured in the film seems to be smiling. Men and women, old people and children, are all together, crowding round Kutz's movie camera. This looks like a very democratic society. However, as Stigter soon discovered, there were hidden hierarchies.
Thanks to the Ringelblum Archive, the secret documents from the Warsaw ghetto that were preserved and buried in milk cans, evidence emerged later of what happened to the townsfolk after the invasion – how they marched through the mud and were deported first to ghettoes and then taken to Treblinka.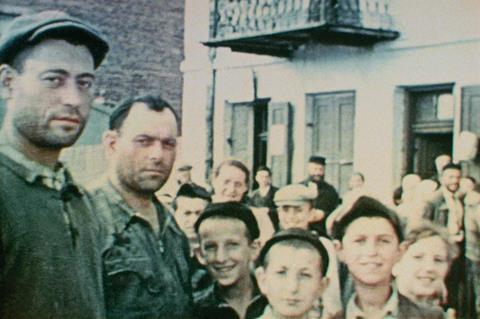 There is no visual material showing the deportation. "You have to show in a way the absence of that," the director explains of her decision to use voiceover, text, music or simply silence to depict these horrific events. No sign of Nasielsk's pre-war Jewish community remains today.
McQueen's influence
"We are married and so we talk a lot," Stigter says of McQueen's influence on the film. "He also helped with making contact with Helena Bonham Carter."
The director credits Bonham Carter's narration with "infusing [the film] with so much life which brings it much closer than if it was a detached voice".
McQueen is still shooting Occupied City which is also produced by Onrust's Family Affair outfit. Stigter won't disclose any details about the project. "In this case I am just delivering the book. What Steve does with it is for him to discuss," she says.
What she will discuss is what drew her to write about wartime Amsterdam in the first place. "For me, it was the most extreme thing that has happened in the recent past in my city," she says. "It's the idea that all these things happened in the same street where you were walking each day."
While there are a multitude of memorials around the city for the war's victims, Stigter was also curious to discover where the Nazi occupiers were based. There are no plaques recording this part of the story.
Three Minutes - A Lengthening will be distributed in the Netherlands by Cinema Delicatessen, and Autlook reports that other buyers are circling the project following its Venice and Telluride screenings and in advance of the TIFF premiere.