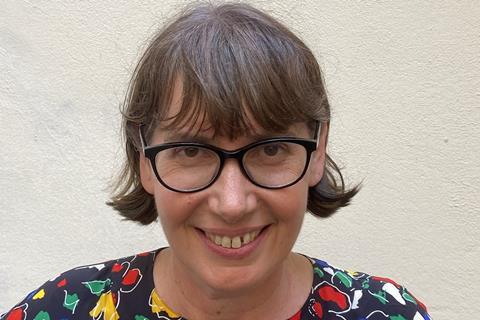 French director Lucile Hadzihalilovic is back at the San Sebastian International Film Festival this weekend for the European premiere of her third feature and English-language debut Earwig in Official Selection.
She has a long relationship with the festival where she won best new director in 2004 for debut feature Innocence and the special jury prize for Evolution in 2015.
Set "somewhere in Europe, mid-20th century", Earwig stars Paul Hilton as a man called Albert, who is employed to look after a young girl, living in near solitary confinement in a labyrinthine, sparsely furnished apartment. His main duty is changing his young charge's ice dentures, which he pre-prepares daily by freezing her saliva in custom-made moulds.
A kaleidoscope of other characters come in and out of focus. Romola Garai plays a barmaid Albert accidentally disfigures in a brawl, Alex Lawther is an enigmatic, well-heeled suitor who comes to her aid, and Peter Van den Begin is a mysterious stranger who offers clues about Albert's past.
Reviews for Earwig out of Toronto, where it world premiered in the Platform section, suggest the film's dreamlike-slash-nightmare structure has left critics baffled around the storyline. For Hadzihalilovic, this is a sign that she has succeeded in one of her key ambitions.
"It's deliberately the logic of a dream or a nightmare. It's not supposed to be rational," she explains. "It's the portrait of a man who has repressed a past that was painful, perhaps shameful for him. He is caught between his memories, his dreams, his nightmares and his hallucinations and of course the film doesn't say what is true and not true.
"The idea is to be inside Albert's head. He is confused about what he thinks and feels. I wanted to put the spectator in the same position. I think I've succeeded from that point of view in capturing the fog in Albert's mind, although perhaps I've exaggerated in taking the spectator down that path as Albert really is lost, and never finds his way."
Hadzihalilovic pushes back on labels such as "horror", "body horror" or "genre" that pepper many of the reviews.
"I'm not sure what is meant by 'horror' or 'genre'. I'm happy that you refer to it as an emotional drama. Perhaps, it stems from the fact that the film's not realistic, or naturalistic, but rather set in an imaginary fantasy world," she says. "I like the fact there are acts of violence while in my previous films it was implied. I imagine that the tension, fantasy and the atmosphere of anxiety lead people to refer to it as horror, but I don't especially see it as a horror film. Horror is a way of putting a label on it but it's more of an 'anguish film' than a horror film."
She adds that Earwig perhaps follows in the footsteps of "a form of poetic horror" embodied in the 1960 French classic Eyes Without A Face by Georges Franju, about a surgeon who goes to extremes to give his disfigured daughter a new face.
"I think I belong more to that universe even if that film has more of a realistic dimension than Earwig. Earwig has more of a fairytale feel with this little girl with ice teeth," she suggests.
Source material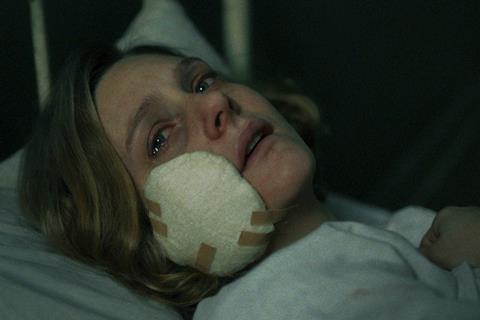 Earwig is adapted from UK sculptor and multidisciplinary artist Brian Catling's 2019 novel of the same name. UK screenwriter Geoff Cox, who previously collaborated with Hadzihalilovic on Evolution, introduced her to the novel before it was published.
"He is a friend of Brian Catling and Brian got him to read the unpublished manuscript. Geoff felt immediately, 'This is perfect for Lucile,'" recounts Hadzihalilovic. "There were a lot of things in the novel that excited me about the idea of doing an adaptation, starting with the fact that there are lots of aspects are left open to interpretation, even if more things are explained in the novel."
The UK-French-Belgian co-production is lead produced by Andy Starke at Anti-Worlds and Jean des Forêts and Amélie Jacques at Paris-based Petit Film and backed by the BFI and Film4. Co-producers are Jean-Yves Roubin and Cassandra Warnauts at Frakas Productions.
The UK involvement came out of meetings with Starke and BFI editor-at-large Lizzie Francke in London when Evolution screened at the London Film Festival in 2015.
"Andy told me he liked my films and that if ever I had a project to do in English, he would be interested in getting involved," says Hadzihalilovic. "I also met Lizzie Francke, who told me that that the door was open. When Geoff contacted me about Brian's novel, I felt it was a story that the English would understand better than the French."
While working with UK producers and financiers has been a positive experience that Hadzihalilovic would repeat again, there was a stressful period in late 2020 when the Covid-19 pandemic combined with Brexit threatened to halt the production indefinitely.
"We were supposed to shoot in the spring but the pandemic pushed it back. We had to shoot absolutely before Brexit took effect [from January 1, 2021], otherwise we risked losing all the Belgian finance. There, we would have been dead," recounts Hadzihalilovic.
In the end, the production started rolling at the eleventh hour in the Belgian cities of Brussels and Liege in November 2020, just as a fresh wave of coronavirus was sweeping across Europe, prompting fresh lockdowns in its wake.
"We were supposed to shoot in Poland but that wasn't possible because of Covid. We looked for decors in Belgium that weren't too Belgian because the film's not necessarily set in Belgium, even if the novel is," says Hadzihalilovic, who was looking for a more central/eastern European feel.
Belgium announced a national lockdown on November 2, although the production was able to continue. This did not adversely impact the mood on set or feed into the atmosphere in the film.
"It was a bit complicated but we didn't have any problems with people getting sick," recounts Hadzihalilovic. "We had a few positive cases but thankfully not in any of the key posts. The emptiness outside was a bit strange but I think this gave us extra force and a sense of joy around how lucky we were to be together making the film."
The next stop for Earwig after San Sebastian will be the BFI London Film Festival (October 6-17) where it will screen in the Dare strand.