Melanie Goodfellow looks at a selection of the country's emerging talent.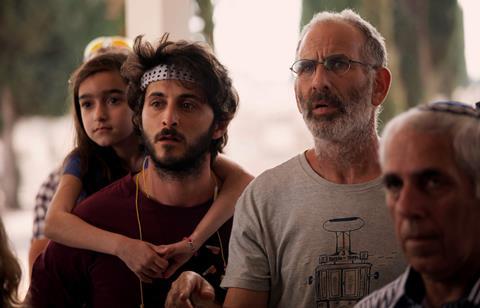 The Israeli film industry is out in force at the Industry Days programme at this year's Jerusalem Film Festival, which starts on Sunday (July 16).
Screen profiles eight homegrown producers and teams helping to keep Israel on the international movie map.
Eitan Mansuri, Spiro Films
eitan@spiro-films.com
Past credits: The Congress (dir. Ari Folman), Abulele (dir. Jonathan Geva), The Burglar (dir. Hagar Ben-Asher)
Current slate: Foxtrot (dir. Samuel Maoz), The Current Love Of My Life (dir. Talya Lavie), The Operative (dir. Yuval Adler), Here We Are (dir. Nir Bergman), The Day After I Am Gone (dir. Nimrod Eldar), Darwin (dir. Oren Adaf)
"I love taking a script or an idea and finding a path for it," says Eitan Mansuri, an alumnus of the Sam Spiegel Film & Television School who originally wanted to be a cinematographer before catching the producer bug during his studies. "I got involved in the projects of the other students and loved the variety of working across different genres, stories and worlds," he says.
After "working in the trenches" location scouting and line producing for veteran Israeli producers such as Eylon Ratzkovsky and Assaf Amir, Mansuri got his international break on Ari Folman's 2013 project The Congress. "It was a six-country co-production. After that nothing seemed complicated," he says.
Alongside developing the new feature films by Talya Lavie and Yuval Adler, after their respective high-profile debuts Zero Motivation and Bethlehem, Mansuri has also started dipping his toe into high-end TV drama. He will be out and about on the festival circuit this autumn with Samuel Maoz's second feature, Foxtrot.
Elad Gavish, Marker Films
Past credits: Princess (dir. Tali Shalom-Ezer), The Last Band In Lebanon (dirs. Ben Bachar, Itzik Kricheli)
Current slate: Masada Encore (dir. Shira Geffen)
"I started producing at the age of just 12," says Elad Gavish, who spent his school years pulling together drama and dance productions. He finally cut his film production teeth in 2006 in his early 20s on Tali Shalom-Ezer's debut short Living Room while studying producing at the Sam Spiegel school. The pair would go on to work together on Shalom-Ezer's mid-length film Surrogate and debut feature and Sundance hit Princess.
Some 10 years on, Gavish is riding high on the local box-office success of comedy-drama The Last Band In Lebanon at the end of 2016. "I try to work on a mix of arthouse and commercial projects but I need to do business," he says.
He is currently exploring US remake options for The Last Band In Lebanon as part of a wider international push. "Israel is a small market and I am increasingly moving in the direction of the international market, whether it be with Israeli films, remakes or TV series," says Gavish.
elad@markerfilms.co
Naomi Levari & Saar Yogev, Black Sheep Productions
Past credits: One Week And A Day (dir. Asaph Polonsky)
Current slate: Apple Of My Eye (dir. Yaron Shani), Fig Tree (dir. Alamork Marsha Davidian), The Prophet (dir. Ilan Rubin Fields)
Naomi Levari and Saar Yogev hooked up in life and work at the Jerusalem Film Festival (JFF) a decade ago. Levari was coordinating the Israeli competitions while Yogev was the event's executive producer. Both studied film: Levari at Sam Spiegel in Jerusalem and Yogev at Tel Aviv University. "I graduated as a director and fell in love with a producer — it's a diplomatic marriage," smiles Levari.
The couple made a splash on the international festival scene in 2016 with Asaph Polonsky's One Week And A Day, which premiered in Cannes Critics' Week and then won best Israeli feature at JFF. This year, they will present Alamork Marsha Davidian's Ethiopia-set Fig Tree as a work in progress at the Jerusalem Pitch Point event. "We don't restrict ourselves to a genre or a method," says Levari.
"We work in documentary, TV series and feature films as long as a project is character-driven and challenging for us. We have to fall in love with what we're producing because we have a very intimate way of working with the filmmakers." The couple try to strike a balance between the artistic and the commercial. "We want to work on projects with the potential to find an audience," declares Yogev.
info@bsheepfilms.com
Elad Peleg, Daroma Productions
Past credits: Red Leaves (dir. Bazi Gete), Inertia (dir. Idan Haguel), Between Worlds (dir. Miya Hatav)
Current slate: Anthrax (dir. Shai Scherf), Herzl's Susita (dir. David Krainer), King Khat (dir. Uri Maranz), Mossad (dir. Alon Gur Arye), The Farm (dir. Golan Rise), Revenge (dir. Orna Levi)
Based near the city of Ashkelon, Elad Peleg and his producing partner Haggai Arad are proud that their joint company Daroma Productions is based outside the main Israeli cinema hubs of Tel Aviv and Jerusalem. "It gives us a different perspective," says Peleg.
A former behavioural science and economics major, Peleg broke into cinema as an editor before taking up the position of programme director at Sderot Cinematheque in Israel's deep south and getting involved with the Cinema South International Film Festival. These roles mean that he is well connected with the filmmaking community in the region.
Upcoming productions include animation King Khat, about an Israeli scientist-turned-synthetic drugs baron, which Peleg is presenting at the Jerusalem Pitch Point event this year. The company is also developing The Farm, a rare film capturing the settler experience about teenagers growing up on a settlement in the West Bank.
elad@daromap.com
Stav Meron, Pardes Films
Past credits: Pepe's Last Battle (dir. Michael Alalu)
Current slate: The Gospel According To My Father (dir. Dani Rosenberg)
"It's a job that requires you to put the ego aside," says Stav Meron [inset] of producing. The budding producer graduated from the Sam Spiegel Film & Television School in 2014, after completing the ambitious short film series Love Letters To Cinema. The work, which premiered at Haifa Film Festival, featured contributions from Nir Bergman, Nadav Lapid, Michael Alalu and Hagar Ben-Asher. "I was very fortunate to work with such talented creators," she says.
After working as a line producer on Bergman's Saving Neta, Meron opened her own production company, Pardes Films, in 2015. She kicked off its activities with feature documentary Pepe's Last Battle, about left-wing Jerusalemite politician Pepe Alalu, and is now in pre-production for Dani Rosenberg's The Gospel According To My Father, about a man who evacuates his family from Tel Aviv over fears Iran is about to launch an attack. "Dani is a fully devoted director, which I find inspiring," says Meron.
office@pardesfilms.com
Gal Greenspan, Green Productions
Past credits: Never Too Late (dir. Ido Fluk), Youth (dir. Tom Shoval), A Quiet Heart (dir. Eitan Anner), Scaffolding (dir. Matan Yair)
Current slate: Shake Your Cares (dir. Tom Shoval), Back To Maracana (dir. Jorge Gurvich)
Gal Greenspan decided early in his producing career that he needed to look beyond Israel for finance. Having turned to crowdfunding for his 2011 debut feature production Never Too Late, he started exploring the global co-production scene for Youth by Tom Shoval.
"We were the first Israeli project to attend Hong Kong," says Greenspan, referring to the Hong Kong Asia Film Financing Forum (HAF). "It's not only about the finance," he adds. "Co-producing creates a bigger family for the film."
Greenspan's company Green Productions, co-founded with Roi Kurland in 2009, boosts cash-flow by providing production services for commercials. It will launch financing on Maya Kenig's breastfeeding themed dark comedy Milk at Jerusalem Pitch Point, and also unveil portmanteau film The Quarters at the festival.
gal@greenproductions.co.il
Kobi Mizrahi, KM Productions
Past credits: Jerusalem Moments 2012, Water, Sport (all multiple directors)
Current slate: The Dive (dir. Yona Rozenkier), Decompression (dir. Yona Rozenkier)
On graduating from the Department of Film and Television at Tel Aviv University, Kobi Mizrahi worked on a series of high-profile Israeli-Palestinian short film portmanteau compilations capturing life on both sides of the conflict, including Water, which opened Venice Critics' Week in 2012, and Sport.
"I love working on fiction shorts," says Mizrahi. "It's a very dynamic world that allows you to experience and live different stories in a short time."
Recent one-off shorts include Miki Polonski's Shmama, which captures the life of a hotel worker and her daughter against the backdrop of the Dead Sea, which is playing at JFF before heading to Locarno later this summer.
Mizrahi is also making headway into feature film production. He was at Cannes L'Atelier in May with Yona Rozenkier's bittersweet comedy Decompression, about an estranged father and son who travel across Israel on a tractor, which they will also present at the Jerusalem Pitch Point event. The pair are also gearing up for the shoot in September of The Dive, about an intense reunion between three bothers in their home kibbutz on the Israeli border with Lebanon.
kobmiz@walla.co.il
Keren Michael, Dori Media Paran
Past credits: The Wanderer (dir. Avishai Sivan)
Current slate: Echoes (dirs. Amikam Kovner, Assaf Snir), Let It Be Morning (dir. Eran Kolirin), The Non-Conformists (dir. Eliran Malka)
Keren Michael studied cinema at the Camera Obscura in Tel Aviv where one of her classmates was director Avishai Sivan. On graduating, the pair co-founded a production company making short films without state funding before going on to make Sivan's first feature The Wanderer, which premiered in Cannes Directors' Fortnight in 2010.
Michael joined Israeli media group Dori Media Paran (DMP) in 2013 to spearhead its move into the production of auteur features with commercial potential, and a slate of exciting films is now coming together. Michael will be at Jerusalem Pitch Point this year, alongside DMP chief Yonathan Paran, to present Amikam Kovner and Assaf Snir's drama Echoes. DMP will screen 20 minutes of the film, which is now in post-production, in the works-in-progress selection.
Other projects on DMP's slate include Eran Kolirin's Let It Be Morning, which is due to shoot next February, as well as Eliran Malka's The Non-Conformists — previously titled The Unorthodox.
kerenmich@gmail.com