The comedian talks to Screen about his most personal and challenging project to date.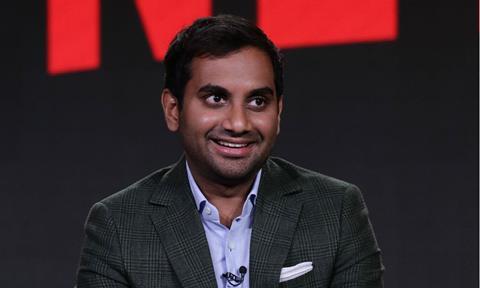 Starting out in stand-up comedy in 2001, while he was a student at New York University, Aziz Ansari has built an increasingly high-profile career that includes seven seasons playing Tom Haverford on hit NBC sitcom Parks And Recreation. It was while working on that show that Ansari met writer Alan Yang, and the idea of his most recent project, Netflix comedy Master Of None, was born.
"Alan and I were really close friends during the whole run of Parks And Rec," says Ansari. "We would always lightly talk about doing our own series and shooting it in New York, and doing something that was only eight or 10 episodes as opposed to the 22-episode form of Parks."
As Parks And Recreation began winding down (the show came to an end in 2015), the duo became more serious about the prospect of Master Of None. Ansari and Yang approached Parks co-creator and showrunner Mike Schur and asked him to godfather the project, and the trio pitched their idea to networks long before they came to making it.
"When we pitched and sold it, we didn't know there was going to be another season of Parks," explains Ansari. "During that time, Alan and I kept talking about [Master Of None] and it evolved."
It was Netflix that eventually boarded the project — a natural fit, given Ansari's established relationship with the streaming giant. "I had done my stand-up specials with them," he says. "When we went to them, they were just super enthusiastic. They told us we didn't have to do a pilot or anything. We just went straight-to-series — 10 episodes." All episodes of the first season debuted on Netflix in November 2015.
City life
Master Of None centres on the personal and professional life of Dev Shah (played by Ansari), a struggling 30-year-old actor in New York. Yet the final version of the show ended up looking nothing like the one they pitched. Originally it was conceived as an "Aziz show" set in the city with a recurring group of friends, and based on Ansari's stand-up material adapted into narrative form. While the first season of the show has ideas from Ansari's stand-up, however, the second season has none.
"We decided that we didn't want the same group of characters to appear in every episode," Ansari explains. "[In its current form], we only bring in the characters we need for that particular story. The show evolved very quickly. Part of it was having that long period of time [between pitch and production] and so we threw out a lot of stuff."
Co-showrunners Ansari and Yang work hand-in-hand on all aspects of the show, from casting to editing, and occasionally divide duties between themselves. "We trust each other's tastes," says Ansari. "We usually agree on stuff."
As Yang had been a writer on Parks And Recreation for its entire run, he handles the organisational aspect of the Master Of None writers' room. The show employs a staff of three-to-five scribes on a rotating basis, with Ansari and Yang serving as head writers.
Master Of None scripts do not, however, follow the usual sitcom template. "It's a little more unorthodox in the way it is structured," Ansari explains. "We found that structure from doing the first seasons, experimenting and seeing what worked." This approach worked well, as the two took home an Emmy last year for outstanding writing for a comedy series.
Voice of his generation
Ansari stars in the series, which is produced by Universal Television, 3 Arts Entertainment, Alan Yang Pictures, Fremulon and Oh Brudder Productions, but needed only limited preparation work for the role. "[I was] involved in every aspect of the show, including co-writing all of the episodes. I knew what we were trying to pull off because I was so involved in the inception of the idea. It's not like I was an actor who just received a script. I knew everything; it's all so ingrained."
Ansari received an Emmy nomination in 2016 for his performance and such accolades, together with strong audience figures, ensured the greenlight for a second season, which was made available in its entirety in May 2017. In the absence of official Netflix audience data, figures accumulated by Symphony Advanced Media in January 2016 suggest the show brought in an impressive tally of 3 million viewers per episode.
Despite this success, Ansari says it was important for his character to continue to evolve. "Season one is about a guy who doesn't know what he wants," Ansari reflects. "Season two is about wanting what you can't have.
"I think he's an empathetic person and that he's ultimately a good guy. Dev is a nice vehicle for exploring these universal issues, especially those of this particular generation."