Originally intended as a short-run character, Breaking Bad's opportunistic lawyer Saul Goodman proved so popular he won his own show.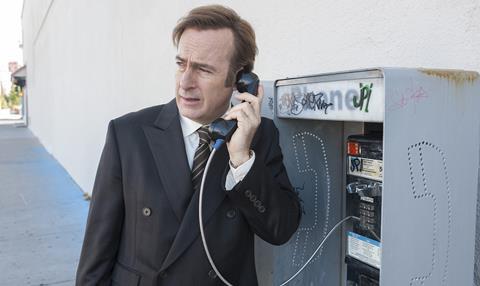 When Bob Odenkirk joined the second season of AMC series Breaking Bad as the slimy, fast-talking lawyer Saul Goodman, it was meant to last three or four episodes. Yet Odenkirk found himself playing the character for the remaining three seasons of the show.
"I think they perceived [Saul] as being a kind of comic-relief character that would carry some water for the plot," he says. "So [co-creator Peter Gould] gave me some credit there for fleshing it out a little bit in my performance."
Odenkirk recalls a moment he shared with Breaking Bad creator Vince Gilligan during filming of the third season of the show: "When we were backstage, he asked me if I thought there was a separate show in Saul Goodman. I told him, 'If you think there's a show in the character, then there probably is one.'"
Gilligan certainly thought there was and the idea was born for prequel Better Call Saul, which is set six years prior to the events of Breaking Bad and follows Saul — real name Jimmy McGill — in his journey from opportunistic idealist to cynical moneymaker.
Despite Gilligan and Gould's insistence there was the possibility of a spinoff for his character, the actor remained sceptical about the prospect of it actually happening. "I've been in the business a long time," smiles Odenkirk. "I didn't really believe it until I saw the billboards go up after we shot the season."
To be continued
Despite the star's reticence, development on the spinoff began to pick up steam after Breaking Bad ended its five-season run in 2013. Once again, the show was set up at AMC, and has a first-run deal with Netflix in select territories outside of the US, including the UK and Latin America. Aside from an initial exploratory meeting with Gould and Gilligan, however, Odenkirk wanted to be as far away from the process as possible.
"Most of the hard work was done by [Gilligan and Gould], not by me," he says. "I try to stay away from the nuts and bolts of the show. I've spent most of my career writing, performing and directing and producing, so I'm very used to the complex process of working out every aspect of the show. I think I'm a much better actor if I haven't been a part of how the sausage is made."
Despite playing the same character in both Breaking Bad and Better Call Saul, Odenkirk, who has two Emmy nominations to date for his work in the latter, describes them as two disparate characters. Breaking Bad's Saul Goodman is "a person who establishes when we first meet him that it's a front; it's a show he's putting on," he says. In contrast, Better Call Saul's Jimmy McGill "is the more whole person who is experiencing the moment like a real person does. He doesn't have a manufactured personality."
This meant Odenkirk had to do more preparation to play the role of Jimmy in the prequel, which is produced by High Bridge Productions, Crystal Diner Productions, Gran Via Productions and Sony Pictures Television. It also meant there would have to be more of a discovery process for both Odenkirk and the creative team. As a spinoff, the challenge was in securing the show its own identity. "We didn't want to do an exact replica of Breaking Bad," he says, "but we also knew it shared the same DNA, that was clear. I think now we know our own universe and our characters, but the legacy of [Breaking Bad] just carries on for us."
While Odenkirk, a Saturday Night Live alumnus, calls his portrayal of Jimmy McGill "the role of a lifetime", he also has a particular fondness for his work on MGM and FX Productions' Fargo, from creator Noah Hawley. In the small-screen adaptation of the Coen brothers' celebrated film, Odenkirk plays ill-equipped police chief Bill Oswalt — who he describes as an "empathetic, weak, somewhat dimwitted character who was also, and this is the wonderful part, self-aware".
Odenkirk notes another career highlight was playing Ross Grant in Alexander Payne's 2013 film Nebraska, a role with which he forged a personal connection. "So many aspects of that relationship and that story were things that I related to from my own life — my own relationship with my father, the kind of person he was, and the struggle with how to feel about a parent like that," he says.
As he continues his run on Better Call Saul, which is in its third season, Odenkirk is hoping to bring the story of late New York Times media columnist David Carr to the small screen. "Carr's book, The Night Of The Gun, is something that myself and [producers] Shawn Ryan and Eileen Myers are working on as a mini­series. While it's the personal story of a journalist who sought to conquer addiction, it's also equally a story about the value of journalism. I think we need that right now in a world of so-called 'fake news'."