Sharp Objects director Jean-Marc Vallée discusses the challenges of making the move from film to television with the multiple Emmy-nominated show.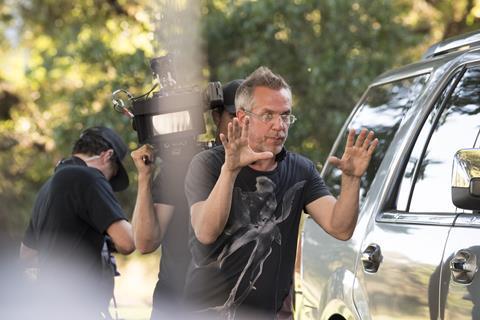 Jean-Marc Vallée has made such an impact with his two prestige TV projects, Big Little Lies and Sharp Objects, it can be easy to forget the French-Canadian director, producer, writer and editor made his mark with award-winning feature films.
Vallée built his reputation with Canadian, UK and US features that included multiple Genie winner C.R.A.Z.Y., royal biopic The Young Victoria and 2013 best picture Oscar nominee Dallas Buyers Club.
It was Sharp Objects – the psychological drama about a troubled reporter assigned to cover the murder of two preteen girls in her parochial American South hometown — that persuaded the Quebecois film-maker to make the leap. The series has garnered eight Emmy nominations, among them one for best limited series and another for an editing team that includes Vallée himself under his Jai M Vee pseudonym.
It was at the invitation of series star Amy Adams, Vallée signed on to direct all eight episodes of the series, which was produced by Entertainment One and Blumhouse Television. (This was before he committed to the first season of Big Little Lies, his other HBO series, which ended up being made and screened first.)
It was the Gillian Flynn novel on which Sharp Objects is based that won Vallée over. "I read the book and I was, like, 'Wow, you want to do this,'" he recalls. "What Gillian wrote is so unique. It's so unique to feature a character like this [Adams' reporter Camille] from beginning to end. She's so dark, so damaged. And yet you root for her and care for her."
The big challenge in filming the story, he says, was how to do without a voice over, a narrative device Flynn and series creator and showrunner Marti Noxon were determined to avoid.
"I was a little bit worried," Vallée admits, "because the number one quality of the book was Camille's internal monologue, the way she talks about herself, about her sexuality, about her cutting, about her mother, her childhood, the first time she had sex."
Vallée found the solution in a technique he developed on features including C.R.A.Z.Y. and his 2011 romance Cafe de Flore: editing brief, soundless scenes — some lasting just a handful of frames — from a character's past into the present-day dramatic action.
"I call it a 'thought cut,'" Vallée explains, "though the term doesn't come from me. It's when you go into the head of a character and see what they think. It demands a little bit of effort and patience [from the audience], because we don't have a clue what these cuts mean in the beginning. But they create anticipation. It puts the audience in a place where they feel they know the character better than anyone else."
Though he also used this technique on Big Little Lies, on Sharp Objects "we pushed it to a level that we've never pushed it to before," says Vallee of his work with the series' four other editors.
Also crucial to telling the story on screen was the work of cinematographers Yves Belanger — who had previously worked with Vallée on Dallas Buyers Club, the director's 2014 studio drama Wild and his 2015 indie dramedy Demolition – and Ronald Plante, who handled the last third of the shoot when Belanger had to move on to another project.
Belanger, says Vallée, "has the courage to shoot hand-held with available light. We asked the crew to capture what was there. We didn't want to interfere with style and colour, we wanted it to feel real."
Other elements that helped create the often oppressive atmosphere of the series included music… and perspiration.
Vallée says he habitually makes music playlists for his characters as part of their back stories, and uses the tracks in the action only when its inclusion feels natural. He struggled at first to come up with a playlist for Camille, but eventually settled on a string of Led Zeppelin classics to establish an important connection with another character in the story.
Perspiration, meanwhile, was deemed essential to convey the stifling heat of a Southern US summer. "All the actors had to arrive on set sweating like crazy," Vallée says, perhaps only half in jest. "If they weren't sweating, they weren't coming in."
Showrunner clashes
Sharp Objects required Vallée and writer-showrunner Noxon to accommodate each other's cultures – one from the feature world, where directors usually have creative control, the other from TV, where showrunners are in charge and typically set a tone to be followed by several different directors over the course of a series.
"To me, I arrive on a TV project and I'm the only director, so I'm the creative leader," Vallée says of his first experience shooting a series. "That's what happened on Big Little Lies because [series creator] David E Kelley came on the set once. Even though he had the title of showrunner he wasn't really being the showrunner. Marti is used to being a showrunner."
Vallée concedes "I get my moments of impatience here and there," and that on Sharp Objects "sometimes we were going back and forth on scripts." But he dismisses reports that Noxon made in an interview last year that there were "toe-to-toe screaming matches" between the two.
"She had to adjust to the fact that the director has a strong take on the creative aspect of the show. And I had to adjust to having someone else in the room," says Vallée, who spoke to Screen before the recent reports suggested he oversaw the editing of the second season of Big Little Lies after creative control was reportedly taken away from second season director Andrea Arnold. To Screen Vallée said he was "helping out a little bit in the cutting room" on the second season, of which he was an executive producer along with Kelley and others.
Now that he has established himself in the two different mediums, Vallée seems set to move between film and TV on a regular basis.
After a break – going from the first season of Big Little Lies straight into Sharp Objects meant handling 182 shooting days in 20 months and having "a tough time, physically and emotionally" — he thinks his next project might be his fictionalised feature version of the John Lennon/Yoko Ono love story.
He is also set to direct another HBO limited series, either before or after the Lennon/Ono project: Gorilla And The Bird, based on Zack McDermott's memoir about a mother's love for her bipolar son, with a script by Demolition writer Bryan Sipe.
Like many other film-TV crossover talents, Vallée sees the most enticing storytelling opportunities currently coming from the TV world. "That's our new reality," he acknowledges. "Content now in theatres is mainly for teenagers and children and a little bit for adults. Character- and emotion-driven stories are on television now."
At the same time, however, he misses the creative autonomy that the film world offers. "I want to go back to features," he says, "because it's so demanding to direct everything [for a TV series], and I like to direct everything. It becomes your baby, but it's a tough baby to bring to life."