With BBC drama Bodyguard proving linear TV is far from over, creator and writer Jed Mercurio reveals why slow-burn storytelling is still an exciting prospect.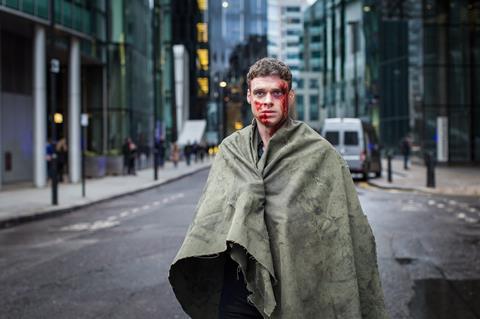 In September 2018, Bodyguard became the BBC's most-watched drama in a decade, with 11 million viewers in the UK tuning in for the finale. At a time when linear TV is supposedly on the way out thanks to Netflix and binge-worthy box sets, Bodyguard became part of the national conversation — a throwback to the days of 'watercooler TV'.
Looking back at those "surreal" six weeks, series creator and writer Jed Mercurio, who also created fellow BBC ratings smash Line Of Duty, tells Screen International that Bodyguard's immediate success felt like a "once in a lifetime event. No-one expected the kind of numbers we were getting, or the kind of coverage we were getting almost on a daily basis in the press."
Bodyguard stars Richard Madden as a protection officer with a dark past, tasked with guarding a home secretary with authoritarian tendencies, played by Keeley Hawes. The BBC commissioned the show from the then-independent World Productions (subsequently bought by ITV Studios), which handled international distribution. Netflix acquired the show for outside the UK, and was also a production partner.
Immersive approach
Unusually for a TV writer in the UK, Mercurio works as a full-blown, US-style showrunner on his projects, involved in all aspects of production and marketing. The latter was hugely important to the success of Bodyguard and Line Of Duty according to Mercurio, who was "personally involved" in conceiving and editing the BBC's trailers for the show, with much discussion around how much plot to reveal.
"We had to tell the audience Madden's character could be an assassin," he says. "We decided we shouldn't hold that back, because if we did then it might just seem like a conventional thriller in which the hero protects a damsel in distress. It wasn't that kind of show."
Another element that made the series stand out, suggests Mercurio, were the action sequences, which were shot over several days — unusual for UK television. "Viewers found those sequences gripping in a way a lot of TV thrillers in the UK hadn't been," he notes.
But shooting these scenes, which depict acts of terrorism taking place in central London, brought its own logistical challenges, with police and local councils involved throughout. "We weren't told there would be any issues with an actor wearing an explosive vest because [he was] always surrounded by cast and crew," says Mercurio. "However, when we shot the sequence where the home secretary's vehicle is shot at by a sniper, there was the concern that having the gunman visible on a rooftop with not enough crew would cause a panic. We had to find filmmaking solutions."
The way in which Islamist terrorism was portrayed was also a challenge for Mercurio, who admits this was "discussed a lot internally" with the BBC. "The conclusion was it would be unhelpful to give guidance that writers can't portray Islamist terrorism in thrillers," he recalls. "[But] the threat didn't solely come from Islamist terrorists and one of our main police characters in counter-terrorism was of south Asian origin. We did our level best to recognise people who share the same heritage are much more likely to not be part of that ideology."
The show's deal with Netflix has seen Bodyguard earn international recognition, culminating in two Golden Globe nominations including a best actor win for Madden. While a second season is inevitable, Mercurio is taking his time. "We are in talks but it's complicated because of how much needs to go into delivering expectations," he says. "I don't regard it as pressure. If the show hadn't been a hit, that would be pressure."