The British actor talks to Screen about playing a very different operative to John Le Carré's George Smiley, in Apple TV+ espionage drama Slow Horses.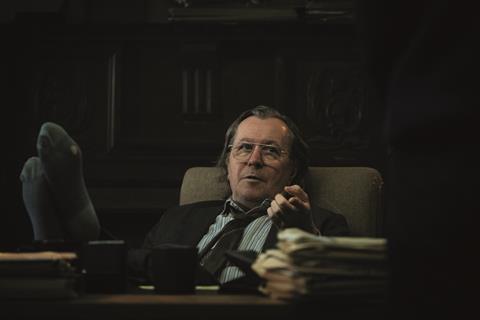 Gary Oldman is not playing a spy for the first time in Slow Horses. But things are a bit different than they were when Oldman embodied George Smiley in the 2011 feature version of John Le Carré's Tinker Tailor Soldier Spy.
For one thing, Slow Horses is a streaming series, Oldman's first project for the home screen outside of a few TV guest-star appearances. For another, the series — produced by the UK's See-Saw Films for Apple TV+ — offers a decidedly different take on the espionage business.
Oldman says he has been "a fan of long-form TV series forever. Some of the best acting I've seen in recent years, and best directing and best cinematography and best storylines and characters, has come through the small screen."
So when an adaptation of UK author Mick Herron's 2010 novel Slow Horses — about agents in the dumping-­ground department of the UK's MI5 domestic intelligence service — came his way, the London-­born Oscar-winner was primed to sign up.
"[Herron] has taken a genre that we're so familiar with, and somewhat turned it on its head," says Oldman. "There aren't many laughs in Le Carré, and I just thought the humour in this was so interesting."
Scripted by UK writer and stand-up Will Smith, known for his work on The Thick Of It and Veep, the six-episode series casts Oldman as Jackson Lamb, the unkempt, unfiltered and flatulent leader of the sidelined spy team, who appears to have nothing but contempt for his underlings at the shabby department HQ called Slough House.
Slagging off other characters in something close to his own original south London accent, Oldman admits he found it "freeing to be so obnoxious" in the role. But he also found — and gradually reveals through the series' six episodes — that his character has a hidden side, one that makes him closer than at first appears to Tinker Tailor's outwardly serene and well-mannered Smiley.
"Lamb wants to give the impression to the world that he sits in that office on his arse all day, with his feet on the desk," says Oldman, whose fellow cast members include Kristin Scott Thomas, Jonathan Pryce, Jack Lowden and Olivia Cooke. "He gives the impression that he doesn't care — but he probably cares more than most. He has a great moral certainty. And he shares that with Smiley.
"The brain is sharp," Lamb's portrayer insists. "He is often the smartest man in the room and has disdain and disgust for the hypocrisy and self-righteousness of the service. He's sort of Smiley if everything had gone wrong."
Career strides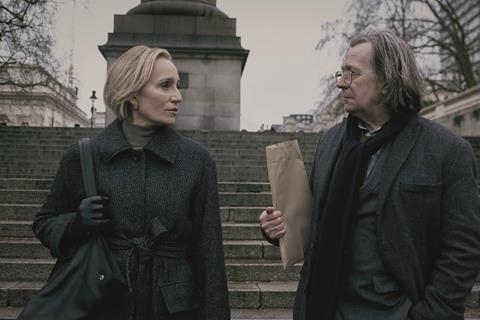 Oldman's 2011 performance in Tinker Tailor — a gutsy new take on the Smiley character first played to acclaim by Alec Guinness in the 1979 TV miniseries — is one of the high points of a career that began in the Royal Shakespeare Company and theatre work at London's Royal Court before moving to the big screen with 1980s UK features such as Sid And Nancy and Prick Up Your Ears.
In the 1990s, Oldman, who still lives in the US, took on Hollywood, with challenging roles in Oliver Stone's JFK and Francis Ford Coppola's Bram Stoker's Dracula, as well as appearances in commercial hits such as Air Force One. He also wrote, produced and directed Nil By Mouth, a powerful London-set drama that won him Baftas for best screenplay and best British film.
Over the past 20 years, working with his Los Angeles-based business partner and manager Douglas Urbanski (an executive producer on Slow Horses), Oldman has kept busy across the spectrum of Hollywood filmmaking. There have been indie and studio earners such as The Hitman's Bodyguard and Dawn Of The Planet Of The Apes, as well as plenty of genre outings: recurring roles in Christopher Nolan's Batman movies (as Commissioner Gordon) and several instalments of the Harry Potter franchise (as Sirius Black); voice performances in animated family films including Kung Fu Panda 2 and Robert Zemeckis's A Christmas Carol; and TV guest star turns, including one in Friends (as an acting foil to Matt Le­Blanc's Joey) that earned him a Primetime Emmy nomination.
Then there have been the major award-winners, the big dramas that have rested on his intense, often brooding screen presence and talent for transformation: Tinker Tailor Soldier Spy, which earned Oldman his first best actor Oscar nomination; 2017's Darkest Hour, with a prosthetics-assisted portrayal of Winston Churchill (opposite Slow Horses castmate Scott Thomas as wife Clemmie) that won him the best actor Oscar and Bafta; and Holly­wood bio-drama Mank, which brought another best actor Oscar nod last year.
With the arrival of Slow Horses, however, Oldman's work life looks like becoming considerably less frantic. He recently shot a brief scene in Christopher Nolan's Oppenheimer, about the so-called "father of the atomic bomb", and though the filmmaker's preference for secrecy prevents Oldman from saying much, he suggests that Cillian Murphy is "going to be quite remarkable" as the title character. He also still has an interest in writing and directing. After Nil By Mouth, which screened in Competition at Cannes in 1997 and seemed to point to a second career behind the camera, Oldman developed other projects, including one with author Darin Strauss about famous 19th-century conjoined twins Chang and Eng.
More recently, he wrote Flying Horse, a script about Eadweard Muybridge, the 19th-century English photographer known for his motion studies and eventful life in the US. Oldman says he is "quite proud of the work," but has not yet been able to "jump all the hurdles" to get the project made. "The desire is there," he says of directing a follow-up to Nil By Mouth, "but it's just very, very hard to get a movie off the ground. Plus I don't earn my living [directing], so there are certain compromises that I'm not particularly willing to make because I don't need to. Why put myself in that kind of situation?"
An eye to talent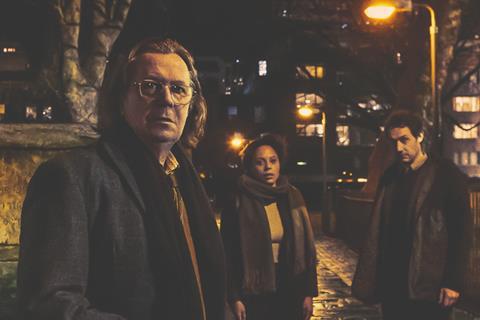 No other feature film roles are currently on Oldman's schedule and he says it would take a call from a special filmmaker — Paul Thomas Anderson and Paolo Sorrentino are two he mentions — to make him "perk up and be interested". In the absence of such contact, he says: "I'm pretty much dedicated to Lamb and to this project."
A second six-episode season of Slow Horses — based on Dead Lions, the second book in Herron's on­­going Slough House series — was shot back-to-back with the first and is expected to stream this year; Apple has also announced two more seasons of the show, based on the fourth and fifth books in the series. There are a further two novels — the most recent, Bad Actors, published in May this year — that could provide yet more material about Lamb and his cohort.
So for the moment at least, the actor insists he is "really quite happy where I am".
"At this time in my life," says Oldman, who recently turned 64, "I'm privileged and feel very honoured and grateful to be able to play Lamb, and play him for as long as they want me."