For UK actor Himesh Patel, HBO Max's drama was the chance to explore the apocalypse from an entirely different perspective.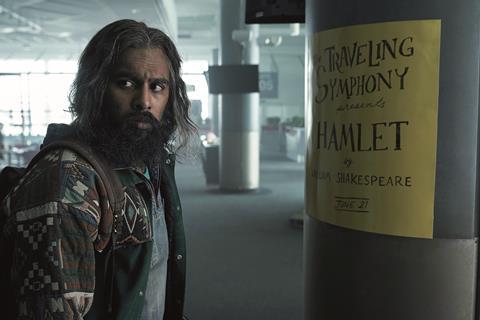 Watching the first episode of HBO Max drama Station Eleven brings an eerie sense of déjà vu. It opens in Chicago as a fast-moving and deadly flu takes hold; hospitals are overwhelmed, mask-wearing medical professionals struggle to cope, people are advised to stay indoors. Everyday life collapses in a way that is devastatingly familiar.
"It's hard to ignore the resonance of it," says the show's UK star Himesh Patel over Zoom from the North Carolina set of his latest film, indie drama Providence. Yet, in a bizarre coincidence, Patel filmed the pilot episode of the series — which is based on a 2014 novel by Emily St John Mandel — in January 2020, before Covid‑19 began to change the world. That shared global experience has, however, clearly changed both the way in which audiences may approach the show, and also how Patel himself responded to the material.
"I saw a cut of episode one in October of 2020 and found it really emotional," he recalls. "Especially the hospital sequence, because that's the closest we come to the reality of what people have actually lived through. It was overwhelming, not just in terms of what we've been though, but also in the chances of us making something like this — being so morbidly accurate without realising we were doing so."
The Covid-19 parallels may be unavoidable, but Station Eleven takes its own distinct direction. "We had a long gap during lockdown [when filming was put on hold]," says Patel, "during which time we stuck to our guns in terms of the story we were telling. But we knew we weren't going to lean into Covid, because that would have been exploitative."
Much of the story takes place in the present day, as Patel's character Jeevan must contend with the collapse of society while also looking after his young ward Kirsten (Matilda Lawler) — a child actor he meets at a play just as the virus takes hold. But the narrative regularly fast-forwards 20 years, to follow the now-adult Kirsten (played by Mackenzie Davis) — and, in later episodes, Jeevan, from whom she has become separated. In this version of a post-viral future, survivors are living a simpler life in small rural communities, being entertained by a travelling symphony that performs Shakespeare. This back-to-basics idyll is overshadowed by a violent cult with links to Kirsten's past, but Patel describes the story as being ultimately "positive and celebratory".
"Having read the pilot, I didn't know what direction we were going in as I didn't know the book at the time," says the actor, who won the role following a Skype chat and in-person audition with creator and writer Patrick Somerville (The Leftovers, Maniac) and executive producer Hiro Murai, who also directed two episodes. "When I read the book, I realised that it's special because of how the arts and theatre bring people together. They accept that none of the old world is coming back, and it's an opportunity to rebuild in a new way."
Acting on impulse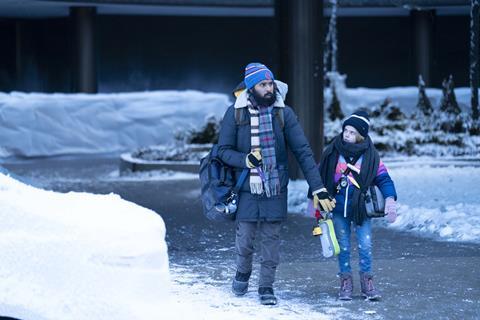 As well as the overall story, Patel was drawn to the character of Jeevan who, as a 30-something freelance content creator suffering from anxiety attacks, is not your typical on-screen hero. "I knew him straight away… read into that what you will," laughs the actor. "I connected with him. I liked that he was not necessarily an antihero, but a sort of non-hero in a way. He's not trying to be a knight in shining armour, even though he does do something akin to that, which I put down to impulse.
"My main bedrock for Jeevan was his impulsive nature," he continues. "I think that's what kept him on uneven ground for his whole life, because he can't stick with one thing for long enough and he can't make decisions that are actually sensible. It's all impulsive. He does one positive thing, and then it connects him to someone [Kirsten] who changes his life."
For Patel, taking on Jeevan gave him the opportunity to bring his own struggles with anxiety to his performance, as well as to work closely with Somerville. "Patrick is bringing a lot of himself to his characters, in the same way he did with Maniac," he notes. "What I loved about that show, and this, is that the characters are very complex. It's always nice when you feel the writer is being vulnerable. It gives you the space to be vulnerable with each other, which is such a collaborative approach."
The story spans two decades, and Patel had to contend with an expansive character arc that involved him running the gamut from loss, grief and survival to love and acceptance. "It's amazing," he reflects. "As an actor of South Asian heritage, we're still carving a space in the industry. It is opening up to us but we're still finding our way. To have someone write you a gift of a role like this, and believe in you as a performer, that's something."
That close collaborative relationship with Somerville really came into play because, apart from the fact the pilot episode was shot first, filming was not done in chronological order — particularly challenging when dealing with time-shift narratives and high emotional drama.
"You need someone at the centre who knows exactly what's going on and can see the map of everything," says Patel. "Patrick can see the story in a non-linear way. So you can ask him any question about your character, and he cycles through everything he can see. Which sometimes means you're a bit like, 'Can you distil this down to the simplest form?' But he's got such a brilliant mind, he pulled everything together."
Patel got his start as recurring character Tamwar Masood on the long-running UK soap opera East­Enders in 2007, when he was just 16, and says that, back then, the idea he would eventually work in high-profile projects such as Danny Boyle's Yesterday (2019), Tom Harper's The Aeronauts (2019), Christopher Nolan's Tenet (2020) and Adam McKay's Don't Look Up (2021) was "a pipe dream".
"It is odd when I look back on it. Why shouldn't I have felt it to be possible?" he muses. "I think it was because the precedent hadn't been set by anyone at that point. For me, it was about doing the work and making sure that I used my experiences on EastEnders as a wonderful training ground."
Pipe dream or not, Patel is building an impressive career on the big and small screens, and seems particularly drawn to projects that deal with expansive ideas in accessible, entirely human — and often funny — ways.
"It's the sort of stuff I've been drawn to for a lot of my life," he says. "As much as I enjoy straight drama, and stuff I can be earnest about, using humour is actually a clever way of getting a message across. Something like Don't Look Up, which on the face of it is a comedy but underneath has a powerful emotional message. And in something like Station Eleven, comedy can bring reality to what is ultimately very high concept.
"It's human to laugh, even in the darkest of times," he adds. "It's important to find the moment of truth and, ultimately, humour is truth."