One might assume that any actor approached for a role in UK royal drama phenomenon The Crown would immediately jump at the chance.
But Josh O'Connor found himself somewhat trepidatious when asked if he would be interested in playing the young Prince Charles in seasons three (which dropped on Netflix in November 2019) and four, which will make its debut later this year.
"I think that just highlights my own idiocy, really," the actor laughs, recalling those initial doubts. "I was a big fan of the show, but in my mind's eye was the Spitting Image version of Prince Charles. When I sat down with [creator and writer] Peter Morgan, [casting director] Nina Gold and the team, I realised that – as with all the characters in The Crown – they are never quite what they seem in reality."
Far from portraying a version of Queen Elizabeth II's eldest son familiar from decades of public appearances, O'Connor, whose credits include God's Own Country, Only You and Emma as well as small-screen series such as Peaky Blinders and The Durrells, realised he would be given licence to dig deeper into the heir to the British throne.
"We chatted about all the big themes that Charles has during series three and four: masculinity, the lack of parental love, sharing his mother with a nation. I suddenly saw this as an opportunity," says O'Connor.
"The trick is to remember that anything we know of Prince Charles is a media representation of him. Usually, the moments where he is in the public eye are well planned and organised. He is presenting a version of himself that he wants people to see. I think that was a luxury, because it meant you can invent."
"Ultimately," he adds, "The Crown is a work of fiction from Peter Morgan, and that gives you freedom to create something which isn't actually Prince Charles. It's an essence of him."
In O'Connor's hands, that essence – in season three at least – is of a vulnerable, conflicted young man struggling to live up to the duties expected of him. Throughout the season, his character is defined by a heartfelt romance with Camilla Shand (played by Emerald Fennell), ultimately dashed by his disapproving family; a reluctant stepping up to public duties; and cool relationships with his mother the Queen (played by Olivia Colman, who O'Connor describes as "kind, collaborative and terrific to work with") and father Prince Phillip (Tobias Menzies).
Family dynamics
As a young adult struggling to make sense of his emotions, the role has echoes of Johnny Saxby, the troubled gay farmhand O'Connor embodied in Francis Lee's Bafta-nominated 2017 drama God's Own Country, even if the worlds they inhabit could not be more different.
"What's so great about The Crown is that the dynamics at the heart of it are the dynamics of family," notes O'Connor. "Something I struck on when I was playing Johnny Saxby was that there's an inarticulacy he has, through the fact they just don't have the privilege and the time in his world to talk about emotions.
"The working-class farmhand world and the aristocracy are closely aligned in that sense – Charles and the royals also don't have the vocabulary," he continues. "You see his attempts in episode six of season three [in which Charles pleads with Elizabeth to give him some emotional support] – a young man reaching out to his mum and asking if they can please engage. But they just can't."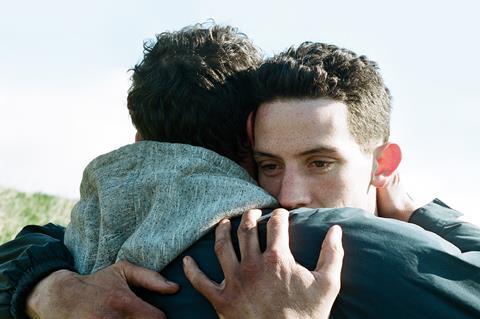 And like Johnny Saxby, Charles is a man living in a state of purgatory – unable to fulfill his true potential until his mother dies, unable to get any form of validation from the parent he adores. It is a psychological tussle that O'Connor admits was challenging.
"Peter Morgan's writing helps," he says. "The big crux of season three is the speech that Charles gives to Camilla, when he likens his story to Saul Bellow's [1944 novel] Dangling Man. A working-class man is waiting to be drafted to go to war, to a certain death, and he wants to go because it gives his life meaning.
"There's no purpose to Charles' life other than this idea of duty and power, but he can't experience that until his mother dies. And he doesn't want his mother to die. He can't really enjoy his privilege. He is stripped of that freedom."
With the upcoming season four, which filmed last year, being touted as, tantalisingly, the 'Charles and Diana years', O'Connor had to navigate his character through a period of huge evolution. That, he says, was one of the show's major appeals.
"The big excitement for me, going into season three, was effectively looking at both seasons three and four. We all know roughly what happened with Charles and Diana, and I had an idea from Peter about where Charles was going. Having the opportunity to go back and mark the moments that have influenced behaviour, or influenced the older version of this person, was a real treat.
"We all have a set position on the dynamic between Charles and Diana," he continues. "It's been great to have the ability to either fight against that or, at times, acknowledge it and also to challenge any question of, 'Did he ever love her?' Personally I think he must have done. There's a wealth of layers and richness to Charles and Diana, and I loved seeking that out."
Next in line
With Netflix enjoying increased audience numbers during the coronavirus lockdown, there are legions of viewers eager to see how the Charles and Diana drama plays out. But with Charles (and his entire family) being recast for the fifth and final season, in which Imelda Staunton will take the role of the Queen, O'Connor says this forced period of rest has enabled him to focus on future projects.
These include Eva Husson's Mothering Sunday for Number 9 Films, and a stage production of Romeo And Juliet opposite Jessie Buckley. A representative from the National Theatre, which is closed at time of writing, told Screen the team is "exploring options for when we will be able to bring this production to audiences as soon as it is safe to do so".
"I have been working fairly consistently with very few breaks for four or five years," says O'Connor. "This has been a real moment of pause that has done me a lot of good, and the work I'm going into a lot of good."
He does, however, recognise that his is a "privileged position" and the future is far from certain. "The majority of actors are now unemployed, and looking ahead at turbulence. There are so many levels to it. The theatres are in a dire way, which is a constant worry. I was talking to some students at my old drama school, Bristol Old Vic, and there are entire years of people who would normally be seen by agents right now and can't be. The whole industry, top to bottom, has been affected."
When it comes to a return to physical sets, O'Connor admits to being keen but apprehensive. "I hope we can find ways of making films," he says. "There is a need for new work, and that's across all art forms. Like anyone with any kind of job, we have to find ways of managing it with this pandemic.
"I haven't heard the definitive answer of how we might do that, but there are ideas coming from production companies and producers. I feel like we're moving in the right direction. We just want to crack on."