Playing a murder suspect in HBO thriller 'The Undoing' is yet another way that UK actor Hugh Grant is shedding his nice‑guy image. He tells Screen why he enjoys these darker character roles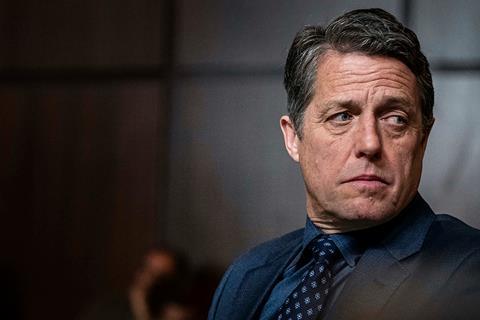 "The nice guy of the Richard Curtis films, he died 20 years ago," asserts Hugh Grant. That should not come as a surprise to anyone who has been paying attention to the actor's career. It has been a long time since he appeared as one of his trademark flappable charmers — a character type that has been sealed in the public consciousness ever since 1994's Four Weddings And A Funeral.
Even so, Grant's performance as high-profile murder suspect Jonathan Fraser in HBO's mystery-thriller hit The Undoing struck many as a shocking change of tack. It is something that bemuses the 60-year-old actor when he speaks to Screen International in mid-May (please note, spoilers ahead).
"It's a little alarming to know it's only just seen as a shift," Grant says, confessing he is bothered that his likeable romantic-comedy persona still dominates perceptions. "I'm friends with John Cleese and you can see his eyes slightly darken when people say, 'I love Fawlty Towers so much.' He's thinking, 'What about the next 50 years of my career?' I think everyone's a bit like that."
To be fair, while Grant has played dark-tinged characters in the past, from the snide theatre director of An Awfully Big Adventure (1995) to the flamboyant villain of Paddington 2 (2017), viewers had not seen anything that sunk to the shadowy depths of Jonathan Fraser. Indeed, it was the promise of the character's sheer reprehensibility — gradually exhumed over the mini-series' six twist-packed episodes — that hooked him.
"I only got sent one episode, maybe two, but it was clearly cleverly done by [series creator] David Kelley," says Grant. "My only real question was, 'Who did it?' It looked like it was me, and I needed to be sure of that. I didn't want to do it if I wasn't a psycho­path. I haven't quite been there ever, into full murder. Jeremy Thorpe [of 2018 BBC mini-series A Very English Scandal] tried to murder someone but screwed up. Phoenix Buchanan in Paddington 2, he tries to kill the bear. But I really wanted to go completely dark."
The Undoing director Susanne Bier (The Night Manager, Bird Box) agreed wholeheartedly, and the Danish filmmaker encouraged this unprecedented descent.
"Her European sensibility, like mine, thought we needed the darkest of dark notes," says Grant. "In fact, the actual murder scene, which you get to see in the final episode, was never really scripted by David Kelley, it was just done by me and Susanne and that poor girl who had to be murdered [Italian actress Matilda De Angelis]. I thought it was very important that you saw it. But Susanne, I mean, she's hardcore. She was really into it."
Bier and Grant did not always see eye to eye, however. Fraser first appears in the series as an endearing, loving husband (to Nicole Kidman's Grace) and father (to Noah Jupe's Henry): witty, self-effacing, charming. Very much in the 'classic Grant' mould.
"That was a slight sort of, shall we say, discussion between me and Susanne," he says. "Because I'm so reluctant to be that person again, I found a way to do Jonathan in episode one that wasn't really like that. More a follower of Nietzsche and a womaniser; sort of Paris-pretentious, with much longer hair. It was me trying to create a character, so I could play it as a character part. But I think she thought it was more fun to bring more of that old Hugh Grant type, because it would just seem impossible to people that he could really have done this foul deed. So I did do a bit of that. It was something of a struggle. It felt like getting back into wet swimming trunks."
Character traits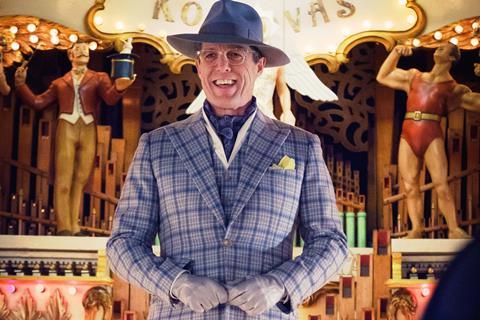 When he started out as an actor in the early 1980s, Grant says he felt most comfortable playing characters that were different to himself. "That's what I did to make people laugh at school and university, and when I was doing the comedy-show London pub circuit — silly voices, doing characters," he says. "I see now I should have stuck to that. It was just a bit difficult after Four Weddings And A Funeral, because I went from being poor to being rich overnight and I thought, 'Oh, well, all right. If this is what it takes…'"
Grant insists, however, that he loves his romantic comedies and remains proud of them. "I'm just saying I'm more comfortable doing characters. I'm looser in front of a camera. I don't blink so much. When you're nearer to yourself, that's when self-consciousness can creep in."
He confesses, too, that he "specialises in nerves". He was, for instance, "terrified" of working with Nicole Kidman, "this actress who's so good and has won so many major awards". In the end, however, it was "really easy-peasy". And the reason he has done so little television before is because the idea of not knowing how your character is going to develop, as well as having to work with different directors on different episodes, "sounds terrifying" to him.
So the joy of The Undoing — like Stephen Frears' A Very English Scandal before it — was that it was indistinguishable from making a movie. Both mini-series, he says, "were made by film directors and shot as films, not episode-by-episode. The entire six hours of The Undoing was shot like a film out of sequence. Like a 360-page film script."
That creative approach paid off. The Undoing reaped HBO's highest viewing figures in 2020. "It was a happy marriage of brilliant American scriptwriting — especially the cliffhangers — and arty-farty Scandinavian directing, which gave it mood and texture," muses Grant. But his performance surely has something to do with it. It has already earned him a Golden Globe nomination, and could net him a second Primetime Emmy nomination (following a nod in 2019 for A Very English Scandal).
"It's quite foreign to me," Grant says of such attention. "Well, certainly the old me. But it's nothing but nice, is all I can say. Maybe all that anxiety, getting up very early in the morning and being terrified and freezing your bollocks off on a street corner in Harlem was worth it."
When he speaks to Screen, Grant is in the midst of yet another "anxious moment", and is — according to reports he can neither confirm nor deny — preparing to play another villain in Paramount Pictures and eOne's Dungeons & Dragons. It is the latest attempt to translate the worldwide popularity of the fantasy role-playing game into box-office dollars — a game Grant confesses he has never played. The film appeals because, like The Undoing, it offered him the chance to do something different. "I don't think I've done a great big, expensive Hollywood blockbuster before," he says. "But more than that I laughed at the script. It's hard to please me, but it had real charm and moved me. I was certainly not expecting that."
He has also wrapped his third collaboration with Guy Ritchie, an untitled movie co-starring Jason Statham that Grant describes as "a spy film, with some action. It was fascinating. I like Jason a lot. He's bloody good, and brilliant at what he does".
And so, almost four decades into his screen acting career, Grant has finally found the character-actor sweetspot he sought in his youth — and only a decade or so after thinking he had quit for good. Following the box-office failure of 2009 romantic comedy Did You Hear About The Morgans?, "I pretty much gave up showbusiness," he admits. "I was so into British politics and campaigning [with the Hacked Off campaign, which pushed for a free and accountable press in the UK], while Hollywood thought, 'We're not interested in you now, and you're a bit old anyway.'" Then Grant's fellow Hacked Off campaigner Stephen Frears insisted they do something together, and cast him alongside Meryl Streep in 2016's Florence Foster Jenkins.
"He is the one that really dragged me back into acting," Grant says. "And not only dragged me back, but made me like it. I hadn't liked acting for decades. I actually like it now." He's not just liking it. He's also, if you'll forgive the choice of phrase, killing it.