Following the success of UK-set teen drama The End Of The F***ing World (which first debuted on Netflix in October 2017 with season two following in November 2019), UK writer/director Jonathan Entwistle has crossed the Atlantic to make US high-school sci-fi I Am Not Okay With This, which hit the streamer in February.
Here, he discusses the challenges of making a US project, and why he is happy to be returning to the small screen.
I Am Not Okay With This is, like The End Of The F***ing World, based on a novel by Charles Forsman. What draws you to his creations?
Maybe 10 years ago, I was fresh out of film school and was desperately hunting around for a comic book that spoke to me. When I first came across an issue of The End Of The F***ing World, I was blown away by how cinematic it was.
Chuck, who is a huge movie fan, has a way of crafting his stories that feel like films. His drawings are also so sparsely executed — often just two people against a white background — that you cannot help but feel the weight of the story. I feel like I do that with my shows and so it's a perfect match. Also, I wanted a crack at making my own version of the classic American high-school show, and this seemed like a good place to start.
Was it easy to switch to writing for US characters in a US setting?
The humour is very different. There is a deep earnestness to the American storytelling tradition and that can sometimes trample on comedy, and certainly irony. So, it's hard to traverse characters with 'attitude' and a softness — something I worked hard to do with Alyssa in The End Of The F***ing World. I genuinely think that is harder to portray in an American setting.
This is your second project with Netflix. What are they like to work with, and how closely are they involved in the process?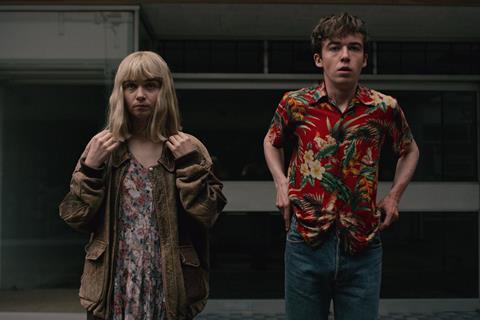 They provide you with everything you need to succeed and they leave you to it, but without being completely hands off. It's an interesting alchemy. Their stamp is undoubtedly all over a lot of their shows but there is also a light touch, too. They really are the masters of marketing shows in the contemporary business and, without them, my shows wouldn't be accessible or available to 100 million-plus people.
With The End Of The F***ing World, we accidentally invented a three-hour story cut into 23-minute episodes and, once we saw how well that went down, it was a no-brainer to keep that form going. It gives me the opportunity to build a more cinematic world, but also play with the conventions of some episodic storytelling
When Screen last spoke to you about The End Of The F***ing World, you said TV is offering more creative opportunity than film. Is that still the case?
I think a movie will always be the pinnacle, the 90 minutes to perfect the craft. But there are many more opportunities, creative and otherwise, for working in television in 2020. Streaming platforms have wider and wider audiences, so projects that were considered niche are becoming less so — and that's a good thing. Streaming was rising hard and fast when The End Of The F***ing World came out. In the short time since then, it's a different beast altogether. Streaming itself is a platform that no longer only shows 'TV'. So, creatively, you can essentially do anything format-wise and that's incredibly exciting.
How has the coronavirus pandemic affected you, and how do you see the industry fighting back?
I was lucky because I Am Not Okay With This had just come out about three weeks before lockdown began in the US. I've been running virtual writers rooms and writing a million treatments for shows that will probably never get made and while that may sound like a lot, I'm still very much struggling to remain productive as, I feel, many of us are. I just hope we can safely go back to work soon and keep creating.