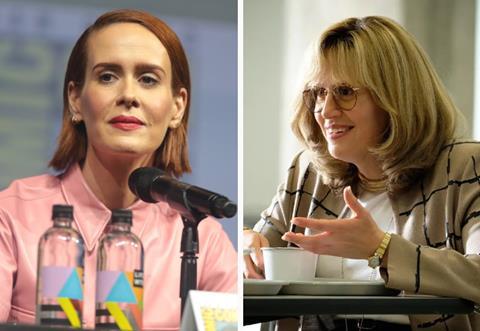 In the late 1990s, Linda Tripp became a vilified public figure in the US after she helped expose the sex scandal involving White House intern Monica Lewinsky and then-President Bill Clinton.
But Sarah Paulson wasn't focused on that when she took on the considerable challenge of playing Tripp in Impeachment: American Crime Story, the latest installment of the FX channel's American Crime Story anthology series. (BBC Two broadcast the series in the UK in October 2021, a month after its US premiere.)
"Sometimes as an actor you can be blinded by the excitement of playing a complicated, multi-dimensional, imperfect person," says Paulson, who admits she was "caught unawares" by some hostile early response to the character as depicted on screen: "It completely surprised me that people were so offended by her. And it shouldn't have been a surprise to me, given her actions at the time."
Changing that public perception was not the priority for Paulson. "The goal is never to ingratiate yourself to an audience," she insists. "If you're doing it that way you've missed the opportunity to show a person with their underbelly exposed."
Once the series was widely seen, however, Paulson's performance, now nominated for the lead actress in a limited or anthology series Emmy, probably did soften some hearts. "People have said to me that they were surprised they ended up having empathy for her," says Tripp's screen portrayer, "which I take as an accomplishment for the piece as a whole."
Physical transformation
Playing the one-time White House and Pentagon civil servant (who died in 2020 before the series was shot) required a physical transformation involving a prosthetic nose and neck piece, weight gain and body padding to bring Paulson closer in appearance to the tall, broad-shouldered Tripp.
It also meant Paulson learning to emulate some of Tripp's "idiosyncratic ways of physically moving through the world. This is not the first time I played a real person," says the actor, "but it is the first time I played a real person whose physical persona was so much a part of who she was."
Learning to collapse her chest and round her shoulders while performing allowed her to tap into a key aspect of Tripp's character, Paulson explains: "It's sort of like a person who has been broken-hearted, as if she was burdened by things and the weight of her life."
The posture work in turn helped Paulson arrive at her take on Tripp's motivation for secretly taping her late-night phone conversations with the much younger Lewinsky.
"There's no way around the reality that what [Tripp] did was a terrible thing to do to another person," Paulson concedes. But, she adds, "I do believe that Linda thought [Clinton] was abusing his power and that she needed to do something to stop it. In conjunction with that, she wanted to matter, to be a player, to be part of something."
Career path
Impeachment is the latest in a string of projects in which Paulson has appeared – often bringing nuance to otherwise maligned female characters – for prolific producer Ryan Murphy.
Her work in entries from Murphy's American Horror Story franchise have earned her five past Emmy nominations. In 2020 she played the title character in Murphy's One Flew Over The Cuckoo's Nest prequel series Ratched. And in 2016 her performance as real-life prosecutor Maria Clark in The People v OJ Simpson, another of Murphy's American Crime Story shows, won her the limited series lead actress Emmy.
Her work with Murphy "has been the collaboration of my professional life," Paulson enthuses, an instance of "that wonderful alchemy when you feel really seen by a person from a professional standpoint. It's as lucky and as exciting as you can get in this industry."
From now on, Paulson, who was also an executive producer on both Ratched and Impeachment, may herself be taking a more producorial role in her projects, both television and film.
Upcoming TV projects in development with her attached include Untamed, in which she is set to play Glennon Doyle, the US author on whose memoir the series will be based.
In the film world – where her past studio and independent credits include Bird Box, Ocean's Eight, The Post, Mud, 12 Years A Slave and Carol – Paulson is attached to Clybourne Park, an adaptation of Bruce Norris's Pulitzer Prize-winning play from UK producer Simon Friend, and Dust, a horror thriller soon to start shooting in New Mexico for Searchlight Pictures.
As well as starring in the latter – about a woman left alone with her children during America's Dust Bowl drought of the 1930s – Paulson is also serving as executive producer, showing, she says, that producing "wasn't some one-off thing that I got to do because of my relationship with Ryan".
"The thing that's exciting about it for me is I love, as an actor, having a real seat at the table," Paulson explains. "Because sometimes an actor's role in a piece can be diminished, where someone just wants you to hit your mark and say the line and show up on the premiere night and say good things about the movie.
"It's wonderful when you have a real opportunity to speak your mind and know that in the larger view your opinion does actually matter in a more concrete way."