UK writer/director Steve McQueen tells Screen how his deeply personal Small Axe films – about the experience of West Indian immigrants in London – achieved unexpected global resonance
"It was crazy. I mean, people were just crying. It was emotional. I've been very fortunate to premiere films in Cannes and Toronto, Telluride and Venice. But I never have had a premiere like that."
Steve McQueen is talking about the first public glimpse of his landmark television project Small Axe. The premiere of Lovers Rock (one in the series of five films) at New York Film Festival — a chink of hope, communion and positivity against the backdrop of a pandemic and protests against police brutality — was an experience that, even now, nine months later, still leaves him visibly affected.
"Possibly because of Covid, but also because it was a celebration of us as human beings," he muses. "I mean, all the senses – the smell, the sound, the taste – everything was elevated – sensual, sexual – everything was alive. And I think in a situation where people have been locked down, and to have this celebration of music and being together. Of course, there's a flip side to that, which is the social political surroundings. This is a safe haven; this is a place of joy."
He was struck also by the unexpectedly universal appeal of these very specific snapshots of the lives of West Indian immigrants in London from the late 1960s to the 1980s. "I think what's interesting is with [the Small Axe films] Mangrove or Education or Alex Wheatle, Red, White And Blue and Lovers Rock, it's very local but it's very global. That's something that I was very taken with – where you get a situation where something like that can be translated, understood in China, for example, where there was an amazing response. Or elsewhere in the world."
Personal stories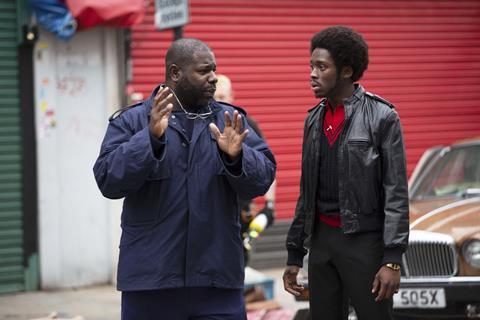 But while Small Axe was never intended to connect solely with one audience or demographic, the inspiration for the anthology came from his personal experiences as a London-born child of two first-generation immigrants: a Grenadian mother and a Trinidadian father.
McQueen explains the initial motivation to tell the stories: "Time. Time was the initial thing that triggered it. Because you get to a certain point in your life and you look back. But also you get to a situation where people are passing. You need to tell their story now, before it goes away. There's a generation of people who didn't have a voice to tell their stories and to put themselves within the history of Britain, and write the history in a way that is correct. So I thought that this was the right time."
Of course, the idea of a "right time", he acknowledges, is somewhat elastic with a project that took 11 years to come to fruition. "But again, it took me a little while to get the tools to be able to say what I wanted to say. It comes with age; it comes with a kind of maturity."
It was with that "voiceless" generation of West Indian immigrants in mind that McQueen conceived Small Axe as a television project rather than a cinema venture.
"This was always for television or streaming because I wanted it to be accessible to anybody within the UK, first and foremost. Anyone, anywhere, could see this, so it got into the bloodstream of the country. My mother was the thing. I just wanted her to turn on the TV and see stories that related to her."
Although it was initially conceived as a fictional series, it became clear during the lengthy development process that the wealth of stories would be best served by an anthology of factually based standalone films. "Through the research, I realised I wanted to tell true stories. Let's tell true stories because they're so incredible," says McQueen, who pays tribute to researcher and associate producer Helen Bart, a former BBC News journalist who conducted something in the region of 126 interviews that formed the raw material, which was then fed into the writers' room.
McQueen recalls of the writers' room process: "At first it was interesting because we all emptied our handbags on the table and we'd sift through and stuff, and it was really stimulating in a way. But, at the same time, it came down to two writers for me, Courttia Newland and Alastair Siddons, who I wanted to continue to write the actual films. The process was great because it was always changing, it was always amalgamating. Is it for TV? Is it a film? Is it a series? Is it fictional? Is it real?"
Developed with the BBC and co-produced by Amazon Studios, Small Axe required a flexibility of approach from its producers. Varying in length between just over an hour up to 128 minutes, the films are thematically linked but strikingly different in tone and shooting techniques.
McQueen found both companies to be accommodating of his ideas. "Things in television are changing. Either you get with it or you stay behind. I think they were very interested in pushing their own boundaries in order to adapt to what's going on in the world today. I mean, with streaming there's no commercials, it doesn't have to be an hour, it doesn't have to be half an hour."
Filming techniques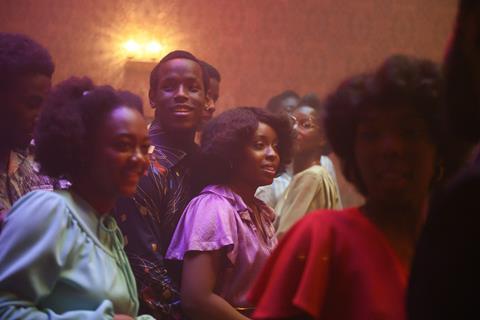 The different shooting approaches for each film required more persuasion, with the BBC initially resistant to shooting one of the instalments, Education, on 16mm film. "We shot Education on 16mm because I wanted it gritty. It was very much about [1970s BBC anthology drama series] Play For Today, Alan Clarke. There was a conversation but, of course, it's what the narrative wants. The narrative tells you what it wants to be, and 16mm and the grade and everything else was very important."
Of the other films, Mangrove was shot on widescreen 35mm "to give it the majesty that it needed"; Red, White And Blue was also shot on 35mm, but with a tighter, boxier aspect ratio that reflected the constraints and walls experienced by a black police officer in London's institutionally racist Metropolitan Police. And Lovers Rock – the beguiling, immersive account of a single stolen night out – was shot on digital.
"I needed the fluidity," says McQueen. "Lovers Rock is a fairytale. It's about this girl who wants to go to the party and she sneaks out, and it's amazing. And at 12 o'clock, the carriage turns into a pumpkin and the horses turn into mice. Get ready for church."
The finite nature of shooting on film also brought a "preciousness to the material. You have a situation where you know this is going to run out. A lot of people hadn't worked with film before on that set, but you could feel the intensity and the focus because it was the end of the reel."
Two elements were key to capturing British West Indian life: music and food. Much has been written about the blissful acapella version of Janet Kay's 'Silly Games' in Lovers Rock, but other tracks were equally crucial, says McQueen.
"There's [The Revolutionaries'] 'Kunta Kinte', when the guys go crazy [in Lovers Rock], and the Al Green stuff in Red, White And Blue. I love the Small Faces in Education. Music is the life source of these films. And this is similar to how food is a life source. I mean, when you've got West Indians and Caribbean people in their element, Londoners, who are eating, and add in the music – it's like a Scorsese movie or an Ozu movie, it's about the culture. It's about the food, the family, the music, it's about life."
Opening doors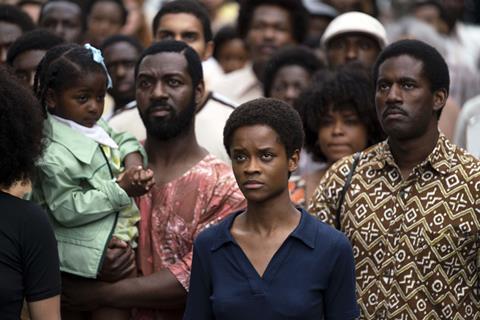 Small Axe, says McQueen, was conceived as an attempt to fill the canon, especially within film, adding the black British stories that were not previously given a platform. But through the project, the filmmaker was also able to confront head-on the inequalities within the industry. "Because, don't forget, we as black people were not welcome in the film and TV world. We were not deemed as important and opportunities were not granted towards us."
It was, McQueen says, "imperative" to work with black talent on the project. "As far as the actors are concerned, there was abundance," he says, singling out casting director Gary Davy for praise. "Gary was amazing. We were working with Gary for seven, maybe even eight years. I mean, we cast Letitia Wright [who stars in Mangrove] before she was in Black Panther, that's how far back it goes."
Recruiting black crew members was more of a challenge. Key names include Antiguan cinematographer Shabier Kirchner and Helen Bart, head of research. Departments such as hair and make-up and sound were also filled by black professionals. But elsewhere, McQueen struggled to find black crew. "We had one spark when we were shooting up in Wolverhampton. One spark. And some drivers were from India or Pakistan, and that was it. I mean, no actual technical people, apart from that one black spark."
The director insists the production was proactive in addressing the problem. Apprenticeships were set up, ensuring there were at least one or two young black people employed in every department. "I think we did more than any other crew has ever done. I had to invest because what I wanted to do behind the camera was just as important as what was in front of the camera."
McQueen, who was knighted in the UK's 2020 New Year Honours list, approached the government to discuss ideas to diversify opportunities in film and television. He is, understandably, still rankled by the response. "I asked to talk to the minister of culture. They said they wanted to send some ministerial adviser. I said, 'Well, I don't want to speak to a ministerial adviser, I want to speak to the head of culture.' And that never happened. After all the huffing and puffing that was going on, where's the investment in black talent? I mean, they're killing it in the US but in this country we're lagging."
His message to the industry going forward is an emphasis on "encouraging and supporting. Listen, this is not just about black communities, it's about women, it's about so many things that need to come to the fore," he says. "How can you define this? It's almost like only using one arm when you've got two arms."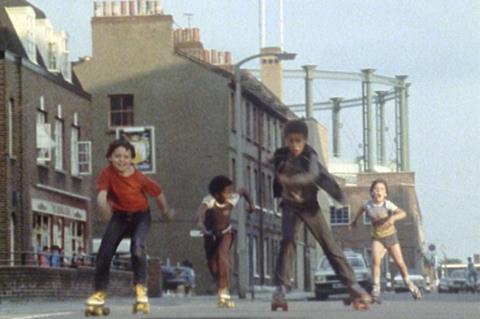 McQueen has followed Small Axe with three-part BBC documentary series Uprising, co-directed with James Rogan, exploring events in British black communities in 1981: the New Cross fire of January; the Brixton riots of April; and the Black People's Day of Action held in March. The first episode premiered at Sheffield DocFest in early June.
Will there be another collection of Small Axe films? McQueen refuses to commit, but does concede there is a wealth of untapped material. "There are a hundred million stories you could tell about black lives or anything else." But what form those stories might take is less certain. "I don't want to be restricted on a format to say what I want to say. I will hopefully tell stories in any format, but it doesn't necessarily have to be like this."