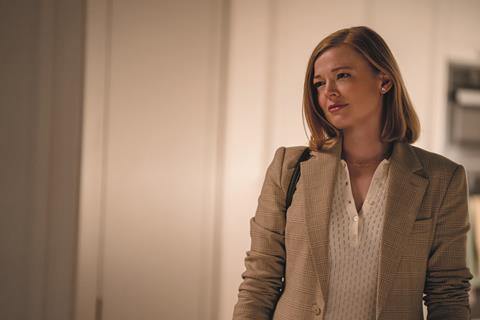 Sometimes Sarah Snook cannot believe what she is saying when playing Shiv Roy in Succession. The HBO show is beloved and lauded for its acidly witty writing and, as the ambitious yet not-totally-­soulless daughter of mega-rich media mogul and toxic patriarch Logan Roy (Brian Cox), Snook is often called upon to engage in some sharp verbal sparring with her co-stars — more often than not Kieran Culkin, who plays Shiv's proudly amoral brother Roman.
"It is very tightly scripted, but then Kieran will just go for it and I have to keep up," Snook laughs. During one of these semi-improvised exchanges during the show's third season, she followed Culkin off-script and, in an attempt to out-gross him, blurted, "Why don't you go and blow dad?!"
It's a line that memorably made the final cut. As she repeats it, Snook cringes and momentarily pulls the neck of her grey sweatshirt up over her nose and mouth, as if trying to retreat into a shell — body language you would never see from the usually icy-cool Shiv. "I thought, 'Oh god, I can't believe I'm saying that!'" she cries. "I can't imagine saying that to anybody, let alone your brother."
It is clear Shiv Roy and Sarah Snook share little DNA. In fact, the ruthless media scion and the bubbly Melbourne-based actor are so inherently different that viewers nearly did not get to witness this Emmy-nominated (for season two), Golden Globe-­winning (season three) performance.
"Reading her on the page, I didn't see myself as her at all," reveals Snook, reflecting on the moment she was offered the role back in 2016. "Nor did I want to. That was a bit of an impediment to me wanting to do the show in the first place. I didn't even audition because I didn't think I was right for the character. I didn't have any proximity to billionaires or wealth of that magnitude, and I didn't know how I was meant to portray that. I guess in my mind also, someone that wealthy is probably very svelte and fit and gorgeous and effortless. I don't use those words to describe myself."
All of this comes as a surprise, given she is an actress who has previously been unafraid to transform on screen. In Michael and Peter Spierig's 2014 time-travel thriller Predestination, for example, she did not just pull off a dual-gender performance as a girl who transitions to a man, she made it look effortless. Even after deciding to take the plunge with Succession, Snook still felt the twinge of impostor syndrome. By the time they shot episode five, however, she figured: "Now it's more expensive for them to reshoot than it is to continue with you, so either you make the character yours, or you keep your head in the sand and end up not being very interesting."
Two seasons later, it is obvious which decision she took. Having manoeuvred from the fringes of the Murdoch-like Roy business to its dark and twisted heart, Shiv is all Snook's — and easily one of the show's most interesting characters. Having been groomed by her father as his preferred successor, she becomes brutally sidelined and belittled by him. And, in a delicious final-act shock, her own seemingly milquetoast husband Tom (Matthew Macfadyen) sides with Logan against her, outfoxing an attempt by Shiv, Roman and their estranged older brother Kendall (Jeremy Strong) to wrest the business from their paterfamilias.
"It took me by surprise," Snook says of the last episode's climactic knife-twist. "I genuinely got blindsided: 'What!? When did he…? When did Tom start doing this?' Thinking back to episode three when he said, 'I'll put myself up as the whipping boy,' it made sense for him to do this. But I did not think he had the guts."
Playing Shiv has been a journey of discovery for Snook, who has never been privy to the character's long-term arc. "I'm from a theatre and film background, so this was the first episodic TV that I've done," she says. "I found it very unusual and freeing to go, 'Well, the writers know what they're doing, so I just have to trust all the people around me.' You're responding to everything in the moment."
She says it is not hard to trust a showrunner such as Jesse Armstrong, the UK comedy veteran who co-wrote TV series Peep Show and Fresh Meat, and the features In The Loop and Four Lions. She describes him as "the anti-navigator", equating him with counterculture icon Ken Kesey. "The anti-­navigator is a person who's able to be the leader while sitting back and going, 'I'm actually not doing the leading at all. All of you are doing the leading.' Then later you realise, 'No, he was doing the leading all along,'" she says. "He really listens to you and takes it on board. I feel like I've been heard. It's a great relationship."
Lauded drama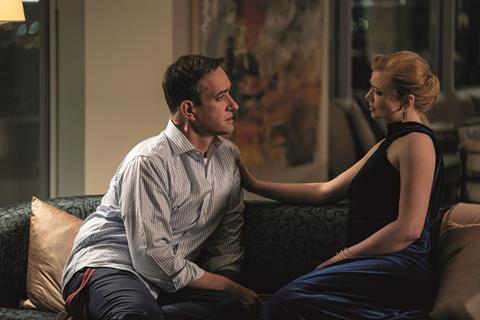 The other thing that has surprised Snook about Succession is how successful it has been. In October 2021, for example, BuzzFeed declared it 'the best show on TV — and it's not even close'. Then, of course, there are its nine Primetime Emmy wins to date, including outstanding drama series in 2020 for season two.
"None of us knew where it was going in terms of popularity with both the public and critics," Snook says. "Even now, hearing that is like, 'What show are you talking about?' I guess I do my best not to engage with it too much, because it's too big. If you knew you were climbing Mount Olympus, you wouldn't ever get to the top. But if you were just walking up a mountain and you got to the top, you're like, 'Whoa, hang on. I'm up here? What's happening?'"
Yet there are still those who criticise Succession for having no characters to root for. While Shiv is one of the more relatable Roys, she is only marginally less tough to like than the others. "I get that," she says. "That was one of the reasons I didn't want to do it in the first place. But as people have watched the show, they've come to realise there might not be any characters you want to be, but there are elements of characters that you know. You might not have a wealthy father, but that's the same way your father behaved with you.
"Also, the thing about being rich and having the world at your feet is it doesn't actually make you happy," she adds. "There's a schadenfreude in watching that and going, 'These people aren't happy. They could be, but they're not. And that makes me happier. I don't need what they have.'"
Before viewers and Snook get to enjoy more super-rich misery, she is taking on a couple of film roles: in the Daina Reid-directed indie thriller Run Rabbit Run ("about a woman who's going through a breakdown, a very different character to Shiv"), and Apple Original movie The Beanie Bubble, in which she co-stars with Zach Galifianakis and Elizabeth Banks. "It's about the rise and fall of Beanie Babies in the mid-'90s, and how they became seen as an investment on the secondary market," Snook explains. "Zach's character is very fun, buoyant and eccentric, and I play his second wife, who's much more steady."
Meanwhile, as Succession's fourth season comes together (shooting starts soon, Snook reveals), she expresses no concern about spending so much time in, and being identified with, a single role. Here, the difference between her and Shiv becomes a huge bonus. "I think if I were a little more like her, I might be worried about that. I would hope people can perceive that I've got a little more range and diversity to be able to play different characters," she says.
"I totally understand how something can hit in a way that it becomes all-encompassing. But I'm not worried about it at the moment." She grins. "Although maybe in 10 years' time I'll be cursing at Shiv." Assuming, of course, the Roys haven't all killed each other before then.