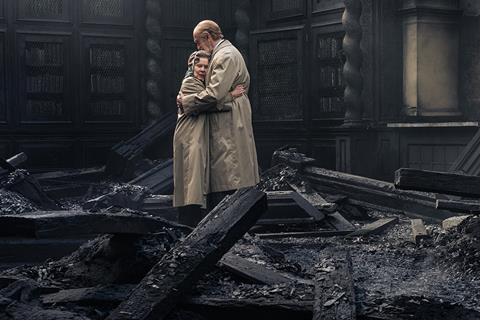 Burning down Windsor Castle and building Russia in Yorkshire were just two of the stiff challenges production designer Martin Childs faced as he embarked on the fifth season of Netflix's The Crown.
Plus, there was Covid to deal with, the pandemic requiring much of his early preparations to be conducted in isolation. "A lot of season 5 I designed at home. We had to design Diana's apartment at Kensington Palace, for example, which I believe is the only set used by every director that season. My printer only uses A4 paper, so I would have to Sellotape eight A4 pages together to make one A1 drawing that I would then send out by a courier. Ten episodes' worth of things had to happen there, so I was working out the choreography and how to juxtapose people in my head."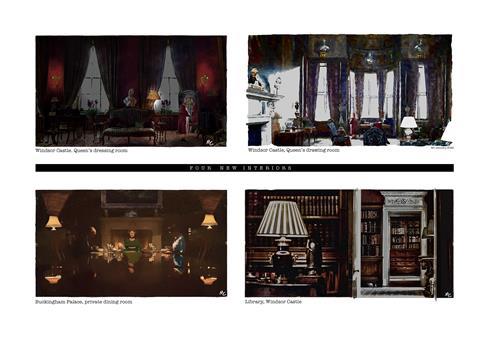 Diana, Princess of Wales is a key figure in the drama's fifth season, focusing as it does on the breakdown of her marriage to the then Prince Charles and her subsequent relationships with surgeon Hasnat Khan and film producer Dodi Fayed. However, it is the late Queen Elizabeth II who dominates proceedings, with Imelda Staunton stepping into shoes — and sets — previously occupied by Claire Foy (seasons 1 and 2) and Olivia Colman (seasons 3 and 4).
"It's always useful when we introduce a new Queen to see her in some familiar sets," says Childs, who won a pair of Emmys for his work on seasons 1 and 3 and was Emmy nominated for seasons 2 and 4. "It's important from a narrative point of view to see Imelda where we once saw Claire and Olivia; it gives a familiarity and continuity to the look of the thing. One thing I have always wanted to do over the now six seasons of The Crown is for Buckingham Palace and the royal household to kind of stand still while the world moves on around it. And fortunately, the Buckingham Palace set I designed nine years ago is still standing on Stage 1 at Elstree [Studios]."
An episode about the 1992 fire at Windsor Castle also enabled Childs to return to another royal residence seen in previous seasons, albeit in radically changed form. "I wanted to reproduce the aftermath and get the lonely figure of Imelda in her raincoat in a burned-out room," he says. "We wanted it to look like somewhere where the worst thing that had ever happened to the Queen had happened."
A large room at Burghley House in Lincolnshire that had been used to film key scenes in earlier seasons provided the model for the charred destruction needed. "There had been a lot of narrative and emotional investment in that set in previous episodes, so it seemed the natural one to replicate in burned-down form."
Russia
When tasked with taking The Crown to Russia, however, Childs was obliged to start from scratch. And it is a matter of personal pride that he was able to find everything desired for 'Ipatiev House' — the episode in which the execution of the Romanovs in 1918 comes back to haunt Queen Elizabeth's present, and the one Netflix has submitted for consideration for this year's production design Emmy — by "going no further than North Yorkshire".
"We went to Bradford to recreate a Moscow street and the basement where the Romanovs died [was] at Elstree," he explains. "We also went back in the past to show Buckingham Palace 100 years ago, with a lot of post-WWI darkening to it. A lot of what I do is not just individual sets, but creating a link between these places, so it feels like something filmed in Yorkshire three weeks before can continue one minute later on a set at Elstree. There needs to be that level of connection."
Having just completed work on the sixth and final season of The Crown, Childs admits he needs both a rest and "a slow release" from a show that has been an all-consuming passion for the last nine years. (He did not watch the Coronation of King Charles, he says, because it would have "felt almost like work.")
When Childs does get the opportunity to reflect, he will do so with no regrets. "I have to say, I can't think of anything where I wish it would have been different," he says with a smile. "I don't mean this to sound arrogant, but I think everything worked pretty well."