Both made their name in the 1990s, and Juliette Lewis and Christina Ricci make a compelling double act in Showtime's survival drama Yellowjackets. They recount their experience making the show.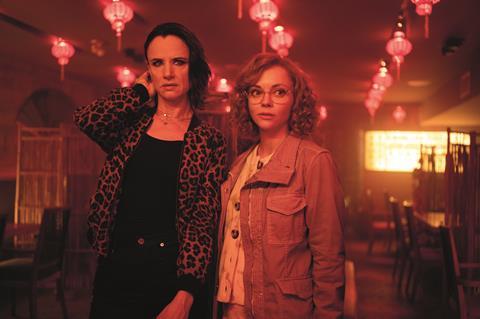 Mix the survival savagery of Squid Game with the power plays of Succession — and throw in a soundtrack of 1990s belters — and you've got Yellow­jackets. The Showtime drama, created by Ashley Lyle and Bart Nickerson and produced by Creative Engine Entertainment and Entertainment One, follows a group of teen female soccer players whose plane crashes in the wilderness in 1996, and the same 40-something survivors in the present day.
One of the most talked-about shows of the year, it features a raft of exceptional performances. Among them are Christina Ricci as the diminutive but demonic Misty and Juliette Lewis as spiralling addict Natalie, both of whom have been shaped by their experience in the woods. Screen International sat down with the pair to discuss what makes Yellowjackets such must-see TV.
Yellowjackets is one of the year's most original shows. Was that obvious when you read the scripts?
Christina Ricci I read the pilot. [The adult] Misty only had one scene in the pilot [in which the caregiver takes away the meds from a patient in her nursing home], but I wanted to play that scene so badly! I wanted to play a character that behaved like that; I was really excited by it.
Juliette Lewis It was one of the most riveting pilot scripts I've ever read. I just love it when things are done in a way to surprise and it's so unexpected. And with Natalie, I was intrigued as to where she might go. When you come from film, it's very scary to lock into potentially years [on a TV production]. So you want to make sure something is going to hold your interest for a long time.
The show's characters are so well-rounded as both teenagers and adults; they are athletes, they are survivors, they are vulnerable but can be bitchy and brutal. Did you respond to that vividly real description of girls and women?
Ricci I was really drawn to that. I like how regular these girls are. I grew up in New Jersey, I was playing on a soccer team in 1996. They are brutal and strong and capable. The fact it's handled in that way is so nice — they are multifaceted because that's what women are. Trauma doesn't necessarily make you stronger or a better person.
Lewis One of my favourite things to see is a human being thrown into a high-stakes situation, and this show is about how people choose to survive. We had interesting conversations with [creators] Bart [Nickerson] and Ashley [Lyle] about the qualities that come out in a person in that situation; some help others and some are just in it for themselves. The young Natalie has such a core strength, and then as an adult she's just circling the drain. I found that psychology really interesting.
We don't see these women having been made stronger or spiritual by this experience, as is often the case with female trauma narratives. Was that an important depiction?
Ricci Absolutely. The casual way in which the show deals with it means that you have to start from a more educated point of view, which is that trauma doesn't necessarily make you stronger, or a better person. We don't all make art with it. We're dealing with what it's really like.
Lewis It shows that even in midlife, some of these these patterns are cyclical. The teens and the older women are mirroring behaviours. It's so much more nuanced than a narrative where you have one big event, and then you overcome it. It's about how you live with it all.
None of the characters are doing very well at living with their experiences, but Natalie is perhaps the most affected. She spends most of the show imploding, getting closer to her teenage self. How was that to play, Juliette?
Lewis I felt like she was deconstructing. I wanted it to look like every time you opened the door to the motel [where Natalie lives], she was in a different state of deconstruction. Stylistically, her eyeliner represented her war paint, and her old cool clothes represented her armour. We paired that with some high-end pieces, which I imagined she got with little crime sprees or slightly criminal money. She's colourful in her survival, there's no end to where she could go. She was so challenging and rewarding to play. She let me do new things that I felt I hadn't done before on camera.
You have an incredible scene where Natalie trashes her hotel room wearing a full face of thick cold cream — it's aggressive but also operatic.
Lewis Yes, and the dichotomy of that, and the words you just chose is exactly what I hoped for. I wanted it to be a little mini opera. I was glad that we could do it in one or two takes — it was really physical, almost like a dance.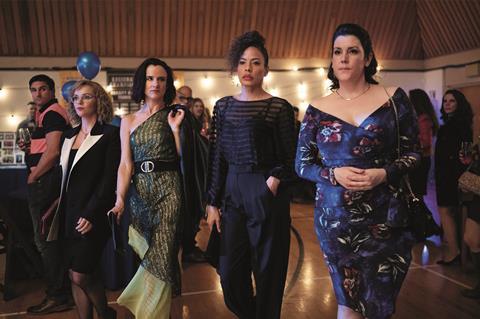 Christina, Misty is also fascinating to watch as she's a petite woman, she seems sweet, but she's almost weaponised people's perceptions of her.
Ricci She is smart and she's not happy to just survive — she wants to thrive. She's not traumatised, necessarily, by whatever happened to her. The reality of everyday life for this person is that she has no social currency, she's dismissible, she's not sexy, she's not funny, she can't relate to people. She has learned to exploit her ability to come off as completely innocuous. So she's brutish and forceful and gets what she wants, but not in a physical way. The only time we see her physically force a situation is when she bursts into that motel room [to stop Natalie taking drugs].
It's easy to have some sympathy with Misty, because she's manipulative but also such a loner. Did you find that?
Ricci It's great that people do like her, and part of her manipulation is being somewhat charming and likeable in this very harmless way. But it's not important to me that the audience likes Misty, it's important to me that they're interested in her. I feel like this character would be so embarrassed and horrified by people feeling sorry for her.
You said in another interview that people treated you differently on set when you were in Misty's wig and costume.
Ricci It's something I said, and then it was a little bit blown out of proportion. It's a subtle thing. Apparently when you see a woman who looks like Misty, you want to tease them, to make corny jokes. I was just like, "Wow, this is a reaction to me having huge glasses and wearing scrubs, that people don't listen to me or forget I'm here." I would be like, "I have to be in this conversation because I'm in the scene!" It's interesting to see how base we are as human beings, how we respond to what we see without giving it a moment's thought.
How closely did you work with Sophie Thatcher and Samantha Hanratty, who play the young Natalie and Misty, to get your characters in sync?
Lewis Sophie and I talked about what Natalie might have been. I feel like she's a classic "had she applied herself" character. I feel like she could have been a fine artist. Sophie and I traded music and visual fashion stuff, and she's such a brilliant actress that we really complemented each other's ideas and visions of the character.
Ricci I didn't work closely with Samantha; we met for lunch once and discussed the character. We talked about the different references we had been given by the executive producers, we talked about what she was planning to do and the additions I would make to reflect the 30-year gap between our versions of Misty. Occasionally in the script we would have a line that was mirrored in the past and present, or a gesture, and depending on who filmed it first we would have a call to discuss how we did it.
You were both acting from a young age. When you watch your younger co-stars on set, can you see any differences between their experiences and your own?
Ricci We talked about that a lot, how things have definitely changed in a wonderful way. They are able to set boundaries for themselves in terms of what they are comfortable with, they have more of a voice. With TV, traditionally, if you're not an EP you have little control or say and, as an actor, they can make you say every word, express every punctuation. Back then, if you were young and coming up and didn't have the credits, you did not have the right to ask or question anything. And now to see this whole cast of younger women being able to say when they're not comfortable, or that they don't feel their character would have done a particular thing, that's amazing.
Lewis Also, if we did assert ourselves we would have the fear of being labelled "difficult". So it's a different time in that sense. People now consider the humanity of the individual — at least on our set, which was great to see.
You both spent your formative years on screen, which is a different experience to most people. Did you bring any of that to your role?
Ricci That wasn't something I thought about at all until I started doing press [for Yellowjackets] and then you all started asking me!
Lewis Well, we lived through the '90s. We had a childhood in that era of no phones. The music of the show, in particular, is our history.
The show's soundtrack is a smorgasbord of '90s classics. Was there anything there that meant something special to you?
Lewis The fact they used Mazzy Star ['Fade Into You'], oh my God!
Ricci PJ Harvey's ['Down By The Water'].That was such a huge part of my adolescence. I would actually sit in my room and draw pictures about what that song meant.
I enjoyed the fact that they managed to use Seal's 'Kiss From A Rose' not once, but twice.
Ricci That kills me too! Even though I was the biggest anti-pop person on earth, you couldn't get through a certain year without knowing every single word to that song. I hate myself, but I still know every word. It's such a genius reference.
That final episode with the school reunion and that shocking climax has thrown up so many questions for season two. Can you tell us anything about what happens next?
Ricci I genuinely don't know.
Lewis I feel like if I hypothesise and even accidentally give away something, I will be hung up by my feet. All I know is that it will be exciting to find out.