Disney blended the key ingredients of family, music, magic and the sights and sounds of Colombia to create its latest animated feature Encanto. The filmmaking team talks to Screen about their journey of cultural enchantment.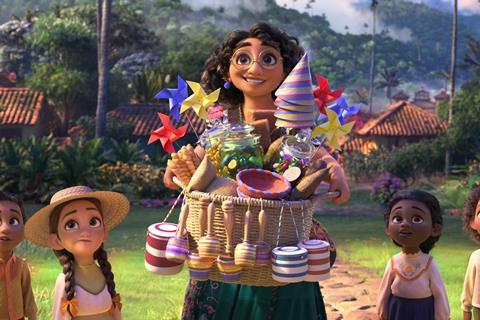 Families and music are perennial elements in feature animation, but magical realism and the culture of Latin America are more usually the province of highbrow literature. All those strands came together, though, in Walt Disney Animation Studios' Encanto, thanks to a meeting of minds between former Disney collaborators.
After working together on the studio's Oscar-winning 2016 release Zootopia (aka Zootropolis), Byron Howard and Jared Bush "wanted our next project together to be a musical," says the former. "And we knew we wanted to talk about a big family and the complexities of family life."
The two also knew, adds Howard, that Lin-Manuel Miranda, fresh from his songwriting work alongside screenwriter Bush on Disney's Moana, "had wanted for years to do a definitive Latin American Disney musical".
The result — directed by Howard and Bush, written by Bush and co‑director Charise Castro Smith and featuring songs by Miranda — is the tale of the Madrigals, a multi-generational family living in a magical house in an enchanted town hidden in the mountains of Colombia. Family misfit Mirabel (voiced by Stephanie Beatriz, from the film version of Miranda's musical In The Heights) is the only Madrigal child not bestowed with a unique gift, but when she discovers that the magic surrounding the town is waning she becomes the last hope for keeping the family's traditions and unity alive.
Setting the story in Colombia was no accident, Howard explains. Filmmaker friends from the country, he says, "pointed us to Colombia as a crossroads of culture, music and tradition that blended a lot of what Latin America has to offer."
Magical realism, the literary genre known to many through the work of Colombian novelist Gabriel Garcia Marquez, emerged as a natural corollary, says Bush. "The magic of Colombia and Latin America isn't European magic. We started looking into what kind of magic it is and the notion of magical realism kept popping up."
A 2018 research trip to Colombia taken by the directors, Miranda and others gave the filmmakers access to local cultural experts and led them to discover the small northeastern hill town of Barichara, preserved just as it was a century ago, which served as an inspiration for the town in the film.
The trip also seeded ideas about everything from musical rhythms to the kind of soup the film's characters eat in a key scene. "Every single detail in the movie is based on something that we saw," Bush says, "or someone that we met who then helped us understand things better."
Though other planned research visits to Colombia had to be abandoned when the pandemic hit, the filmmakers were able, as script development continued, to call on two groups with inside knowledge of the region.
Specially formed to guide the project, the Colombian Cultural Trust included experts in the anthropology, botany, music, language and architecture of different parts of the country. Colombia, Bush comments, "is five or six countries in one. We didn't want to pretend that the film represented all of the country but we did want the family to be diverse and to represent the different regions."
Familia, a pre-existing group of Latinx Disney Animation employees, provided another kind of guidance. "They became an important resource," says Castro Smith, a Latinx playwright also known for her TV work on horror series The Haunting Of Hill House and young female drama Sweetbitter. "We shared drafts of the script with them to get a gut check on whether this movie was true to families they knew. We got a lot of good details that found their way into the movie, especially about sibling and cousin relationships."
Creative challenges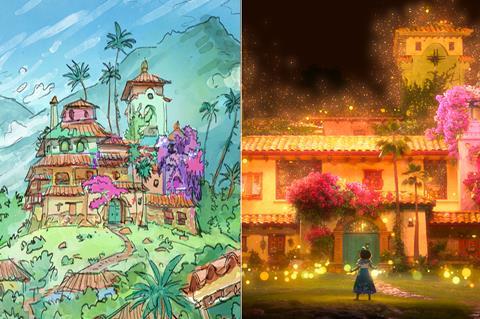 When Encanto moved into its production phase — under quarantine conditions — the ambition and scope of the story created challenges for animators, effects whizzes and even choreographers.
The extended Madrigal family gave the film 12 distinct characters, each with a story arc. That meant the animators "had to be very specific with the animation every single time you see those characters", Bush says. "There's no simple background thing happening — the audience needs to know emotionally where that character is at, and that takes a lot of detailed work."
The family's house became a thirteenth character, interacting with its human inhabitants through magic. The directors came to think of the house as the family dog, says Howard. "It likes some people more than others, it sometimes wakes up nice and cheerful and sometimes it's a little sluggish."
Since animating the entire house was not feasible, VFX supervisor Scott Kersavage created an ad hoc rig that allowed animators to add controls to any part of the house, from tiles to cobblestones, as requested by the directors.
The film's layout department and cinematographers experimented with limited depth of field, giving certain scenes a romantic, almost photorealistic look. "We wanted to use shallow depth of field differently in this movie," explains Bush. "There are a lot of very extreme close-ups, more than we typically do, and to take full advantage of the subtle 'acting' that happens as a result, we needed that shallow depth of field."
Encanto was also the first Disney project to employ a new technology for animating characters' eyes by offering more light refraction and enhanced control of factors such as, according to the technical description, "eye-bulge support".
In layman's terms, Howard says, the technique "allows the computer to light and shade eyes as they really are". When he first saw a test comparing eyes animated with the new technology to those using the existing software, he adds, "It was amazing, because you could actually feel like there was a soul in there."
"New technology is not just a glitzy tool to make things more attractive," Howard insists, "it's actually an emotional tool — it makes us connect with the characters more."
Music and dance were, of course, a crucial part of the Encanto mix. Having been part of the project from its start — which came not long after his groundbreaking musical Hamilton made its debut on Broadway in 2015 — Miranda was able to work on the eight songs he contributed (see sidebar) throughout the film's production.
And, he says, with tongue slightly in cheek, "being in on the ground floor allowed much more give and take between the music department and the many hundreds of departments it takes to make an animated film."
Rather than resorting to motion capture to animate the dancing that goes along with some of the songs, Howard and Bush asked the project's choreographers to film real dancers performing the sequences, with that record then being given to the animators as a model. "We wanted it to feel like our characters were actually dancing," Bush says. "Dance in Colombia is very specific. It's known for music, and for dance — that's something you have to get right."
Judging by the film's reception so far, the makers of Disney's first Latino family musical did indeed get it right. Six weeks after its late November opening in the US — and with Golden Globe and Critics' Choice best animated feature nominations under its belt — Encanto had taken a tidy haul of $91m at the North American box office and $115m in international markets. The film performed particularly strongly in Latin America, achieving a pandemic-era box-office record in several territories — including, not surprisingly, Colombia.
Note perfect: Composing Encanto's song
For Lin-Manuel Miranda, writing for an animated film is "like writing for the stage on steroids — there are that many more collaborators"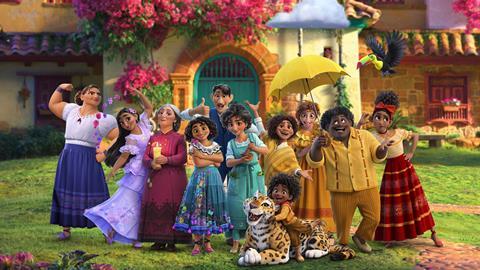 Just like writing for stage musicals, composing songs for animated features makes you a storyteller, says the creator and original star of stage smash Hamilton, now with a growing list of film credits. "Storytelling is the mandate, but then the authenticity of immersing yourself in this culture and reflecting it is the other part of the gig. As a songwriter, it's an exciting challenge because it breaks you out of habits."
Going into Encanto, Miranda, whose own heritage is Puerto Rican, was familiar with a few of the many genres of Colombian music. But it was on the research trip he and the film's directors took in 2018 that he immersed himself, "listening to music in the cities and towns, listening to folkloric music, making ourselves mix tapes of more recent Colombian music."
Among the songs that resulted was 'The Family Madrigal', Encanto's opening number, which serves to introduce heroine Mirabel and the other key characters. "I wrote that song not knowing where the movie was going to end," Miranda says, "just trying to set the table as clearly as possible."
While the song was inspired by the introductory opening number of Disney's animated Beauty And The Beast, "when it comes to the instrumentation and the rhythms, I went to Colombia," Miranda points out. Beauty And The Beast's Belle "doesn't whip out an accordion and play a solo the way Mirabel does in this film, and that's very Colombian."
'Dos Oruguitas', Encanto's Oscar-shortlisted submission for best original song, was one of the pieces to grow out of the collaboration between songwriter and filmmakers. The song's metaphor of caterpillars turning into butterflies "was inspired by the visual imagery coming out of the animation department", Miranda explains. Because the metaphor came to him in Spanish, the song became the first that Miranda has ever written from beginning to end in that language.
The gentle ballad (an English-language version of which plays behind the film's closing credits) also reflects Miranda's exploration of Colombian music for the project. "It's a song that we are hearing as visual storytelling is taking place," he says, "and because of that I wanted it to feel like a folk song that's always existed. It had to be simple enough that a guy with a guitar on a street corner could sing it. And simple is the hardest to write. It's easy to write funny, ornate lyrics, but to distil something to its simplest essence, that usually takes the most work."