Comedies hit big for European films at the global box office in 2014. By Louise Tutt.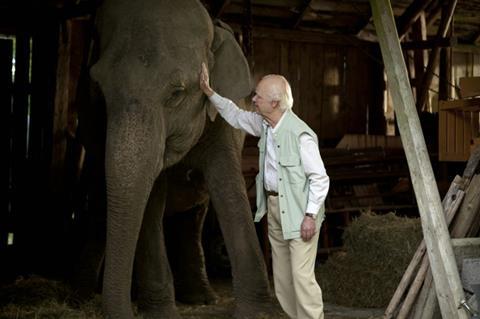 It has been the year of the local comedy. In every major European territory in 2014 a home-grown crowdpleaser - sometimes two or three - has emerged to tickle audiences. Many are breaking records.
In Sweden, the adaptation of Jonas Jonasson's bestselling novel The 100-Year-Old Man Who Climbed Out Of The Window And Disappeared, directed by popular actor-director Felix Herngren, has grossed $23m since opening on Christmas Day 2013. That makes it the most successful film of any nationality of all time in Sweden.
The film follows the misadventures of the sprightly Allan Karlsson, played by popular comedian Robert Gustafsson, when he is forced to move to a retirement home.
Unlike many local comedies that struggle to raise more than a half-hearted smile outside their own borders - with producers preferring to buy the concept and remake it in tune with their national sensibilities and local comic foibles - Jonasson's novel has been published in more than 35 countries, selling more than 5 million copies around the world.
By mid-November the film had done particularly well in Germany, grossing $11.5m, with further rollouts to date spanning Spain ($1.7m), South Korea ($1.7m), France ($900,000) and Italy ($323,000). The film has been sold extensively around the world, including to StudioCanal for the UK and Australia, Mongrel Media in Canada, and Longride in Japan.

Travelling tales
German audiences have warmed to another humorous import, French comedy Serial (Bad) Weddings, already a smash hit at home. Directed by Philippe de Chauveron, the film stars Christian Clavier and Chantal Lauby as the parents of four daughters who all marry men from different cultures and religions. It is the second-most popular film of the year in Germany ($33.3m), outperforming Matthias Schweighöfer and Torsten Künstler's locally produced romantic comedy Vaterfreuden ($24m), which is Germany's top-grossing home-grown film to date.
Schweighöfer also stars in Vaterfreuden, about a man rendered infertile following a ferret bite, who goes in search of the mother of his unborn child.
In France, Serial (Bad) Weddings is the biggest film of the year at $105m. The second is another local comedy, Supercondriaque ($45m), written, directed and starring Dany Boon as an anxiety-ridden medical photographer.
Two Spanish titles are driving the market share of local films in Spain to a record 23.6% this year. Emilio Martinez-Lazaro's fish-out-of-water comedy Spanish Affair has taken $77.5m to become the biggest local film of all time. It is the story of an Andalusian man who moves to the Basque region to be with his girlfriend.
Audiences have also warmed to Daniel Monzon's Gibraltar-set thriller El Nino ($20.8m), starring Sergi Lopez, Luis Tosar and Ian McShane.

Local flavour
Russia's big local hit of 2014 is Viy ($34m) by Oleg Stepchenko, an adventure fantasy about 18th-century European cartographers, starring Jason Flemyng and Andrey Smolyakov.
In Italy, the standout local title is Luca Miniero's Un Boss In Salotto ($17m). Paola Cortellesi and Rocco Papaleo star in a comedy about a mafia boss being placed under house arrest in the home of his law-abiding sister and her family.
The Inbetweeners 2 ($56m), a bawdy sequel about the exploits of four teenage boys, and Mrs Brown's Boys D'Movie ($28.8m), a slapstick caper about an Irish matriarch, played by the (male) Irish comedian Brendan O'Carroll, both based on hit TV shows, are the two big local stories for the UK and Ireland box office. The Inbetweeners 2 opening day of $4.5m was the biggest ever for a comedy in the UK, breaking the records set by the first Inbetweeners film in 2011.
Several European-produced titles have found big audiences beyond Europe this year. The three most successful European films in the US this year are four English-language titles: Luc Besson's sci-fi action film Lucy ($127m), starring Scarlett Johansson; Jaume Collet-Serra's airplane thriller Non-Stop ($92m); Anton Corbijn's spy drama A Most Wanted Man ($17m); and UK period drama Belle ($11m), directed by Amma Asante.
Lucy and Non-Stop, both majority-French productions, have performed well throughout the world, particularly in Asia where Lucy was partly shot. It grossed $44m in China to make the territory the second-biggest market for the title after the US.
Olivier Dahan's Cannes opening film Grace Of Monaco, starring Nicole Kidman, also hit big in Asia; its two biggest territories to date being Japan ($5m) and China ($4m).