As Locarno celebrates its 75th edition, and artistic director Giona A Nazzaro returns for his second year, both are nailing their credentials to the mast.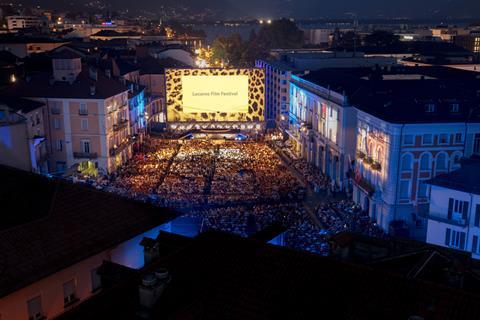 "It is simply about making the trip worthwhile," explains Locarno's artistic director Giona A Nazzaro, returning for his second year in the role, as to why he places such emphasis on securing world premieres and ensuring attendees, whether critics or industry delegates, discover provocative new work. "I want Locarno to be as unique as possible. Every film that we choose has been picked out of love, not because we had to [programme it]. There cannot be an interesting conversation if the films are not good."
That is particularly true of this year's event, which runs from August 3-13 and marks the festival's 75th anniversary. It opens with a screening of David Leitch's Bullet Train, starring Brad Pitt and Sandra Bullock, which will screen in the open-air Piazza Grande. Other treats in the venue include Anna Gutto's Paradise Highway, starring Juliette Binoche as a trucker forced to traffic a young girl, and Leon Prudovsky's comedy drama My Neighbor Adolf, about a Holo­caust survivor in Colombia in the early 1960s who suspects his new neighbour is Adolf Hitler (played, perhaps inevitably, by Udo Kier).
Back to reality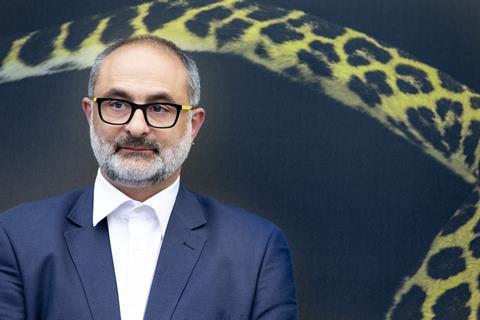 Locarno may be marking its 75th anniversary, but Nazzaro says that organisers are not "trying to overdo the celebrations. What we are trying to do to mark this landmark edition is simply to go completely back to where we were before the pandemic hit." The festival's 2020 edition was cancelled due to the Covid‑19 pandemic and replaced by a season of hybrid retro­spective screenings alongside some new titles in sections including Open Doors and Pardo di Domani, while the 2021 edition took place physically but under Covid‑19 restrictions.
There will be some new initiatives to mark this 75th edition, however. For one thing, it will be a 'green' festival, with the new Pardo Verde WWF prize given to the film with the strongest ecological focus, with a new fund to back eco-themed films set to launch in 2023. The festival has also asked filmmakers to contribute 'postcards from the future' — short films that will be shown each evening on the Piazza Grande — among them Ukrainian director Natalya Vorozhbyt.
Elsewhere, young Ukrainian filmmaker Christina Tynkevych will be presenting her feature How Is Katia? in Filmmakers of the Present — a section that sees all its 15 titles line up as world premieres.
Nazzaro describes the 17-strong International Competition selection, all world premieres, as offering "a balance between established names and upcoming debut and sophomore filmmakers". Titles screening include German director Helena Wittmann's Human Flowers Of Flesh; the latest features from renowned Austrian filmmakers Nikolaus Geyrhalter (Matter Out Of Place) and Ruth Mader (Serviam — I Will Serve); Brazilian director Julia Murat's Rule 34; and Costa Rican director Valentina Maurel's debut feature Tengo Sueños Eléctricos.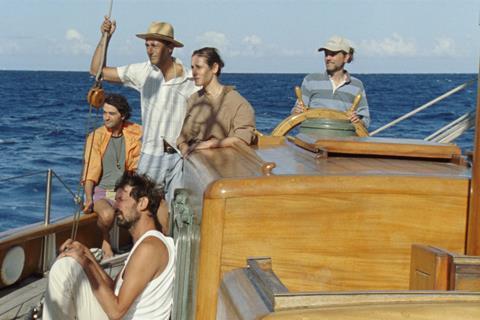 Also in International Competition is veteran Russian filmmaker Alexander Sokurov, a Venice Golden Lion winner who presents his latest feature Fairytale. Whether Sokurov will be in Switzerland remains to be seen — recent news reports suggest he has been prevented from leaving Russia because of his criticism of the Putin regime as the war in Ukraine continues to rage.
"I sincerely hope he will be in Locarno because he's a master of cinema and he deserves to be celebrated as such," Nazzaro notes.
Among the many world premieres, there will be an extensive retrospective dedicated to Douglas Sirk, the German film director cele­brated for sweeping melodramas including Magnificent Obsession (1954) and Written On The Wind (1956). Sirk devotee Todd Haynes will introduce the Piazza Grande screening of a restored version of Sirk's 1959 classic Imitation Of Life.
Elsewhere, the festival honours other veteran filmmakers. Costa-Gavras, director of political thrillers Z (1969) and Missing (1982), will receive a lifetime achievement award (Pardo alla Carriera Ascona-Locarno). Locarno will screen the Greek-French filmmaker's debut feature The Sleeping Car Murders (1965) and his follow-up, French resistance drama Shock Troops (Un Homme De Trop, 1967).
"Even though he is such a venerable figure in cinema, the younger generation are not aware of him," Nazzaro says, describing Costa-Gavras as "a living witness of the 20th-century cinema, not only in terms of issues, themes and political subjects but as a master filmmaker."
Other notable guests include US horror maestro Jason Blum, founder of prolific production company Blumhouse Productions, who will receive the best independent producer award (Premio Raimondo Rezzonico). Nazzaro describes Blum as "one of the most interesting figures working today in cinema, not only in America. He reinvented Roger Corman's strategies about no budget and the political approach to subjects. For me, a series of films like The Purge are some of the most accurate and astute commentaries on the United States of today.
"I don't believe necessarily in this divide [between] genre and arthouse," Nazzaro continues. "There are either good films or bad films. Duke Ellington used to say, 'There are only two kinds of music — good music and the other kind.'"
Artist, musician and filmmaker Laurie Anderson will also accept the Vision Award Ticinomoda. Anderson is set to give a masterclass, as are her fellow honorees who include actor Matt Dillon (whose City Of Ghosts is screening) and director Kelly Reichardt (whose Meek's Cutoff and Night Moves are showing).
Switzerland is a confederacy with four national languages — German, French, Italian and Romansh — so it is fitting that, as ever, this year's Locarno is a multi-national affair. Project development and co-production initiative Open Doors is focusing on Latin America and the Caribbean, while the main programme has entries from global territories including India and the Middle East.
"This linguistic variety is one of the richnesses of the festival because it allows you all the time to consider things from different points of view," says Nazzaro.
Asian films, however, are represented quite lightly this year. Malaysian director Woo Ming Jin's Stone Turtle is in the International Competition section but there are no titles from Hong Kong and China.
"It is heartbreaking," Nazzaro says, contemplating on the crackdown on civil liberties in Hong Kong and what has happened there to cinema since the glory days of John Woo (about whom Nazzaro has written a book) and Tsui Hark. In a future edition of the festival, Nazzaro adds, he may look to pay tribute to this golden era.
Home favourites
Closer to home, however, the artistic director is heartened by the strength of the Swiss industry. "Swiss cinema is going through an enormous rejuvenation," he enthuses. "This is an interesting and creative moment for Swiss cinema and I hope the festival will be able to champion and capture [it]."
Indeed, Swiss films that screened last year, such as Lorenz Merz's dark drama Soul Of A Beast and Stefan Jäger's Monte Verità, went on to have impressive international careers. Nazzaro suggests this year's Swiss selection is equally strong, and draws special attention to Valentin Merz's International Competition title De Noche Los Gatos Son Pardos, which won the First Look Award at last year's Locarno Pro when early footage was shown to industry delegates.
Despite the fact Locarno takes place in August, just ahead of early autumn festival juggernauts Venice and Toronto, Nazzaro takes pride in the fact the festival has been able to secure almost every film he has pursued, and lure so many high-profile international guests. "People know that in our selection, we watch films carefully," he says. "When we ask for films, they know the film will be promoted correctly, that the film will be supported. Our work speaks for us."