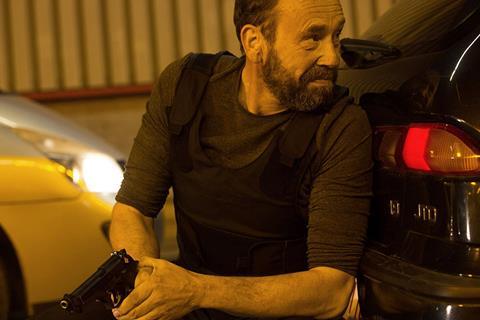 Former armed robber turned film director François Troukens has a wry way of describing the process of making a movie. He likens it to planning a heist.
"There is a first idea, then we have to write the script to realize it. We then choose his team and we go to the casting. Then come the (scouting for) locations, the preparation and finally the shooting where one shouts: action!"
Troukens' debut feature Above The Law (co-directed with cinematographer Jean-François Hensgens and sold by TF1) is a thriller loosely inspired by the real-life antics of the so-called "Brabant Killers" who terrorised Belgium in the early 1980s. It plays in the 'Cinema nel Giardino' section at this year's Venice Film Festival.
"The Brabant killers were everywhere in the 80s. A bit like Islamist terrorists today," he recalls of the ultra-violent group whose origins and motives remain shrouded in mystery.
Dark past
The ex-con actually started working a treatment several years ago when he was in prison in Paris. During his time there, he met several people linked to the Brabant investigations. He freely admits that he also drew closely on his own experiences of the underworld and on his seven years on the run. The real inspiration, though, was something he witnessed as a kid. He was actually there in the car park when the Brabant killers shot dead bystanders. "It was a trauma and it became the starting point of this story. The pen freed me from the violence I had witnessed."
The director pays tribute to the work of screenwriter Laurence Couturier in drawing his original ideas together in a form that both he and Hensgens accepted.
Troukens isn't the first former gangster to re-invent himself as a filmmaker. One of his inspirations is José Giovanni (aka Joseph Damiani), who spent 11 years in prison and had a very chequered past as a fascist, a killer and a blackmailer during the Nazi occupation of Paris.
When he was released from prison, he re-invented himself as a writer and director and went on to having a very distinguished career. Needless to say, he never quite escaped his past. When he died in 2004, the obituaries were less interested in his many years spent "in the service of cinema" than in the criminal aberrations of his youth.
Nowadays, Troukens is well established as a media personality and social commentator in Belgium. He comes from an artistic background, received a "very cultured education," and studied literature during his time in prison. He says that cinema "has given meaning to my life."
Ask him about the best gangster movies and the reformed criminal turned auteur cites Michael Mann's Heat (the "best gangster movie ever") and he is also a big fan of the work of Jean-Pierre Melville (especially The Red Circle).
In recent years, the Flemish have had considerable success with gangster movies, among them Erik van Looy's The Alzheimer Case and Michaël R. Roskam's Bullhead. Above The Law is one of the first attempts by the French-speaking Belgians to join the new gangster wave. It was made by prolific Brussels-based outfit, Versus.
Company co-founded Jacques-Henri Bronckart (who produced the movie) enthuses about Troukens' intelligence and charisma. "We (first) met in a restaurant and spent four or five hours together. This guy was really smart. He had faced his past," Bronckart says.
Future projects
Now, Troukens is developing a second feature with Versus. He has a graphic novel, Forban, due to be published in the autumn. He also has many other projects. He has written fiction; he is due to direct a short film with a well known rapper and he will continue to present his TV show on RTL. There is no doubting, though, where his passion now lies. "Cinema is my priority," he declares.