Dir:Tsai Ming-Liang.Taiwan-France-Belgium-Netherlands.2009. 139m.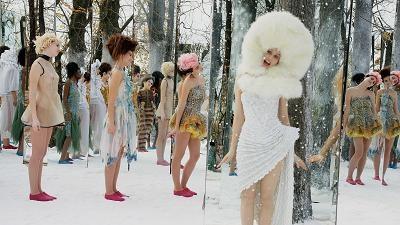 In Face, a Taiwanese director shoots his own version of the Salome myth in Paris. This may sound too simple a description for Tsai Ming-liang's eccentric work, but without it, the viewer will have to wait until the final third of the movie to work out what's going on. Less emotional and more theoretical than anything he has done before, Face will appeal exclusively to Tsai Ming-liang's devoted fans who find themselves in familiar territory here, but the rest of the audience may be baffled – to say the least. Art house and festival interest is, as always, likely, but prospects seem highly limited beyond that.
Face is evidently conceived as a tribute to Francois Truffaut and the spirit of the New Wave, as well as being a theoretic treatise on the art of cinema. In a way, Face would fit perfectly in the screening rooms of the Louvre – where part of this film is shot, including a late sequence when Jean-Pierre Leaud emerges from the bowels of the building into the light, with Leonardo de Vinci paintings on either side of him.
Face is evidently conceived as a tribute to Francois Truffaut and the spirit of the New Wave
That a film director, (played by Tsai's regular alter-ego, Lee Kang-Sheng) is in Paris and looking for an actor named Antoine (Leaud, once Truffaut's alter-ego), is clear from the very first shot, though all it shows for a while is an empty cup of coffee in a Parisian café. His Parisian producer (Fanny Ardant) has a tough time with him, this much is clear as we witness her chasing him through a snow-covered forest. Then, the first of several musical numbers (a regular feature for Tsai) takes place, and soon it turns out this is a magical forest.
From this point on, the picture pursues its course with traditional long, fixed shots, eventually moving towards a kind of discourse on image with sound and without it. Then there's a guessing game of quotes from various sources, and a long speech from Leaud in which he strings together all the idols of the New Wave cinema. To complete the picture, he also summons two more Truffaut muses, Jeanne Moreau and Nathalie Baye, as guest stars with no particular roles to play.
There is another scene where the spirit of the director's mother, who died while he was on this shoot, shares some fruit with Fanny Ardant and then hovers above the bed chastely shared by Ardant and Leaud. Later, Ardant is seen browsing through several books and albums dedicated to her late partner in life.
Replete with Tsai's trademarks – performances from Lee Kang-Cheng and Lu Yi-Ching, mention of his fear of water, aquariums and fish, odd musical numbers, homosexuality – this is once again a series of framing shots, each lending the picture a stunning visual look. Many of the scenes have charm and wit, including one where Laetitia Casta (Salome in the film-within-the-film) spreads ketchup over John The Baptist who is lying in a bathtub.
Production companies
JBA Production
Homegreen Films
Le Musee du Louvre
Tarantula
Circe Films
Arte France Cinema
International sales
Fortissimo
(31) 20 627 3215
Producers
Jacques Bidou
Marianne Dumoulin
Screenplay
Tsai Ming Liang
Cinematography
Liao Peng Jung
Production design
Patrick Dechesne
Alain Pascal Housiaux
Lee Ten Chueh
Editing
Jacques Comets
Cast
Fanny Ardant
Laetitia Casta
Jean-Pierre Leaud
Lee Kang-Sheng
Lu Yi Ching
Norman Atun
Yang Kuei Mei
Chen Shiang-Chyi