Screen talks to director of We Are Still Here about his follow-up feature.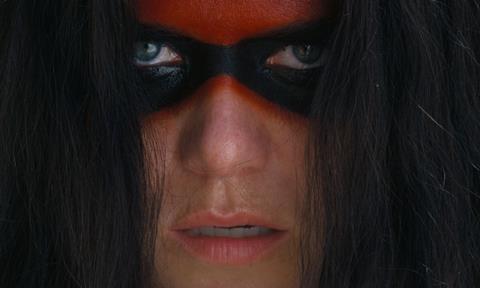 "200 years later, the events of Mohawk could be contextualised completely into a modern film and nothing would change," believes writer-director Ted Geoghegan of his second feature film.
Fresh from the success of haunted house hit We Are Still Here, Geoghegan made the bold choice to do a complete 180 from his debut feature for the tense and tragic survival thriller Mohawk, which received its world premiere at Montreal's Fantasia International Film Festival.
Co-written with Grady Hendrix, Mohawk is set in 1814 and follows two Mohawks and their British lover as they're pursued through the forest by American military renegades, determined to avenge the murders of their colleagues by one of the Mohawk warriors.
And though he is not an indigenous North American, Mohawk is a very personal film for Geoghegan, given how it can be related to the United States we see today. "What made the film so personal was making a film about my country and how little it's changed since it's been born," he explains.
"We're still seeing the complete and utter destruction of Native American lands like what was happening in Standing Rock, and we're now seeing the horrible racism towards the likes of Middle Eastern people. You could change very little in Mohawk top to bottom and set the film in 2017, and it would still work."
An authentic approach
Even with the timeless aspect of its central premise, a key word for Geoghegan was authenticity when it came to making Mohawk. "We were always very aware of the fact that we were predominantly a Caucasian crew, basically almost completely," he notes.
Enter lead star Kaniehtiio Horn (Hemlock Grove, The Man In The High Castle) who is a native of Kahnawake, a Mohawk reserve outside of Montreal. "If they didn't ask me to play the lead, then who the heck are they going to ask?," jokes Horn.
Horn and her family proved to be an invaluable asset to Geoghegan in ensuring the film's accuracy and allowing them to introduce dialogue in the native Mohawk language, Kanien'kéha, into the film. "I know the language, although I'm not fluent, but I had all the resources where I could ask the questions that needed to be asked," she outlines.
"It was a big undertaking and a privilege, but also a weight on my shoulders with the responsibility of making a movie that I would be proud of and that I would want my people to watch."
To add to the authenticity of the film, Geoghegan also hired Guy W. Gane III - who appeared as main antagonist Lassander Dagmar in We Are Still Here - as a historical producer whose knowledge, he enthuses, was "completely invaluable", especially when it came to the time-specific costumes that were made from scratch using the same materials from the era.
"We really wanted to make it feel as authentic as possible, even if some of those things didn't feel cinematically authentic," he says. "A lot of people are used to watching a film set in the 1800s that looks like The Last Of The Mohicans and that's a beautiful movie, but they have plenty of historic inaccuracies simply because they want the film to feel more cinematic."
Ensemble piece
As if helping with the film's authenticity wasn't enough, Mohawk also marks Horn's first major role as lead which had a positive effect on her. "It gave me a lot of confidence to say if I didn't understand something or if I didn't agree with something or if I have an idea, I had the confidence to step in and say it," she notes.
Horn adds that the film feels like more of an "ensemble piece", with the cast including Fear The Walking Dead star Justin Rain and Jonathan Huber, AKA WWE Superstar Luke Harper, in his first ever film role.
"It was a whole new world to me and a new beginning. I didn't know what to expect and what I was expecting wasn't what it was, but it was awesome regardless," reflects Huber. "Acting is not easy. I learned to respect a whole new industry from the ground up."
It certainly wasn't an easy first film to shoot either, with Mohawk shooting in often unbearable heat during summer last year with a brief production time of 20 days. Fortunately for Horn and Rain, their previous TV experience had prepared them well for the intensity of the shoot, even if there was one noticeable difference.
"On TV, there's not a lot of time for conversation about characters, time is money. On Mohawk, there was more room for that and regardless of the limited budget we were on, Ted and his team were there for us and on our side, and understood that the more understanding of our characters we had, the better the result," Rain explains.
Horn adds: "Don't get me wrong, towards week three, I was like, 'Oh my God, this is really exhausting'. I was running around the forest for a month in moccasins. It was limited budget, but we made something that does not seem like that."
At least Mohawk hasn't put Huber off doing more acting roles in future, although he admits he is currently just working out how to balance wrestling with it.
Second feature
As for Geoghegan, his second feature film as director was made easier by reuniting with the team behind We Are Still Here - Snowfort Pictures' Travis Stevens and Dark Sky Films - who gave an "insane amount of support".
"Making any film is a group effort and any director who says otherwise is wrong. During our first crew meeting on We Are Still Here, I introduced myself by saying I would never be the smartest person in the room, and I stand by that," he recalls.
"I feel like I was even more open to that on Mohawk and hearing how people felt we could make the best film we possibly could, such as taking in all of the knowledge that Tiio and the historical producer brought to the film. That's what makes your movie come to life. You can't put on blinders just because you're the director."
And once Mohawk has been released, Geoghegan will be looking to direct his third feature next year, one of two scripts he is currently developing: "It is a horror film that is very much in the vein of We Are Still Here, while still being something totally new and I'll just leave it vaguely at that."
He jokes: "There is no Dagmar Cinematic Universe, though."