Spanish writer-director's futuristic spin on the Frankenstein story received its world premiere in Montreal on Saturday [July 23].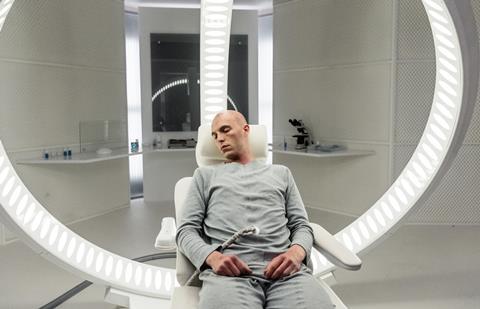 Mateo Gil's latest film Realive, previously known as Project Lazarus, follows a man (Tom Hughes) who cryogenically freezes his body after being diagnosed with a terminal illness.
Decades later, he becomes the first person to be revived after undergoing the process, but finds his past life with on-off girlfriend Naomi (Oona Chaplin) still follows him in ways he never expected.
Picked up by SC Films for international sales, the emotional sci-fi received its world premiere at Montreal's Fantasia International Film Festival, ahead of upcoming festival screenings at FrightFest and Sitges.
Frankenstein
Realive may resemble Frankenstein, but the iconic story wasn't the only inspiration for his film.
"I knew that Frankenstein was a main reference, but I wanted to tell my story which was not about being reanimated or being a monster. It was about accepting death," explains the Spanish writer-director.
"I didn't feel any pressure because of Frankenstein. If it was a more recent story, I may have been a bit more scared."
One of the marked differences between Realive and other Frankenstein adaptations is the lack of a blood-and-thunder resurrection. Here, the coming-back-to-life is subtler and Gil notes that the original script had more science involved.
"I didn't want the scientific side to be an obstacle. In the script there was a lot more of the scientific side so we had to cut a little bit. From the beginning, you feel that the story is about the characters, not the science," he expands.
Shot in the Canary Islands, doubling as 2084 California, Realive marks Gil's second English-language film as director, following 2011's Blackthorn, and it was less of a challenge this time around.
"The first time, my English was much worse than now, and it was really hard to communicate with the actors," he notes. "This time, I felt much more confident and it helped that the actors were willing to understand me, meaning it was very easy to work with them."
Alongside Hughes and Chaplin, Charlotte Le Bon (The Walk, Bastille Day) and Barry Ward (Jimmy's Hall) play key roles in the story, as does a sumptuous score from Sleep Tight composer Lucas Vidal.
Alejandro Amenábar collaborations
Gil's regular collaborator Alejandro Amenábar also played a key role in the production
The writer-director recalls that the idea for the film first came to him while he was writing Open Your Eyes with Amenábar. That films also features the concept of cryonics.
To date, Gil has co-written most of Amenábar's films including The Sea Inside and Agora (which Gil also worked on as second unit director, collaborations which Gil says were always "very easy".
"We are very good friends and we grew up together, cinematically speaking," he says.
"He was very clear on what he wanted, and I adapt myself to different genres as I like to change and tell different stories."
Could we be seeing another collaboration soon?
"I hope we can do another film together again. He's already got another one not with me, and I'm going to direct again, but maybe next year… We'll see."