Legendary Harry Potter production designer Stuart Craig tells us how he built the world of Fantastic Beasts.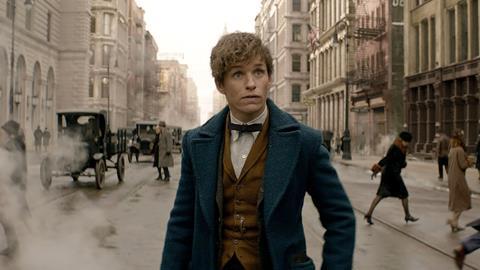 Production designer Stuart Craig could have been forgiven for thinking he was done with JK Rowling's world of wizardry after eight Harry Potter films in 10 years.
But the now 74-year-old UK industry veteran could not refuse when the script for Fantastic Beasts And Where To Find Them presented an opportunity to return to that magical universe.
Set in 1926 New York, as opposed to contemporary England, Fantastic Beasts, which began rolling out across most major territories in mid-November and has already grossed more than $725m worldwide, represented a new playground.
"My first thought was, 'Oh my God, how am I going to do this?'" recalls the three-time Oscar winner (and 10-time nominee) of reading Rowling's first-draft screenplay.
"All [the Harry Potter] scripts are extremely demanding and scary at the outset and you don't have an idea in your head. There's always a new challenge, and the challenge was how to make 1926 New York when you couldn't possibly go to New York and shut roads and take over buildings."
As with every film, Craig began by researching the period in depth.
Then, six months before shooting, along with director David Yates, producer David Heyman and visual-effects supervisors Christian Manz and Tim Burke, he visited New York to determine whether it was feasible to shoot any of the film there. They swiftly realised it would be near impossible, given they would need to "get rid of all modernity and signs and street furniture".
Slice of the Big Apple
Craig ended up building his own version of period New York - or a sizeable part of it - on the backlot at Warner Bros Studios Leavesden near Watford.
Copyright 2016 Warner Bros. Ent. All Rights Reserved, Harry Potter and Fantastic Beasts Publishing Rights Copyright JKR
The result was not only the largest set Craig has created for Rowling's universe, but the largest he has built to date.
Measuring 800ft by 500ft (roughly eight acres), it incorporated several distinct sections of the city as required by the script.
"We needed areas of New York with quite specific characters," recalls Craig, who designed the set as a composite, with whole sections able to be redressed by changing shop frontage and signage, as well as the ability to drop in greenscreens to mask off buildings and areas.
As with the Harry Potter series, Craig was determined to ground the world of Fantastic Beasts in as much reality as possible.
"It makes the magic all the more powerful when it grows out of something that is seemingly real and familiar," he says. "If it were in any way fake, then the whole thing falls apart; nothing has any credibility and the magic doesn't work."
The New York exteriors took 16 weeks to build and had to withstand four months of main unit shooting.
Copyright 2016 Warner Bros. Ent. All Rights Reserved, Harry Potter and Fantastic Beasts Publishing Rights Copyright JKR
"It was a big challenge," says Craig.
"The sheer volume of it was quite scary. We wanted 20 weeks to build that set and ended up with about 16, so it was a phenomenal effort to get there in time. We had a team of extraordinary craftsmen, which obviously helped. Our construction team were certainly up for it."
The final design was T-shaped, with the top of the T housing all the moneyed, institutional buildings including a bank and department store exterior.
This was later revamped as the stretch of Broadway, and, again, to create part of Times Square's iconic theatre district.
Moving south from the top of the T, the buildings were less institutional in design, with the cast-iron detailing, classical columns and cornices of TriBeCa, before being revamped as the Diamond District.
At the stem of the T was the Lower East Side's tenement district.
Initially Craig had wanted to build to a height of four-to-five storeys, or around 70ft, but the cost was too prohibitive. The compromise was two storeys, around 30ft. The remainder of the buildings, from the second storey up, was created digitally.
Copyright 2016 Warner Bros. Ent. All Rights Reserved, Harry Potter and Fantastic Beasts Publishing Rights Copyright JKR
VFX were also used to extend the set sideways, replicating Manhattan's famed canyon avenues.
Alongside digital technology, Craig employed more traditional techniques, such as those used to create the marble walls and floors of the bank interior. Coloured oil paint was added to tanks of water, the liquid swirling but not mixing. Paper was then dropped in, transferring to it a veined marble effect.
Another stunning, sizeable set was that of the Magical Congress of the United States (MACUSA), the US equivalent of Harry Potter's Ministry of Magic.
While it was Rowling's idea that MACUSA would be housed inside the Woolworth Building at 233 Broadway - which, when completed in 1905, was the tallest skyscraper in the world at 750ft - it was Craig who decided to hollow it out by removing all the interior floors.
"The Ministry of Magic was all subterranean and all glazed ceramic tiles," he says.
"How to be different and fresh [with MACUSA] was the challenge, and what I decided was the basement floors were where the work is done, the first floor is a general thoroughfare, a big concourse, and above that were no floors. So you were looking at the interior of a huge cathedral-like shell of a building. It led to what I think was a pretty strong image."
A permanent legacy
In a career spanning 50 years, Craig has worked on everything from Gandhi to Greystoke, Dangerous Liaisons to The English Patient, Memphis Belle to Notting Hill.
But it is for his work on the Harry Potter series that he will likely be best remembered, and not just because of the films themselves. Craig's work has transferred to theme parks, as part of The Wizarding World of Harry Potter at Universal Studios resorts in Florida, Hollywood and Japan.
"It is an odd experience because film sets traditionally stand for as little as a few days, a couple of weeks, maybe a couple of months, and then are demolished and the space needed for something else," Craig reflects.
"So to have something that's all but permanent is a unique experience.
"Theme parks work on a principle that things are going to have to last 25 years. A lot of effort went into making them pretty good. But in rubbing against the real world, our wings were clipped a bit. Dealing with architects telling us, 'We cannot do this, it doesn't meet the building code,' the discipline was very, very different."
In addition, a large number of Craig's original Harry Potter sets are on permanent display as part of the Warner Bros Studio Tour at Leavesden, where the Fantastic Beasts New York set is still standing - although whether it will be part of the next film in the new franchise remains to be seen.
When Craig started work on Fantastic Beasts, it was planned to be the first of three new films; now it is five. Craig is already at work on the as-yet-untitled sequel, but is not sure he will be involved for the long haul.
"I am 74, going on 75 years old," he reflects.
"It's been a joy from the very beginning and it began 16 years ago [with Harry Potter And The Philosopher's Stone]. But the day will come when I have to take a back seat."